हिन्दी में पढ़ें
Roti

Roti is a staple Indian bread eaten in every corner of India. Rotis are made with whole wheat flour and are healthy and delicious. In different parts of India they are called with different names like Phulka, Chapati, etc. . Roti is served with sabji (cooked vegetables), Dal (lentils), and rice. You can also serve rotis with any curry of your taste. Roti can also be used as a wrap. Add chopped green leaves to add more nutrition in your daily bread. Many of you must be already familiar with this bread; for those who are not, here is an easy to follow recipe. Please do share your comments after making this bread!!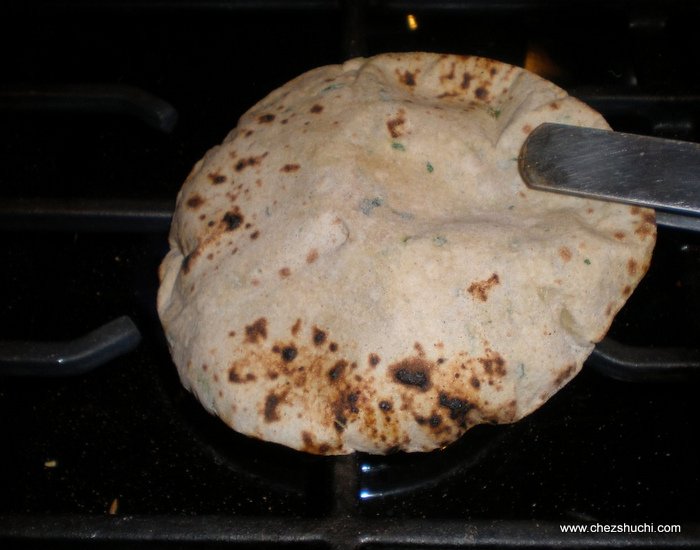 Ingredients
(makes 10 Rotis)
1 cup wheat flour
water/ milk to make dough
Flour to roll the roti
Ghee/ Butter as per taste, to top the roti
* I have also added finely chopped spinach and 2 tsp finely ground flaxseeds
Special Utencils
Method of preparation:
In a bowl take flour. Add finely chooped spinach if you are using. Add a little by little flour and make a semi soft dough. I prefer to knead the dough with hands, you are then sure of getting the right consistency. Cover the dough and leave it for 10 minutes.

Make 10 small rounds.

Heat the griddle/ tawa. While the griddle is heating up, take a ball and roll it with the help of a little dry flour into a 5 inch circle.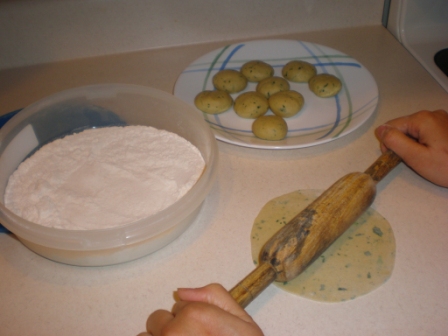 Place the rolled circle (roti) onto the medium hot griddle. Turn it over (after about 15-20 seconds) when you see some red spots on the bread.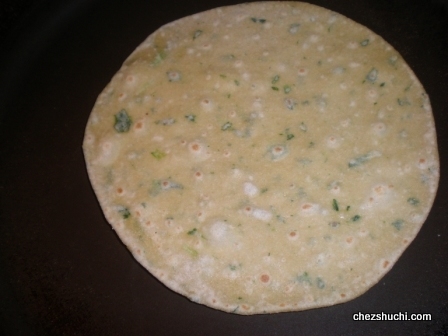 For electric stove
Press the roti lightly with a clean cloth or a clean mitten glove. It will puff up and look as shown in pictures above.
Repeat the process with all the rotis.
For Gas stove
Hold the roti with the tongs, remove the griddle and put the roti directly on the flame, rotis will puff up immediately, turn the side to cook from the other side. (takes 30 seconds)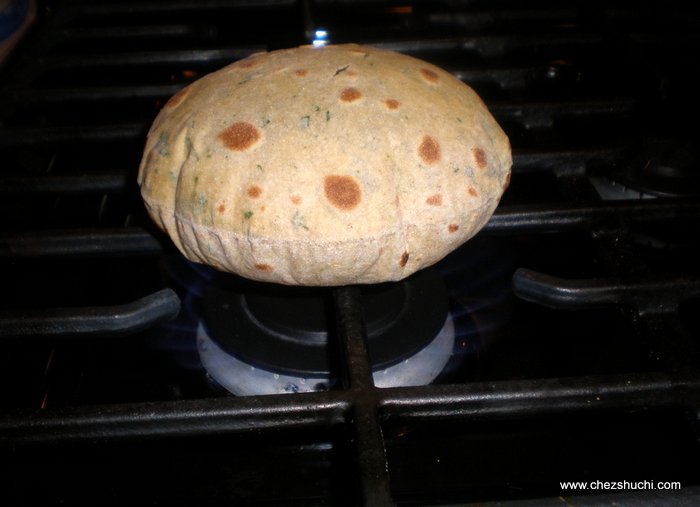 Repeat the process with all the balls.
Brush a little bit of ghee on the Roti. Serve hot roti with dal and/ or your favorite vegetable (sabji).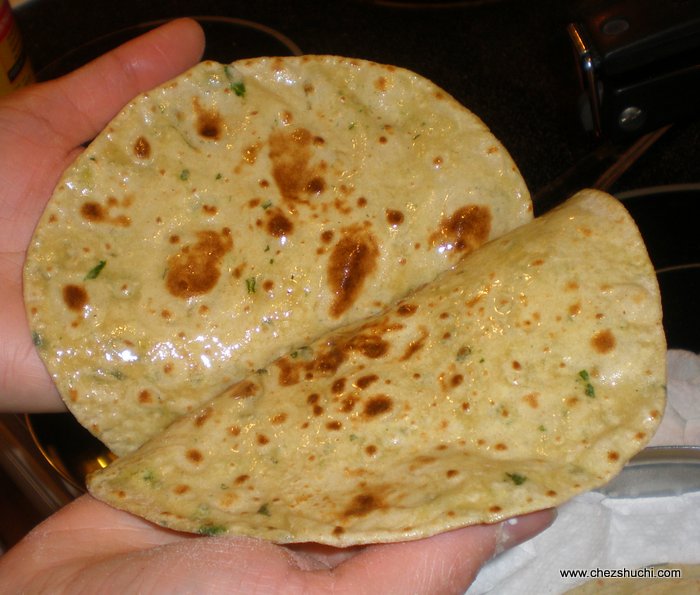 Some Tips/ Suggestions:
While one roti is cooking on the griddle you can roll the other one. Repeat the process.
To make extra soft rotis use milk instead of water to make the dough. 
---
Some Other Breads you might like:
---