Pasta in Marinara Sauce
हिन्दी में पढ़ें
Marinara sauce is made with fresh Roma tomatoes, flavored with fresh basil leaves, and seasoned with freshly ground black pepper and salt and I also add red chili flakes to provide an extra zing. This is a basic sauce used in many Italian pasta and pizza recipes. You can make marinara sauce in advance and freeze it. This year my kitchen garden is loaded with Roma tomatoes so I making marinara sauce more often.
I have used Rotini pasta which is a helix or corkscrew shaped pasta and also the macaroni with the marinara sauce. Feel free to use any variety of pasta as per availability and your family taste. Try out this delicious pasta recipe and please do not forget to write your valuable comments....Happy cooking, Shuchi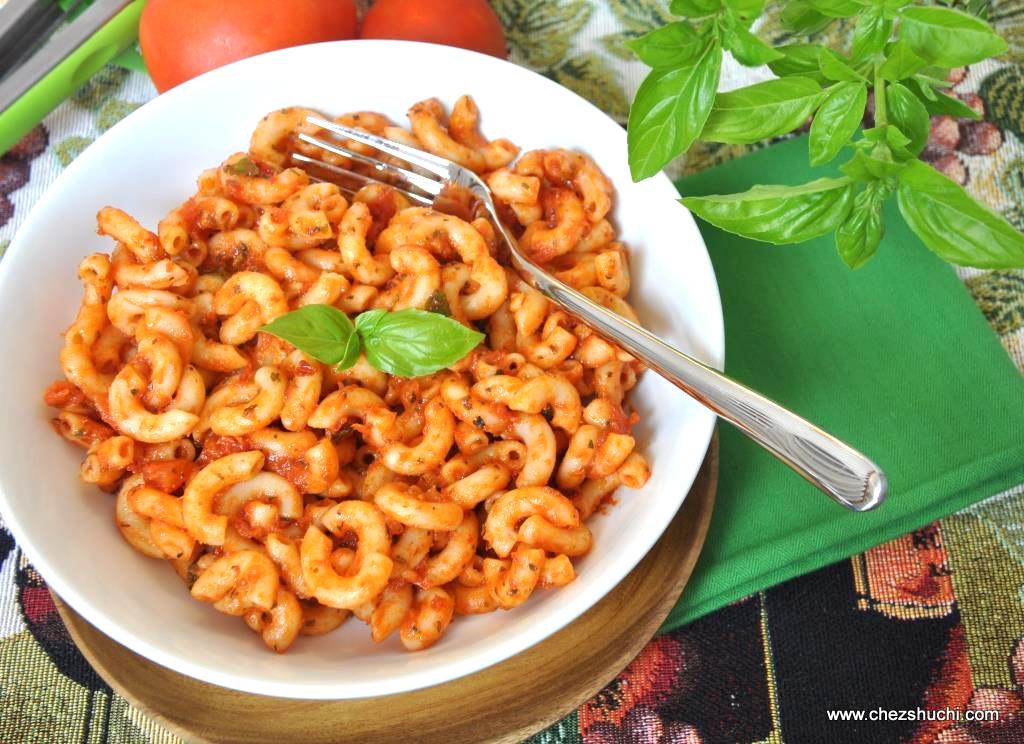 Ingredients (Serves 4)
Red Roma tomatoes 5 medium
Carrot 1 medium (optional)
*Red onion 1 small, finely chopped
Basil leaves, handfull, chopped
Salt 1 tsp
Black pepper, Freshly ground to taste
Red chili flakes to taste
Fresh oregano/ dries as per taste
Sugar ½ tsp
Olive oil 2 tbsp
*Traditional Italian recipe calls for 1 minced garlic clove; since I do not use garlic in my cooking, so I have used red onion instead.
For Pasta Boiling
Rotini pasta 230gms/ about ½ pound / 8 ounce
Water about 8-10 cups to boil the pasta
Salt 2 tsp
For Serving:
Parmesan cheese ¼ cup (optional)/ or some other chesse of your taste
Method of preparation for Marinara Sauce:
Wash and cut tomatoes. Wash, peel and cut carrots into an inch pieces.
In the blender take tomatoes and carrot and blend it to fine puree.
Heat olive oil in a pan/ wok. Add minced onions. Sauté for a couple of minutes.
Add tomato puree to the sautéed onions. Mix well. Add salt , pepper, red chili flakes, and oregano. Mix well and cook until smooth. It takes about 15-20 minutes to cook this amout of sauce.
Add basil. Mix well and cook for another minute.
Marinara sauce is ready.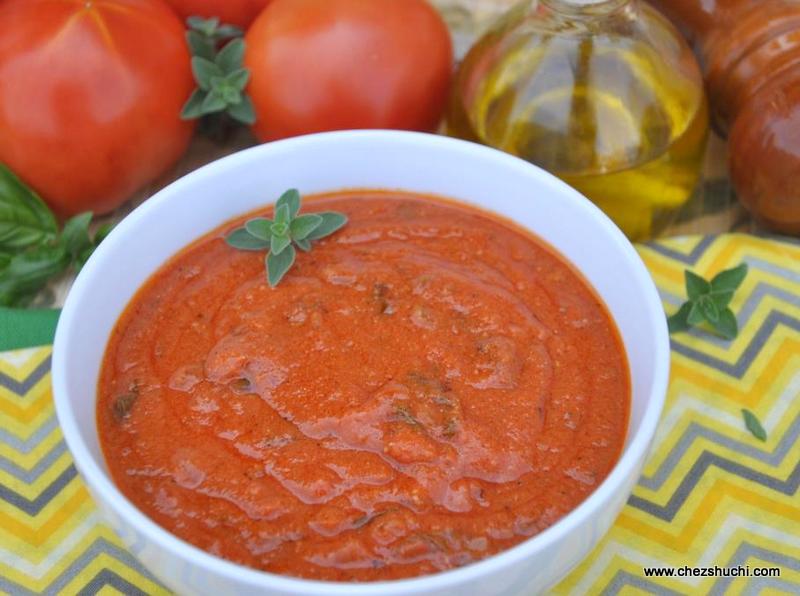 Method of preparation for Pasta Boiling/ Cooking:
Boil water in a big sauce pan. When water starts boiling add 2 tsp salt and pasta of your choice. I have used Rotini pasta.
Boil until pasta are soft but firm. The cooking time is different for different variety of pastas. Read the instructions written on pasta packet for better idea. Drain lightly, pasta should remain soft.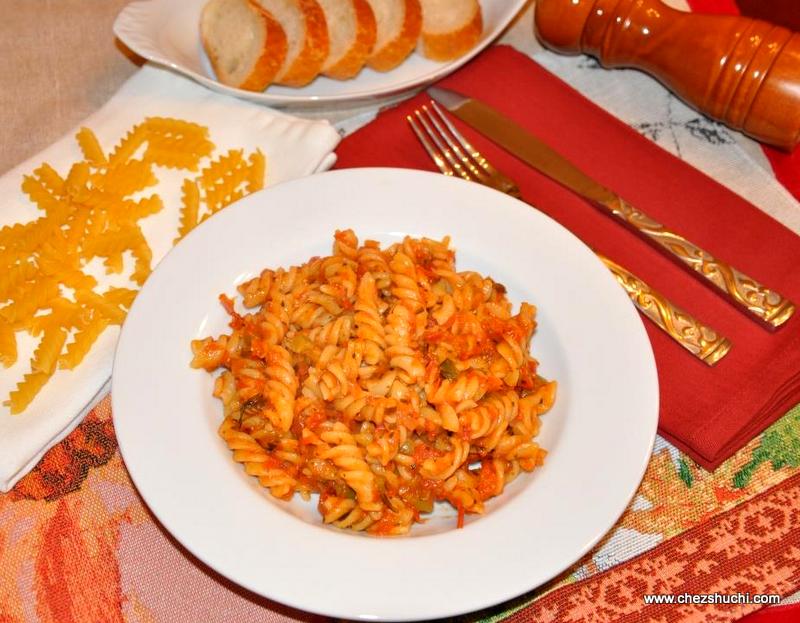 Serving Suggestions :
Take cooked pata in a serving bowl. Top it with marinara. Warm it for a minute.
Taste and adjust the seasoning.
Delicious pasta in Marinara sauce is ready to serve. Garnish with basil leaves and cheese and serve.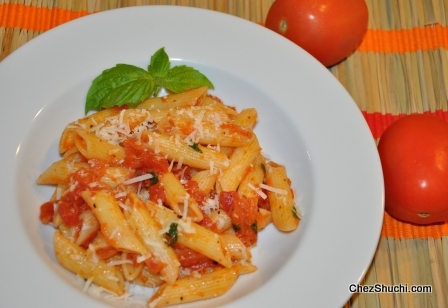 About Basil:
Basil is a fragrant herb important for Italian cooking. Basil belongs to the same family like Tulsi. Do not get confused with Tulsi (the holy Indian herb - also known as holy basil). You can easily grow basil at home. You can also use holy basil, it is a bit stronger but has nice aroma.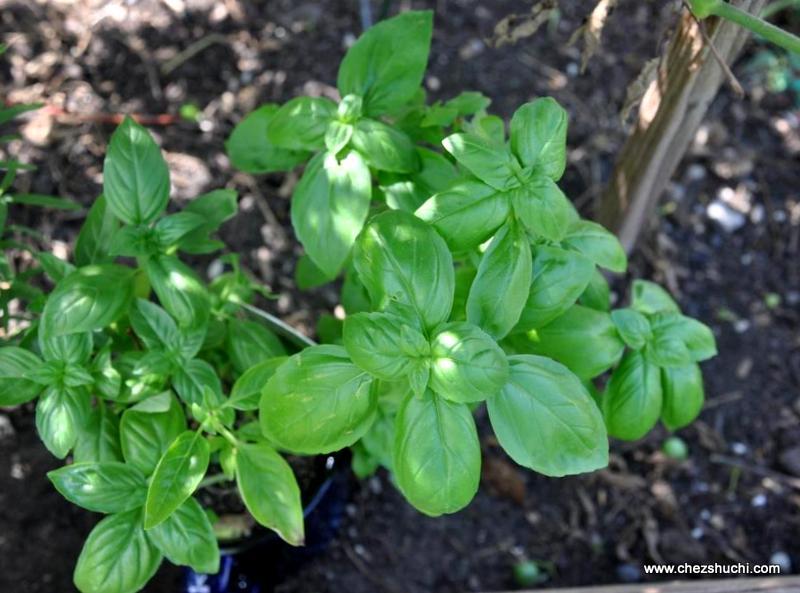 Some Tips/ Suggestions:
You can also use some colorful vegetables in this pasta preparation..
Marinara sauce can be made and advance. It can be stored in the freezer for a coupl of months.
You can use any type of pasta as per choice.
---