हिन्दी में पढ़ें
Oat Flax Cranberries and walnut Cookies
In my family everybody has a sweet tooth. To satisfy these urges, I keep looking for healthy options which have less calories and fat and are still delicious. In oat, flaxseeds cookies, all the ingredients are healthy with fibers, vitamins, minerals, and of course carbohydrate. It has wheat flour, rolled fashioned oats, flaxseeds, nuts, and dried berries. With all the healthy stuff these cookies are healthier and yummier. Try out these delicious and healthy cookies recipe and please do share your comments. Happy baking, Shuchi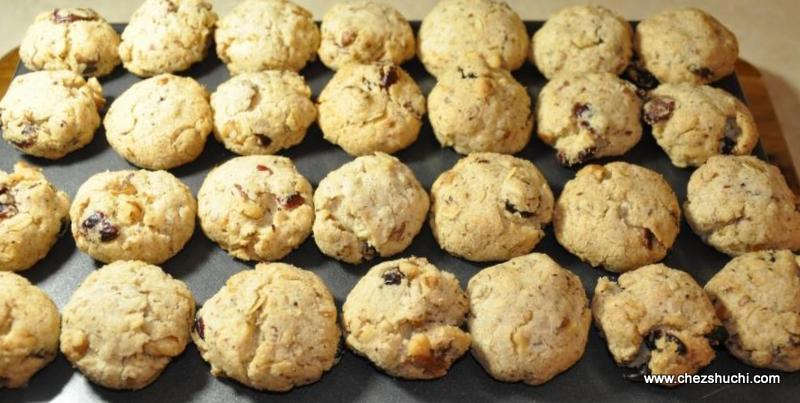 Ingredients
(Makes about 30 small cookies)
Butter ½ cup
Ground organic light brown sugar ½ cup
Wheat flour ¾ cup
Baking powder ¼ tsp
Old fashioned quick roled oats ¾ cup
flaxseeds, coarsely ground 2 tbsp
ranberries ¼ cup
Walnuts chopped ½ cup
Method of preparation:
Preheat oven at 350°F.
Sieve together wheat flour, and baking powder. Keep aside
Take butter in a mixing bowl. Butter should be soft but not melted. Add sugar in the butter and beat them in one direction until light and fluffy. Do not over beat th butter.
Add in coarsely ground flaxseeds. Mix.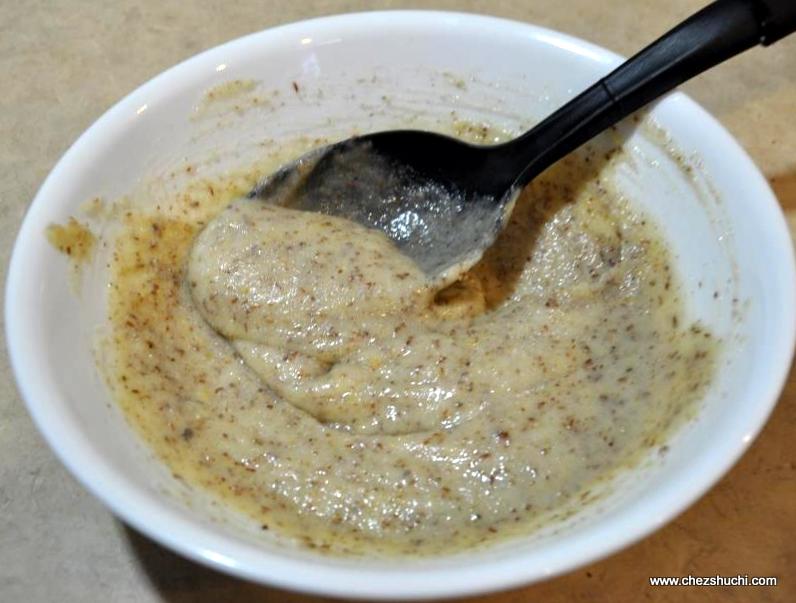 .
Add Flour mixture in the butter and sugar mix . Add rolled oats and mix well.
Add chopped walnuts and raisins. Mix well. Make a dough. If the dough is too crumbly add 1 tbsp water. Smoothen the dough. Do not over knead the dough.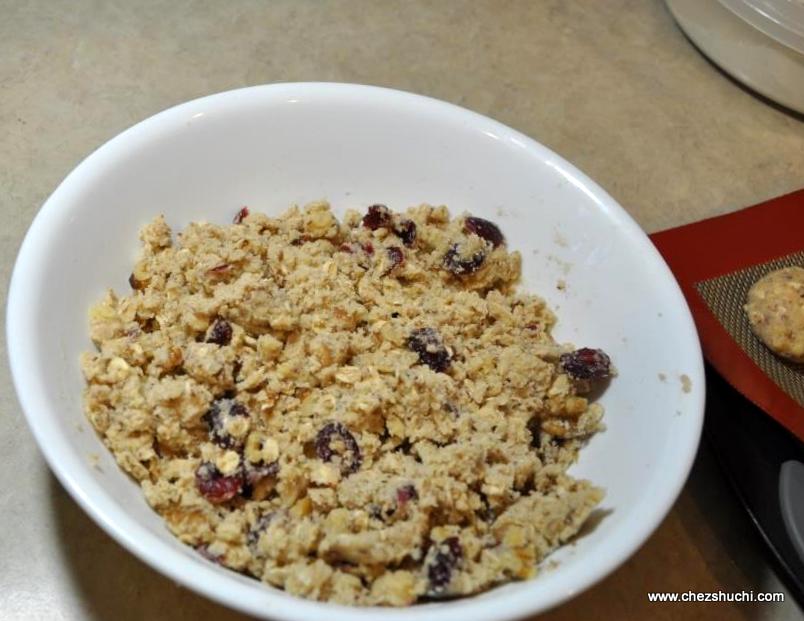 Cover and keep dough in the freezer for 10 miutes to rest the dough.
Divide the dough into small ball like key limes. Round them in your palms and press it a little to flaten it.
Arrange the cookies in the cookie try. Leave some space between two cookies as they expand when you bake them.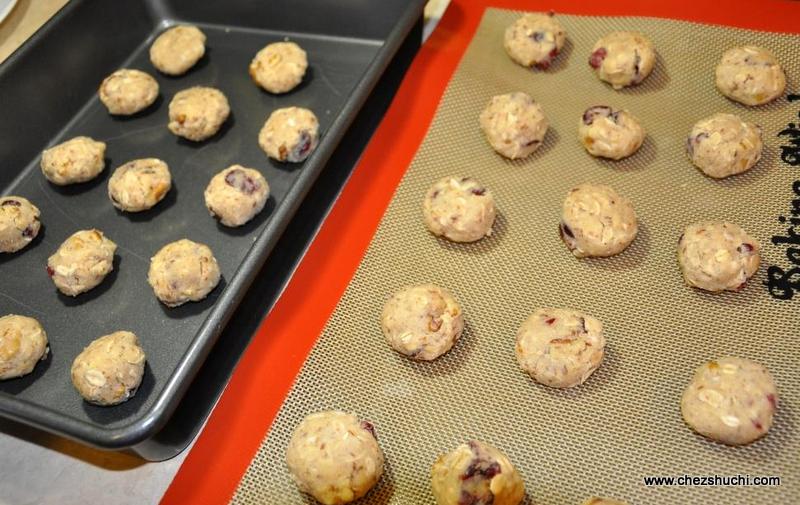 cookies baking tray in the oven
Put the cookie tray in the pre heated oven and bake for about 20 minutes.
Let the cookies cool down completely before you serve them.
These cookies can be stored in airtight containers for a couple of weeks.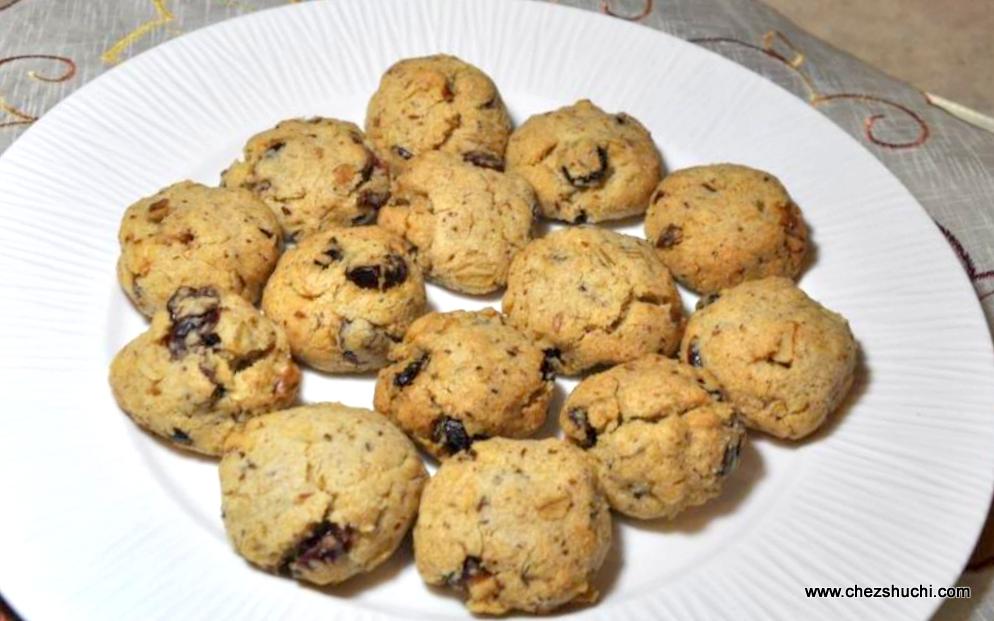 Some Tips/ Suggestions:
You can also use vegetable oil instead of butter .
These cookies are very easy to make, make them with your children. It can be a fun project for weekend.
You can also use some other dried fruits and nuts as per taste.
I have used hard anodized baking tray so I did not put any perchement paper but use a layer of perchement paper if you are using aluminum tray.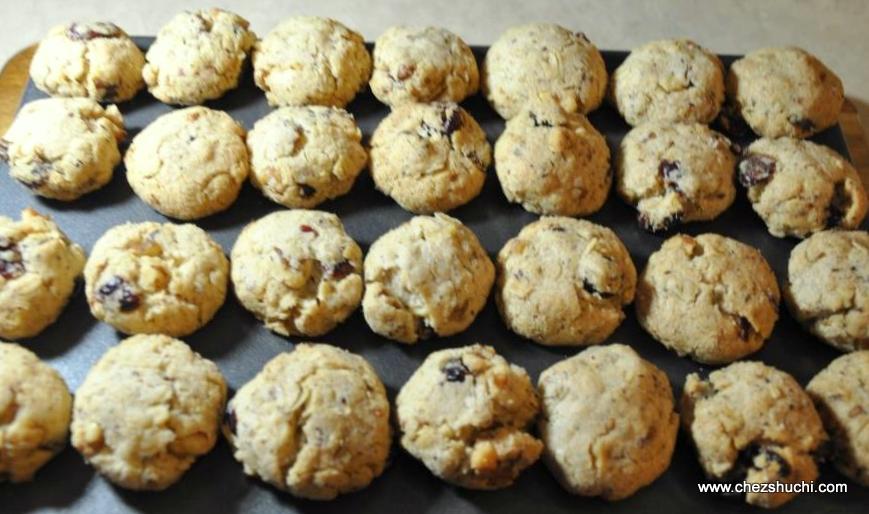 ---
Some other cookies and cakes:
---