Coconut Rose Burfi
Nariyal Gulab Barfi
हिन्दी में पढ़ें
Coconut is considered a healthy nut as it is rich in dietary fibers, iron and potassium. Coconut is also very rich in saturated fats, and it is often said that coconut should be consumed in moderate amounts. Fresh coconuts are much softer and tastier than the dried ones, so I usually prefer to use fresh coconut flesh for cooking.
Coconut and rose both are considered as very auspicious in India. This barfi is a very traditional mithai made during fasting days (vrat) such as Navratri, Maha Shivratri, and Janmashtami. I have used red rose in this preparation which helps in getting a very nice color. You can also use pink roses in case if you do not find red ones.
This sweet is made in sugar syrup. Instead of sugar you can also use jaggery if you wish to. So, try out this delicious coconut rose barfi and please do not forget to share your valuable comments. Happy cooking, Shuchi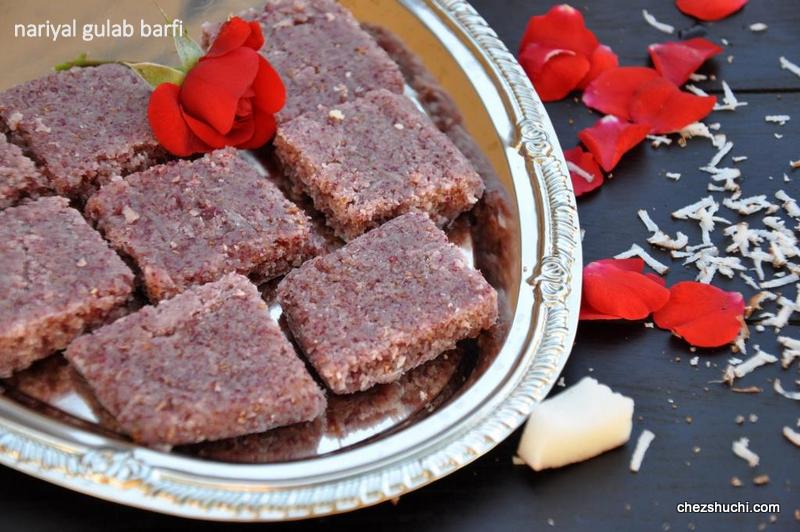 Ingredients (makes about 15 pieces)
Fresh grated coconut 2 cups
Rose petals 1¼ cup
Sugar   ¾-1 cup
Water ½ cup
Ghee  1 tsp + few drops to grease the tray
Green cardamoms   2
Method of preparation
In a blender/mixie grind rose petals. keep aside.
Remove the outer skin of cardamoms and grind them in the mortar.
Grease a tray, plate, or a small thali with ghee. Keep aside.
Boil sugar and water in a wok/pan. After the first boil reduce the heat and boil the sugar syrup till it gets thickened and makes a two string syrup. Two string syrup means that you take a drop of syrup between your two fingers and then stretch the fingers - if the syrup that sticks between the two fingers is making two threads (or strings) then the thickness of syrup is appropriate. Takes about 5 mins.
Add grated coconut, rose metal puree, 1 tsp ghee, and cardamom. Mix well and cook till the mixture absorbs the sugar syrup. Takes about 5 minutes on medium-low heat.
Now turn off the heat and set the mixture on the greased tray. Let the mixture cool down, takes about 10-15 minutes.
Now cut the burfi in desired shape. Delicious coconut burfi is ready for bhog/serving .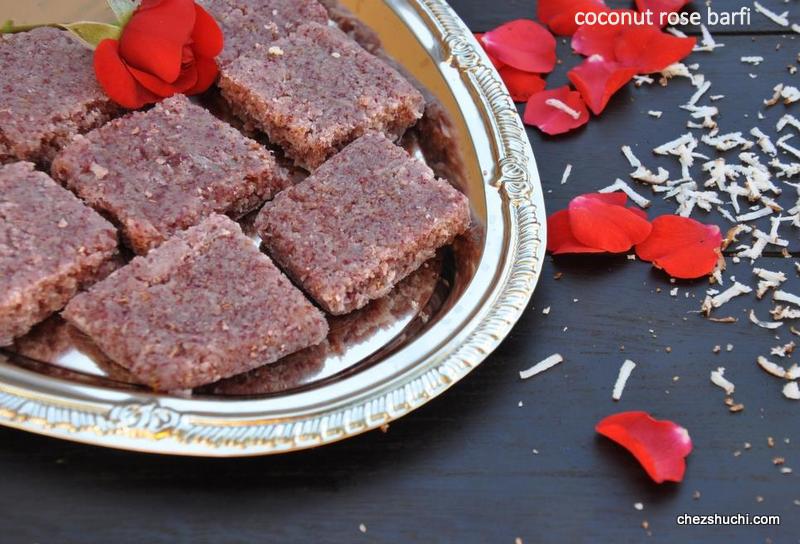 Coconut rose barfi
Some Tips & suggestions :
I have used organic (raw) sugar for this preparation.
I have used red rose, you can also use pink rose.
If you don't fine fresh coconut, used dried coconut.
The burfi can be stored in an airtight container for a couple of weeks.
You can remove ghee if you want to make a vegan preparation.
Almond and Rose (gulab) squares

Almond and Rose (gulab) squares or barfi is very delicious, nutritious and easy to make dessert. Almond is also known as Badam in Hindi and is one of the healthiest nuts. This ancient preparation combines floral petals of rose with almonds to get a divine taste. Almond is a good source of potassium, magnesium, and iron....

Buckwheat and Almond halwa

Buckwheat and Almond halwa is a delicious, nutritious and gluten-free dessert. Despite its name, buckwheat is not a grain, it is a heart-healthy, gluten-free seed that is also a rich antioxidant and a good source of carbohydrates. Buckwheat is rich in iron, magnesium, potassium, vitamins, and dietary fibers...
---