Dahi Ki Gujhiya
हिन्दी में पढ़ें
Dahi ki Gujhiya are stuffed lentil dumplings soaked in yogurt (dahi/ curds). This is a royal Marwadi dish made for festivals and other special occasions. When I was a young girl and growing up in a joint family, I saw my aunt making this for Deepawali. She taught me how to spread the lentil batter carefully, how to close after filling and how to carefully pour gujhiya in hot oil for deep frying. Many of my readers were asking for the recipe of this authentic Indian delicacy, so let's make dahi ki gujhiya for Deepawali.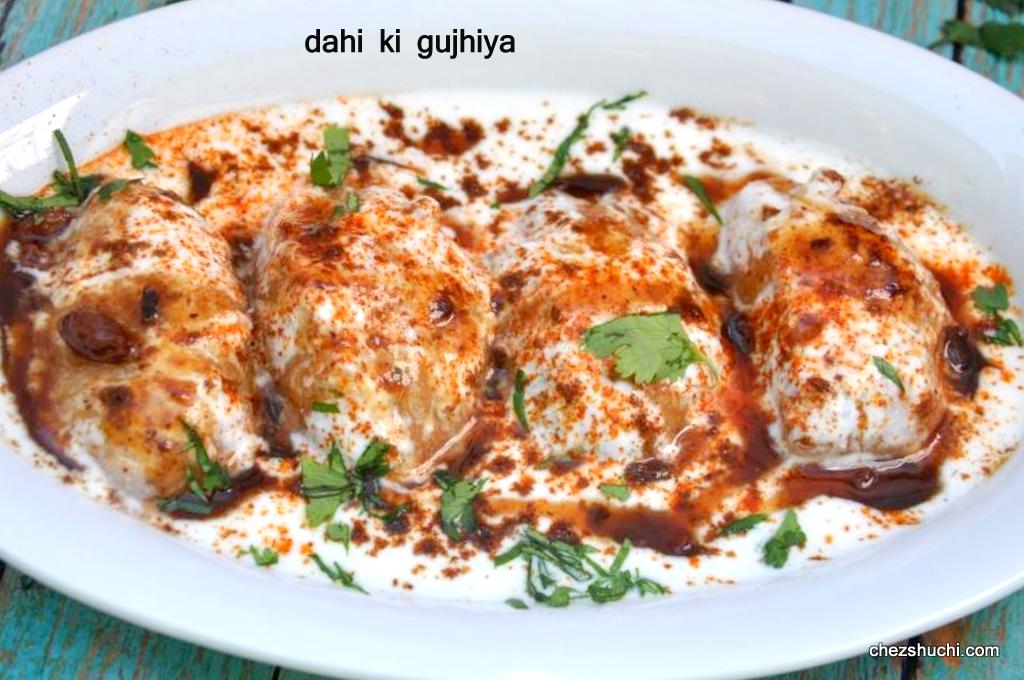 Preparation Time: 20 minutes
Cooking time: 35 minutes
Approximately 90 calories in each serving
Ingredients (makes 15 gujhiya)
Udad Dal ¾ cup 
Oil to deep fry  
Yogurt (Dahi) 750 gms(about 3 cups)
Salt 1 ½ tsp
Sugar 2 tsp
Ingredients to fill in Gujhiya
Raisins 2 tbsp
Chopped coriander leaves 2 tbsp
Ginger, finely chopped 2 tbsp
Chiraunji 2 tbsp
Chooped green chilies 1-2 tbsp  
* You can also use some other nuts and red chili flakes in the filling of gujhiya. Make sure whatever you fill in is finely chopped.
Ingredients to serve
Method of preparation
Clean and wash the lentil (udad dal). Soak lentils in 3 cups of water for about 4 hours.
Grind the lentils in a grinder with as little water as possible. The thicker the paste, the easier it is to make the gujhiya.
whisk the batter thoroughly until it becomes light.
In a bowl take chopped coriander leaves, chopped green chilies, chopped ginger, raisins, and chiraunji. Mix well all the ingredients and keep aside.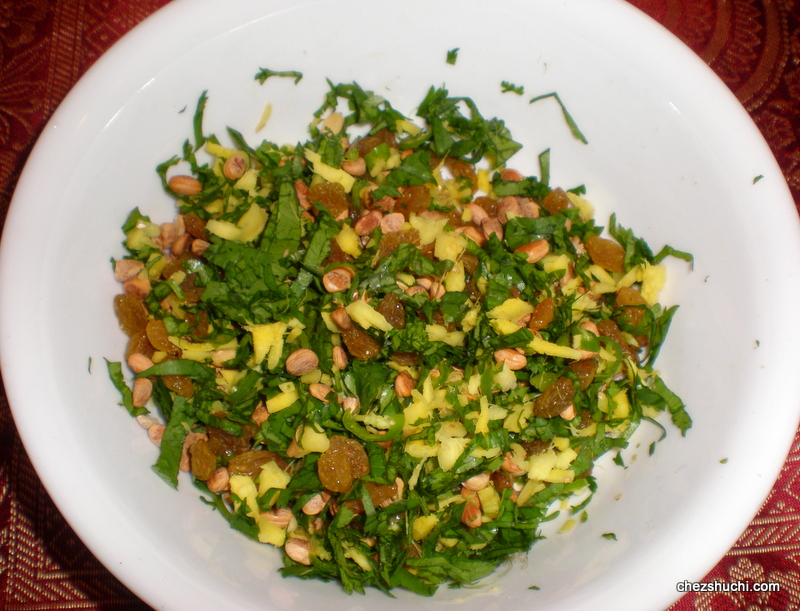 filling for gujhiya
Heat oil in a wok on medium heat. While oil is heating up- take a plastic sheet, place it on your kitchen platform. Wipe the sheet with a clean wet cloth. Now pour 1 table spoon batter on a corner of the sheet. Give the batter a circular shape, and press it to make a thin and flat disc.
Now put about 1- 1½ tsp filling in the center of the lentil circle. Please see the picture below to get a better idea.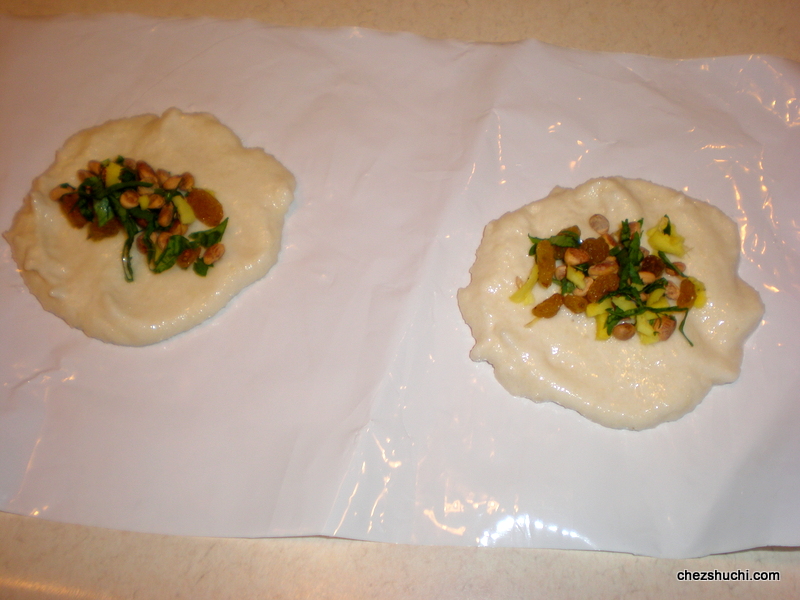 Now hold the sheet and try to close the gujhiya.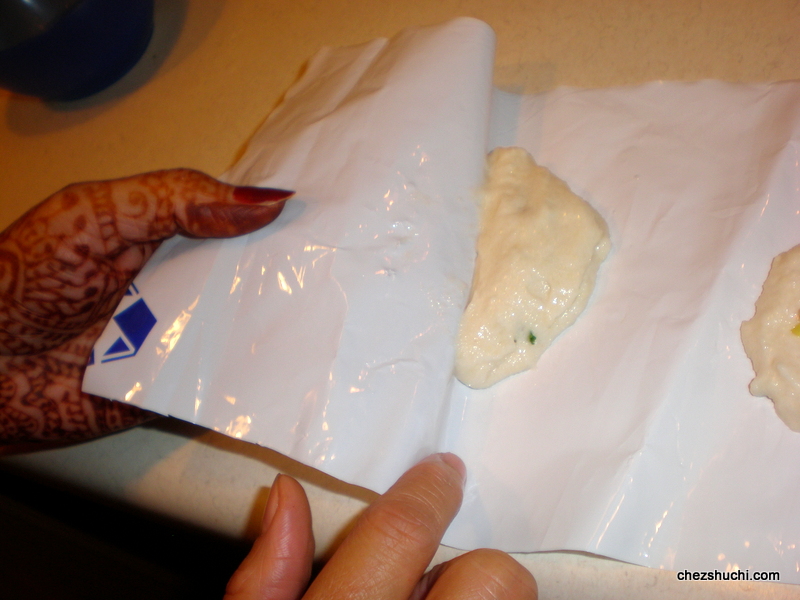 closing of gujhiya
Now wet your fingers and take out the gujhiya from the plastic sheet on to your fingers. This is a delicate step, and requires patience and attention.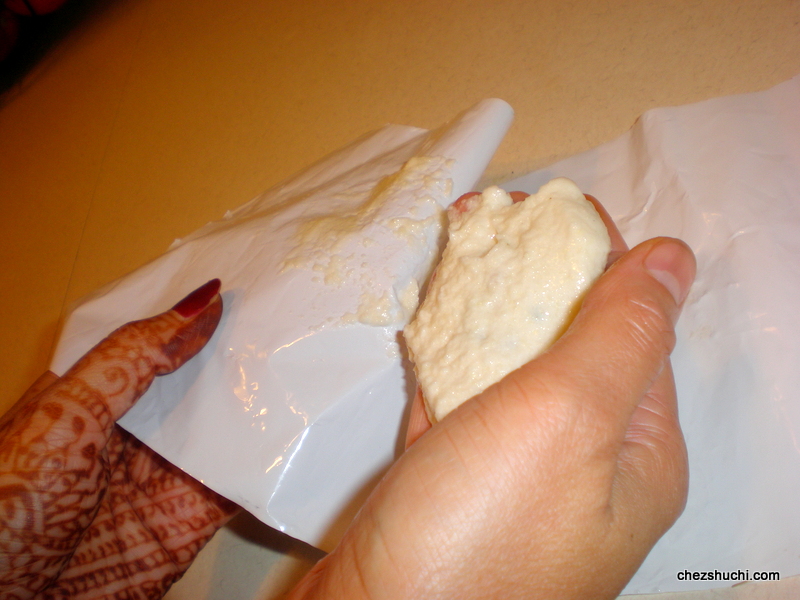 removal of gujhiya from sheet
Pour gujhiya in hot oil carefully. Deep fry the gujhiya on medium heat until they get golden (takes about 7-8 mins). Take out the gujhiyas on the kitchen paper to remove the extra oil.
Repeat the process with the remaining batter.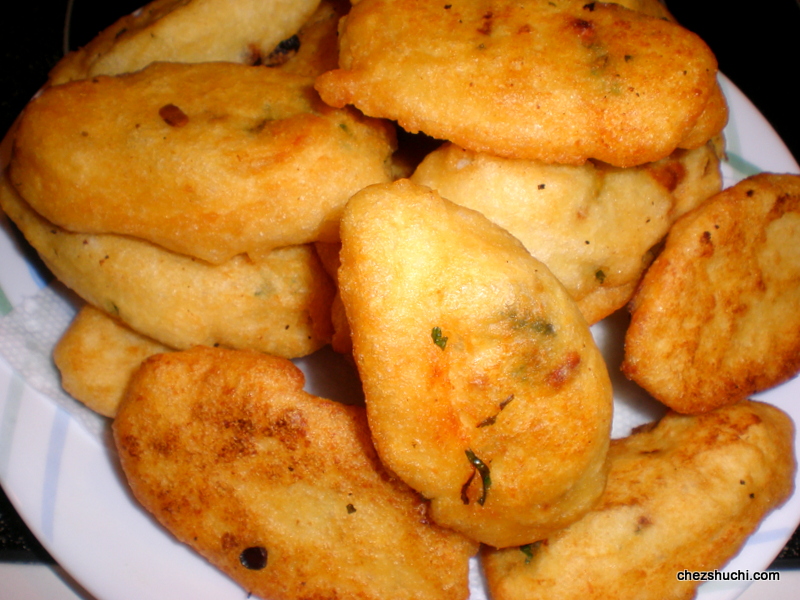 fried gujhiya
Soak the gujhiya in warm water. Add 1 tea spoon salt in the water and let the gujhiyas get soft. Wait for about half an hour. Gujhiya will soak some water and also leave all the extra oil in the water. Now take the water out from gujhiyas by pressing gently between your palms. Keep aside.
Whisk the yogurt in a bowl. (Add a little milk if the yogurt is very thick). Add a little bit of salt, and sugar in the yogurt. Soak the squeezed gujhiya in the yogurt for about 3-4 hours. Gujhiya should be completely dipped in the yogurt.
At the time of serving, garnish the gujhiya with roasted and grounded cumin, red chili powder, and chopped coriander leaves. Add salt if desired.
Pour some tamarind chutney on top of the Dahi ki gujhiya at the time of serving.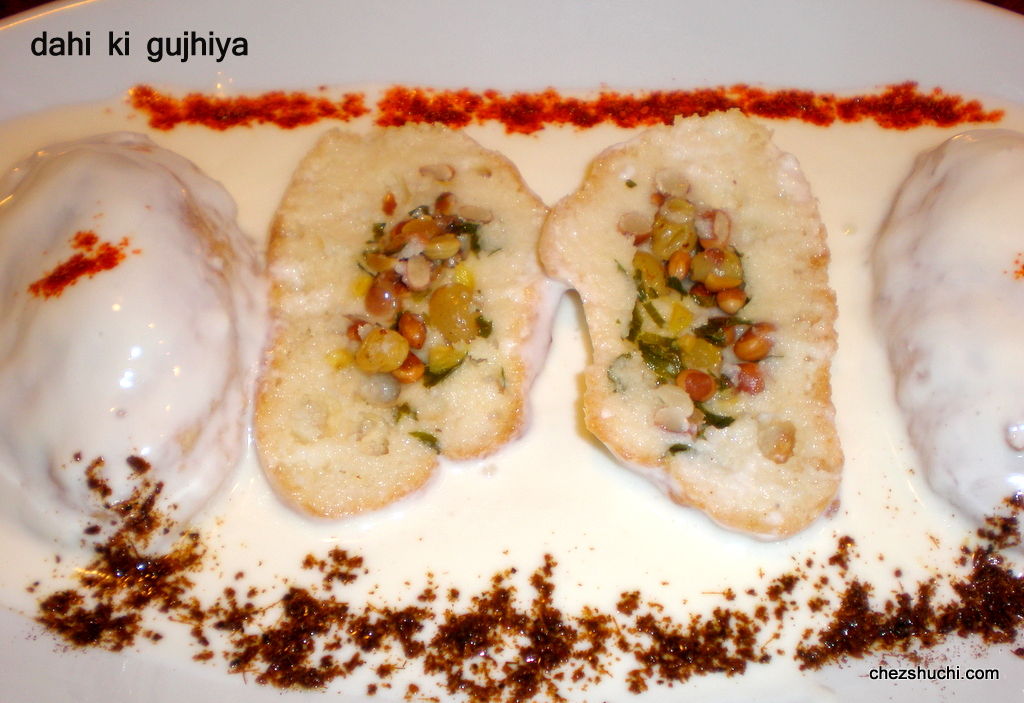 Some Suggestions/ Tips
Gujhiya making is an art. It takes a while to get the right shape.
Deep frying gujhiyas carefully so it does not break.
Some more yogurt preparations recipes
---