Bread Ka Poha
हिन्दी में पढ़ें
Poha is a popular Indian breakfast food. The traditional poha is made with flattened rice. Here we are making bread ka poha. In bread ka poha recipe, the flattened rice has been replaced with bread.
In fast going life, bread has become an integral part of our routine. Bread is easily available all around the world so it becomes easier to make bread recipe. There are countless dishes which can be made from the bread. This is an easy to make, light, and mouth-watering dish. One can replace regular white bread with whole wheat bread to make bread delicacies.
Try this delicious breakfast dish and please do share your valuable comments. Happy and healthy cooking, Shuchi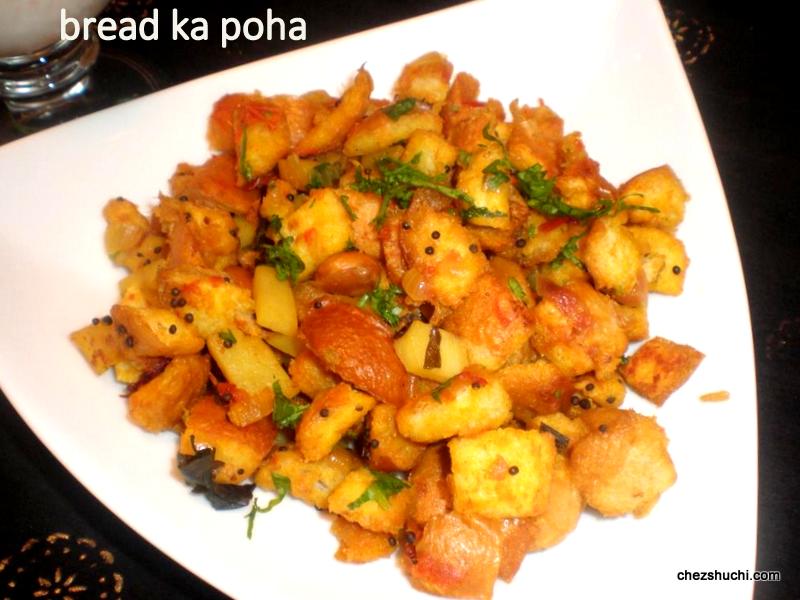 Preparation Time: 5 minutes
cooking time: 10 minutes
300 clories in each serving
Ingredients (serves 4)
Bread 10-12 pieces
Onion 1 medium
Tomato 1 medium
Boiled potato 1 medium
Peanuts 2 tbsp
curry leaves 8-10
Whole red chilies 2
Green chili 1
Oil 2 tbsp
Mustard seeds 1 ½ tsp
Salt 1 tsp/ as per taste
Turmeric powder ¼ tsp
Red chili powder ¼ tsp
Sugar 1 tsp
Chopped coriander leaves2 tbsp
Method of preparation
Cut the bread slices into about  half inches square pieces.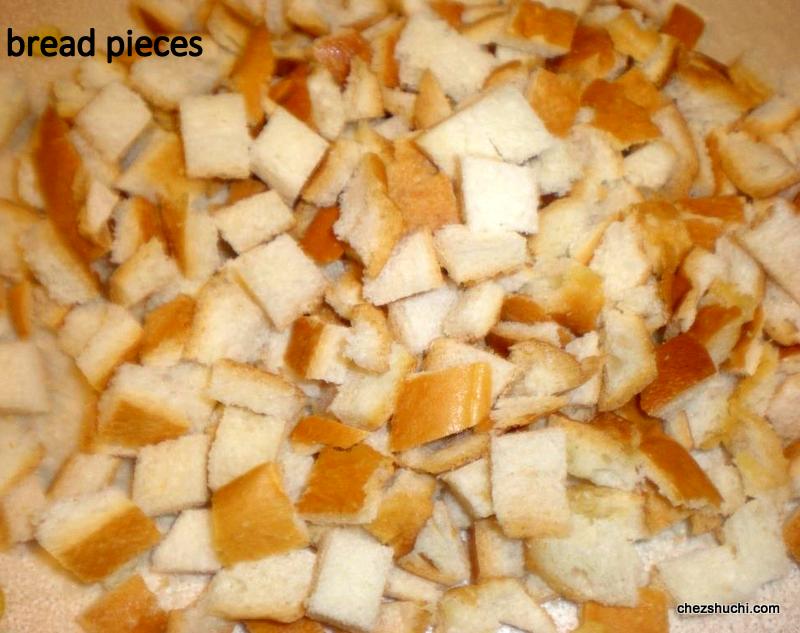 Bread pieces for poha
Peel and cut potato into small pieces. Peel, wash, and finely chop the onions. Wash and finely chop the tomato. Remove the stem of green chilies, wash and finely chop it.
In a wok heat oil, add mustard seeds when seeds stop crackling add curry leaves, fry for a few seconds. Add peanuts, curry leaves, whole red chilies and finely chopped green chilies. Fry for about 2 minutes.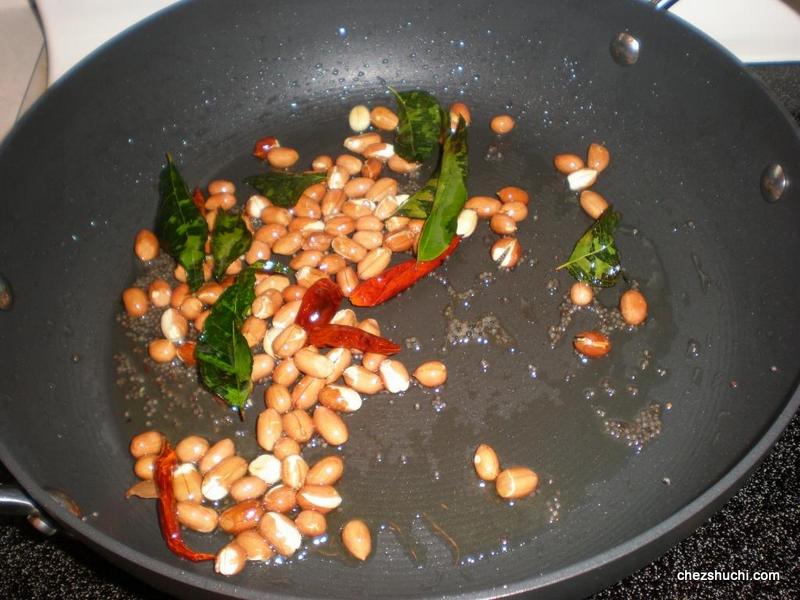 seasoning of bread poha
Add onion and fry untill translucent (takes 2-3 minutes).
Add chopped tomatoes and fry for another 2-3 minutes. Add chopped potatoes and cook for a minute, add salt, red chili powder and turmeric, mix well.
Add bread pieces stir and add sugar . Mix well and cook for 3-4 minutes. Garnish with coriander leaves.
Delicious bread ka poha is ready to serve. Serve for the breakfast or with evening tea.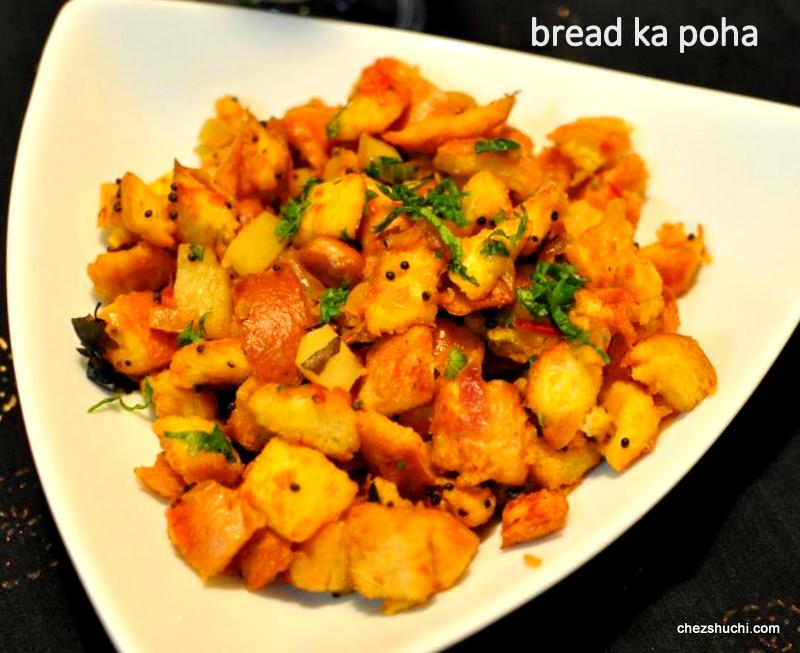 Some Tips/ Suggestions :
Following is the picture of bread's sides from the bread rolls recipes. Whenever I make bread rolls, I save the sides of the bread for bread ka poha.
You can also add a little bit of lemon juice as per taste.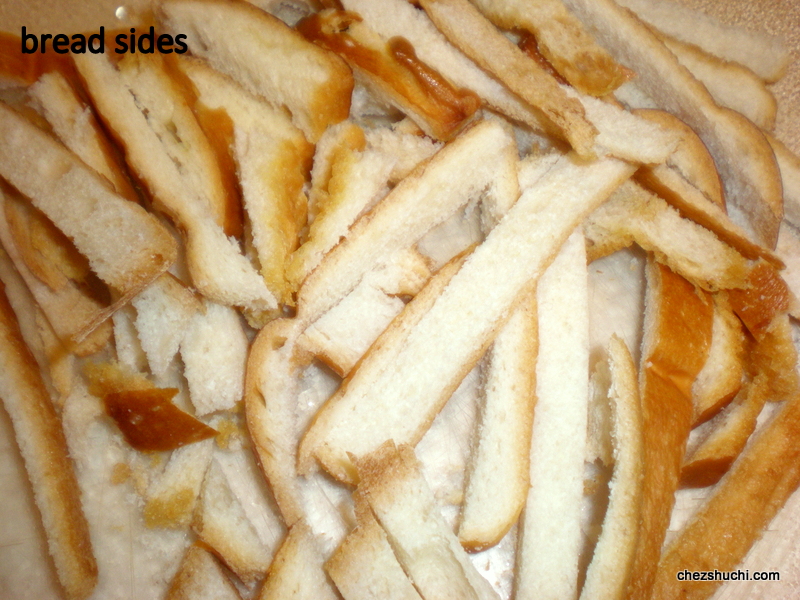 ---