Bread Rolls
हिन्दी में पढ़ें
Bread rolls are deep fried snacks, made with potato stuffing in center of the bread. This is a very delicious and mouth watering snack from North India. It is easy to make and does not take much time. So if you don't mind fried snacks, make bread rolls and enjoy...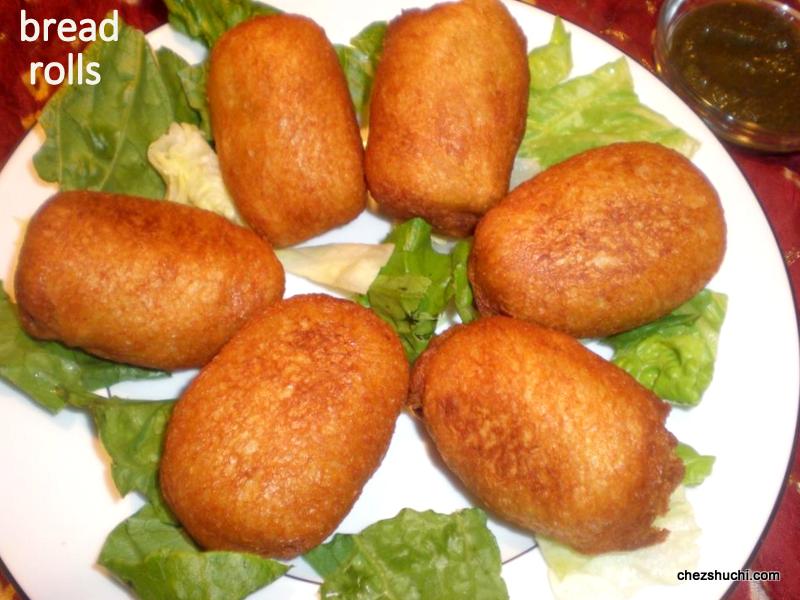 Ingredients

(Makes 10 Rolls)
For Filling :
Boiled potatoes 5 small/250 gms
Chopped coriander leaves 1 tbsp
Green chili 1-2
Salt 1tsp
Red chili powder 1/4 tsp
Chaat masala 1/4 tsp
For Rolls :
Bread 10 pieces
Oil to deep fry

Method of preparation
Remove the stem, wash and finely chop the green chilies.
Peel off the potatoes, and mash them properly. Add salt , red chili powder, chaat masala, chopped coriander leaves and chopped green chilies in the mashed potatoes, and mix well. Keep aside the filling.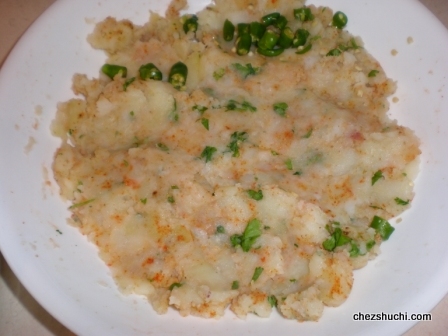 Remove the brown sides of the bread pieces. The sides can be saved for bread ka poha.
bread pieces after removing the corners bread corners-save for bread ka poha
Take a bread piece, wet the bread piece by sprinkling little water, squeeze the extra water off from the bread by pressing it in between your palms . Now place about 2 tsp of potato filling in the center of the bread piece. Bring the corners together and cover the filling by pressing gently from each side. Repeat the process with all the bread pieces.
wet bread with potato filling bring the corners at the center
The filling should absolutely be covered by bread as shown in the picture.
bread rolled bread roll are ready for frying
Heat oil in a skillet on medium- high heat, place the bread rolls in the hot oil one by one ( depending on the wok's size) . Now deep fry the bread rolls until golden brown. Takes about 5 minutes. Drain onto kitchen towel.
The photo below shows the two stages of frying the rolls. The roll has to be turned on the other side when it looks pink from sides - I have turned two rolls, and the third is ready to turn.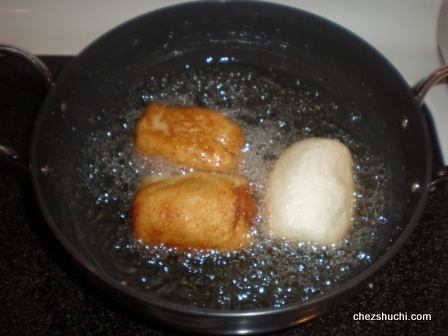 bread rolls are being deep fried
Delicious Bread Rolls are ready to serve.Serve hot bread rolls with pudina chutney or may be tomato ketchup.
Some Tips/ Suggestions :
Do not throw the sides of the bread pieces, we can make bread poha with these pieces.
In the potato filling's photo I have kept the green chilies aside - to make some bread rolls without green chilies for kids, and some with chilies for those who can have it.
---