Bread Uttapam
हिन्दी में पढ़ें
Bread uttapam can also be called as Semolina toast. The spread for this toast is similar to that of semolina uttapam. It is a very light and delicious preparation. It can be made quickly for morning breakfast or even for the evening snack. You can also make these toast for weekend brunch…………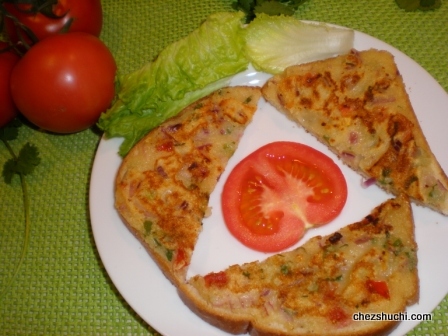 Ingredients

(Makes 8 toasts)
Semolina (sooji/rava) ¾ cup
Salt 1 tsp
Yogurt (dahi) 4 tbsp
Water about 1/3 cup
Tomato 1 small
Onion 1 small
Bell pepper (capsicum) 2 tbsp chopped - optional
Green chilies 2
Chopped coriander leaves 2 tbsp
Bread 8 slices
Butter to brush
Method of preparation
In a bowl take semolina, salt, and yogurt. Mix all the ingredients well. Now add water, and mix well again. Leave the batter for 10 minutes.
Semolina will absorb the water. Now check the consistency of the batter, add little more water if needed.
Remove the stem of the green chili, wash and chop it finely.
Peel off, wash and finely chop the onion. Wash and finely chop the tomato.
Now add chopped green chilies, coriander leaves, tomato, onion and bell pepper in the semolina batter. Mix well .

soaked semolina semolina batter after adding all the ingredients
Heat a nonstick griddle/ pan. Take a bread slice, spread a layer of semolina batter on the bread.
Now grease the griddle with a little butter and place the bread on griddle. Make sure that the batter side is on top. Cook on medium to low heat.
Now flip the bread carefully and cook from the other side.
bread uttapam on the griddle semolina toast after flipping
Repeat the process with all the breads.
Delicious Samolina toast/ Bread Uttapam is ready to serve. You can cut the toast diagonally if you prefer. These toasts taste good without any accompaniments but you can also serve it with tomato ketchup.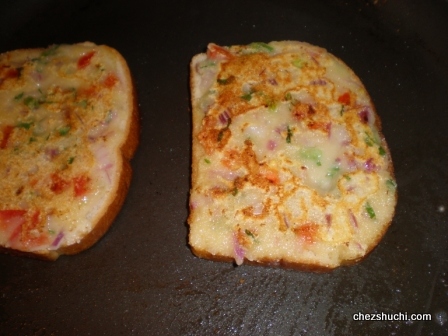 Semolina toasts
Tip :
If you do not eat onions, make the filling without onions; it tastes equally good.
---