Paneer Sandwich
हिन्दी में पढ़ें
Paneer is an all time favorite! This paneer sandwich is a good source of protein, carbohydrate, fibers and calcium. This is a substantial breakfast dish, and is also an ideal option for picnics, and kids' lunch boxes... I have used whole wheat bread to make this sandwich....
Ingredients

(Makes 4 Sandwich)
For Filling :
paneer 150 gms
Onion 1 medium
Tomato    1 medium
Green chili    1
Chopped coriander leaves   1  tbsp
Salt      ½ tsp
Red chili   ¼  tsp
Lemon juice 1 tsp (optional)
Garam masala¼ tsp
Cumin seeds  ½ tsp
Ghee/ butter 2 tsp
For Sandwich:
Wheat Bread 8 slices
Butter to brush

Method of preparation
Crumble/chop the paneer into very small pieces.
Peel off, wash, and finely chop the onion.
Remove the stem, wash and finely chop the green chili.
Wash and chop the tomatoes into small pieces.
In a wok, heat the ghee/ butter, add cumin seeds. When the seeds crackle, add onions, and fry until translucent (takes 3-4 minutes).
Now add tomatoes, and chopped green chili. Fry for 4-5 minutes on medium heat.
Add crumbled paneer, salt , red chili powder, garam masala and mix well. Cook for 2-3 minutes. Now add lemon juice.
Garnish with chopped coriander leaves. 
Paneer filling is ready.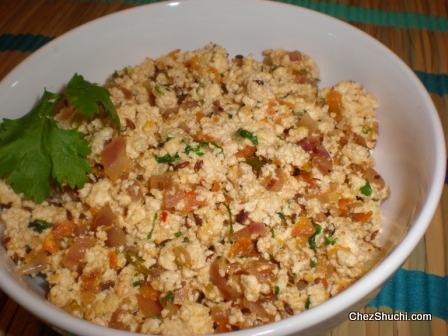 filling for paneer sandwich
Take a slice of bread, spread a layer of filling. Cover with the other bread. Brush the butter on top and bottom sides of bread and grill the sandwich, .
In you do not have grill, cook the sandwich on flat griddle or in a sandwich toaster .
Delicious Sandwiches are ready to serve. Cut the sandwich diagonally. Serve with tomato ketchup or with pudina chutney.
Some Tips/ Suggestions :
I have used whole wheat bread for the preparation of sandwich.
You can also serve this paneer filling with dal-rice/ roti.
---