हिन्दी में पढ़ें
Banarsi Dum Aloo
Banarsi Dum Aloo is a Vaishnav (without onion and garlic) delicacy from Banaras city. This is a rich preparation made with whole and ground spices, tomatoes, cashews and fresh cream. For this delicacy, I have used baby (small) potatoes. You may however, use medium sized potatoes if you do not find baby potatoes. In this case cut each potato into 2 pieces. Traditionally the potatoes are deep fried and then cooked with curry on very low heat (dum). If you don't want to deep fry potatoes, you can shallow fry the potatoes or just use boiled potatoes. So let's make this delicious Banarsi Dum Aloo and please do share your comments. Happy Cooking, Shuchi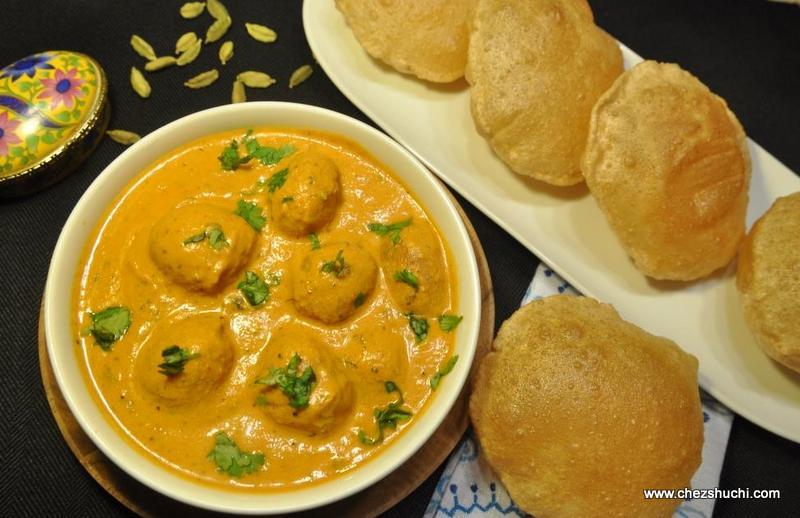 Preparation Time: 10 minutes
Cooking time: 30 minutes
Approximately 350 calories per serving if deep frying the potatoes
Ingredients (serves 4)
Baby potatoes 500 gms/ about 12-14
Oil for deep frying
Ingredients for gravy
Cumin seeds 1 tsp
Fennel seeds 1 tsp
Whole Kashmiri red chilies 6
Cashews 2-3 tbsp
Tomatoes 2 medium/2 cups chopped
Ginger 1 inch piece, grated
Some Other Ingredients
Butter/ Ghee 2 tsp
Green cardamoms 6
Kasoori Methi (dried fenugreek leaves) 1 tbsp
Salt 1½ tsp
Fresh cream ¼ cups
Sugar 1 tbsp
Water about 1½-2 cups
Fresh coriander leaves chopped 1 tbsp for garnishing
Method of preparation
Peel off the baby potatoes and wash them thoroughly. You can cook potatoes half way in microwave for about 4 minutes and then shallow fry them.
You can also boil the potatoes and cook them in very little oil on a griddle from all sides to give a nice red color
If you are planning to deep fry the potatoes then- peel off the baby potatoes and wash them thoroughly. Now poke the potatoes well from every side using a fork. Wash the poked potatoes well. Wipe the potatoes with a clean cloth. Heat enough oil in a wok, and deep fry the potatoes on medium heat until golden brown. It takes about 10-12 minutes to fry the potatoes. Take out the potatoes on a kitchen paper. Keep the potatoes aside.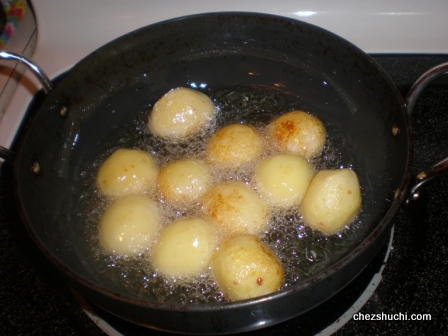 Following picture is of deep fried potatoes.
In a pan/skillet dry roast cumin seeds, fennel seeds, whole red chilies, cashews and tomatoes on medium heat until cooked. It takes about 5 minutes to cook the tomatoes. Tomato masala is ready.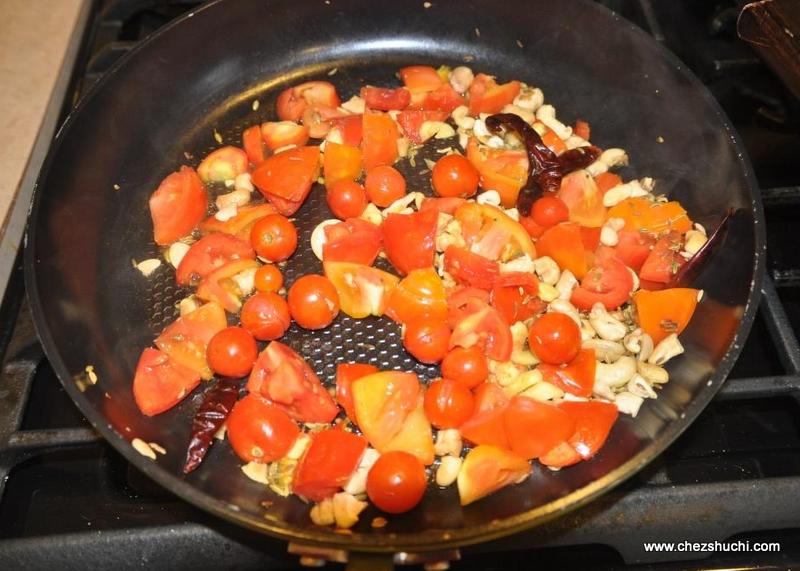 Let the tomato masala cool. In a grinder, take tomato masala and grind it to a fine paste. You can also add some water to grind it.
In a skillet heat 2 tsp butter. Add cardamoms and kasoori methi (fenugreek leaves). Fry for a few seconds. Add tomato masala paste. Mix well and add salt and sugar. Add about 1½ cups of water. Take a boil.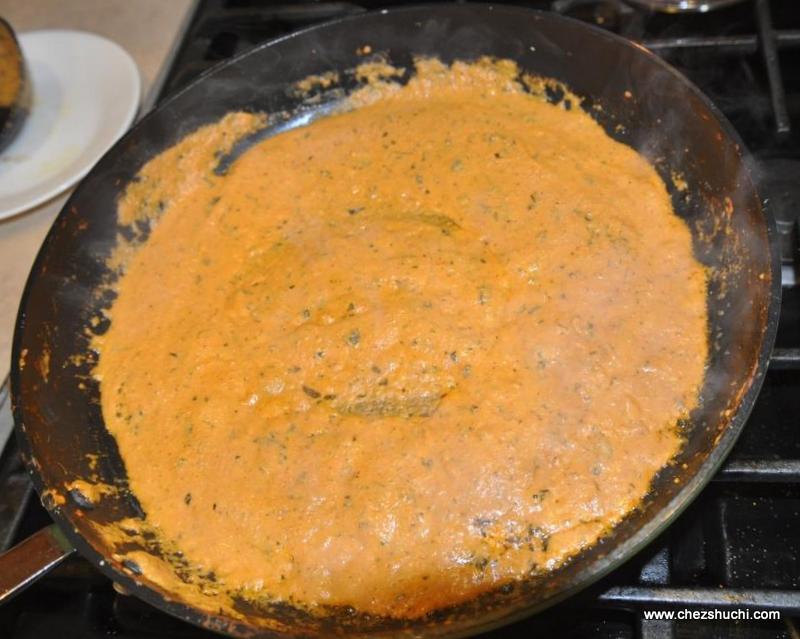 Add potatoes. Mix well. Add some more water if the curry is too thick. Cover the lid and cook at low heat for about 10-12 minutes.
Add fresh cream and mix well. Cook for a minute. Turn off the heat.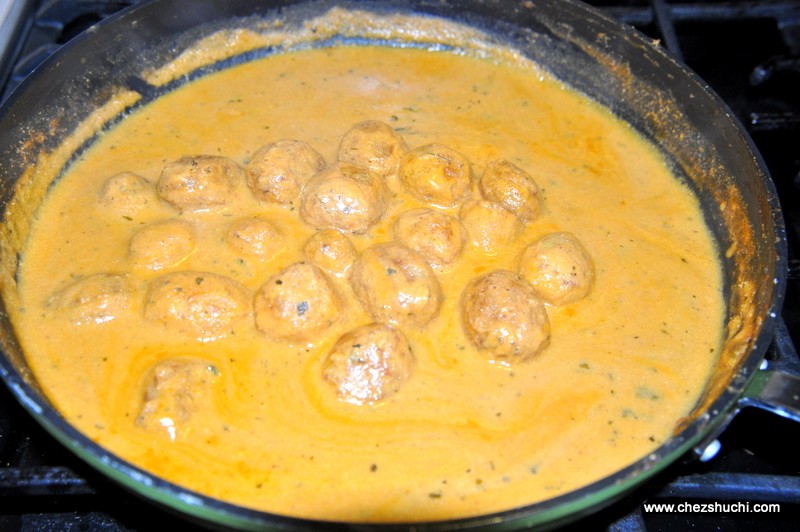 Delicious Banarsi Dum Aloo are ready. Garnish with chopped coriander (cilantro) leaves and serve with Poori or your favorite Indian bread.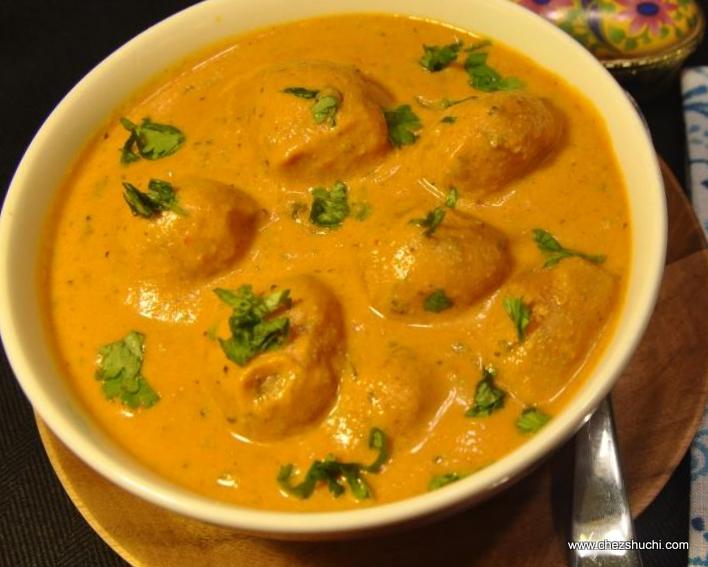 Some Tips and Suggestions:
Baby potatoes will be ideal for this preparation, however in case if you don't find them use regular potatoes and cut them in big pieces.
Potatoes can be deep fried. Half boiled potatoes can be shallow fried or boiled potatoes can be just cooked in a very little oil for this recipe.
You can inrease or decrease the amount of red chilies as per taste.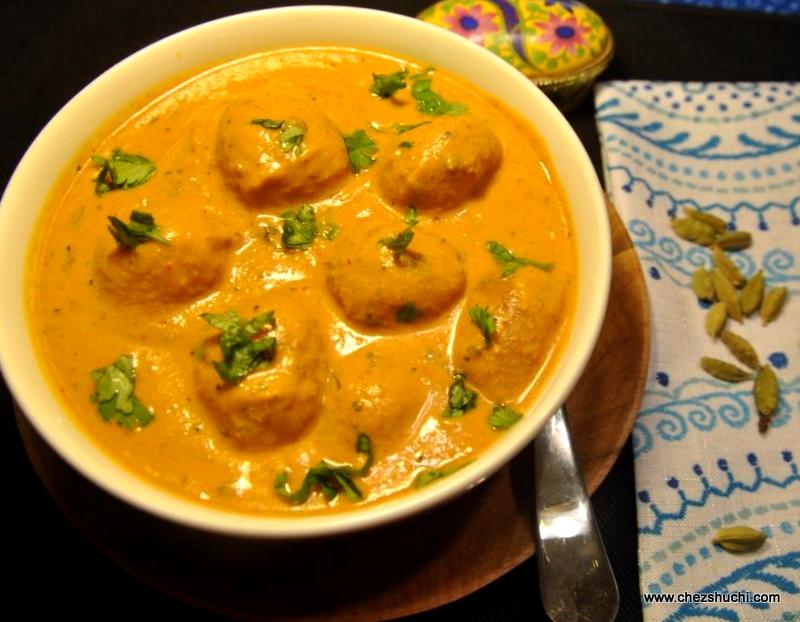 ---