Kashmiri Dum Aloo
हिन्दी में पढ़ें
Kashmiri Dum Aloo is a Vaishnav (without onion and garlic) dish from Kashmir. This is a spicy preparation made with whole and grounded spices. For this delicacy, baby (small) potatoes are fried and then cooked under pressure (dum). This is a red curry delicacy; the curry is usually absorbed by the potatoes when cooked on dum. Try this hot recipe of Kashmiri dum aloo in cold winter days.........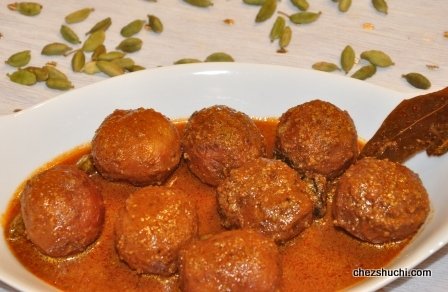 Ingredients

(serves 4)
Baby potatoes 500 gms
Roasted cumin powder ½ tsp
Garam Masala ½ tsp
Kashmiri red chili powder ½ - ¾ tbsp
Ginger powder ½ tsp
Fennel powder ½ tbsp
Green cardamom powder ¼ tsp
Clove powder ¼ tsp
Fresh yogurt 2 tbsp
Salt 1 ¼ tsp
Oil to deep fry
Ghee (clarified butter) 1 tbsp
Asafoetida a pinch
Bay leaves 2
Green cardamoms 2
Black cardamoms 2
Clove 4
Cinamom stick a small piece
Water about 1¼ cups
Others
Dough to seal the edges
Flour ¾ cups
Water to make dough
Method of preparation
Peel off the baby potatoes and wash them thoroughly. Now poke the potatoes well from every side. Poking can be done by fork.
small/ baby potatoes poked potatoes
Wash the poked potatoes well and soak them in saline water for about half an hour.
In a bowl take yogurt, add all the powder spices except salt and asafoetida. Mix well and keep aside.
Make a semi stiff dough of flour by adding a little water at a time. Keep aside.
Now take the potatoes out from the water and pat them dry with a kitchen towel.
poked potatoes soaked in saline water spices soaked in yogurt
Heat oil in a wok, and deep fry the potatoes on medium heat until golden brown. It takes about 10-12 minutes to fry the potatoes. Take out the potatoes on the kitchen paper.
Let the fried potatoes cool down . Now poke the potatoes again with a tooth pick. This time the tooth pick will easily go inside the potatoes.
potatoes are being deep fried second round of poking of fried potatoes
Heat ghee in a wok. Add all the whole spices and asafoetida. Fry for a few seconds.
Now add yogurt in which we have already soaked spices. Fry until the masala leaves the sides of the wok.
Add fried potatoes and salt. Mix in well with the spices. Fry for a minute.
Whole and yogurt masala frying after adding the fried potatoes.
Add water. Mix well and cover the lid.
Seal the sides of the lid with the dough so vapors do not come out. Cook on a very low heat for about 15 minutes.

seal the sides of the wok with dough after 15 minutes of pressure(dum) cooking
Remove the dough seal and serve delicious dum aloo.
Spicy Kashmiri Dam Aloo is ready to serve. Serve with roti, naan or with sheermal.
Tips
Poked potatoes are soaked in saline water so they can absorb the salt inside . The longer you soak the potatoes the better it would be.
This is a spicy preparation! Reduce the amount of kashmiri chili powder and ginger powder if you want a milder recipe.
---