Paneer Paratha
हिन्दी में पढ़ें
Paneer parathas are somewhere near the top of the delicious variety of Indian breads. These parathas are made with wheat flour, stuffed with Indian cottage cheese and fried on the griddle with very little oil. This is a complete dish, and can be served with plain yogurt or pickles of your taste.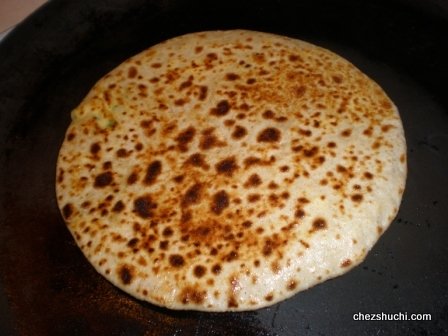 Ingredients

(makes 10 Parathas)
For Dough:
Wheat flour  2 cups
Flour to roll the parathas : 2 tbsp in a plate

Water about a cup, to make dough   
For Stuffing:
Paneer 250 grams
Salt ¾ tsp
Red chili powder ½ tsp
Chaat masala ½ tsp
Green chilies 2-3
Chopped coriander leaves 1 tbsp
Ghee/butter/oil   to brush the paratha, about 2-3 tbsp
Method of preparation
For Dough:
Take flour in a big bowl. Make a soft dough by adding little water at a time. Cover the dough and leave it for 10-15 minutes.

Divide the dough into nine portions and make small rounds of these portions.
For Stuffing:
Mash paneer thoroughly.
Wash, remove the stem and finely chop the green chilies.
Mix all the spices , chopped green chilies and chopped coriander leaves in the mashed paneer.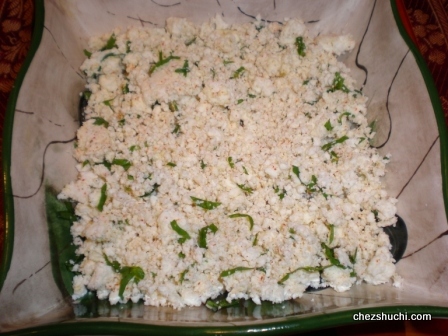 Roll a ball with help of dry flour in about a 3 inch circle. Brush the inner layer with very little oil, and put about one and half tbsp paneer stuffing at the center of the rolled ball. Now bring the sides together as shown in the picture to close the circle. We have to remove the extra dough from the top of the ball . This will help in spreading the filling evenly. Now roll this ball by dusting little dry flour into a 5-6 inch circle. Stuffed parathas are usually rolled thicker than the plain ones.
Heat the griddle/ tawa on medium heat. Place the rolled circle (paratha) to the medium hot griddle. Turn it over when you see some red spots on the paratha, Now cook from the other side. Brush the top side of the paratha with oil and turn the side. Press the sides with  ladle, paratha will puff up. Cook from the other side (takes about one and half minute to cook a stuffed paratha).
Repeat the process with all the balls.
The dough that we have taken out in step 6 can be mixed together to make the last paratha !
Yummy paneer Parathas are ready.
Serve hot paneer paratha with plain yogurt/ curd and pickle/chutney of your taste.
Butter can be served too with the paratha if you like.
Suggestions For Kid's Lunch box:
Paneer is a good source of proteins, carbohydrates and calcium. Paneer paratha is a good lunch for kids. It is easy to make and also it is easy to eat for young kids. So it can be a good option for your kid's lunch box. With Paneer Paratha there are strawberries and til kuta (ground sesame with sugar dish).... !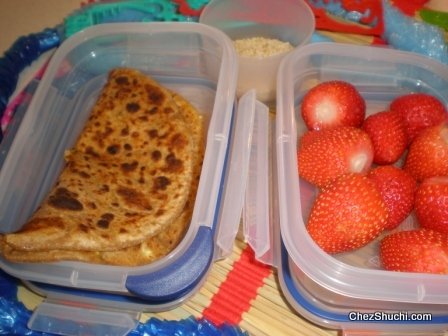 Some other Kid's Lunch box ideas
---