Noorani Seekh Kebab
हिन्दी में पढ़ें
Noorani Seekh Kebab is a low-fat, easy to make vegetarian appetizer. Kebabs are originally derived from middle eastern countries. Traditionally Kebabs are associated with meat, but this is a vegetarian delicacy from Lucknow. Noorani lentil and paneer kebabs are rich in protein, fibers and vitamin B1. Paneer and lentils both are rich in protein and is a good protein source for vegetarians.
I have made Noorani Kebabs many times for parties and have always had rave reviews. I have also added some veggies in this kebab to make them tastier and also healthier. Kebabs taste best when the are grilled in barbeque however you can make them in oven also if you don't have barbeque. Try this delicious recipe and please do share your comments. Happy cooking, Shuchi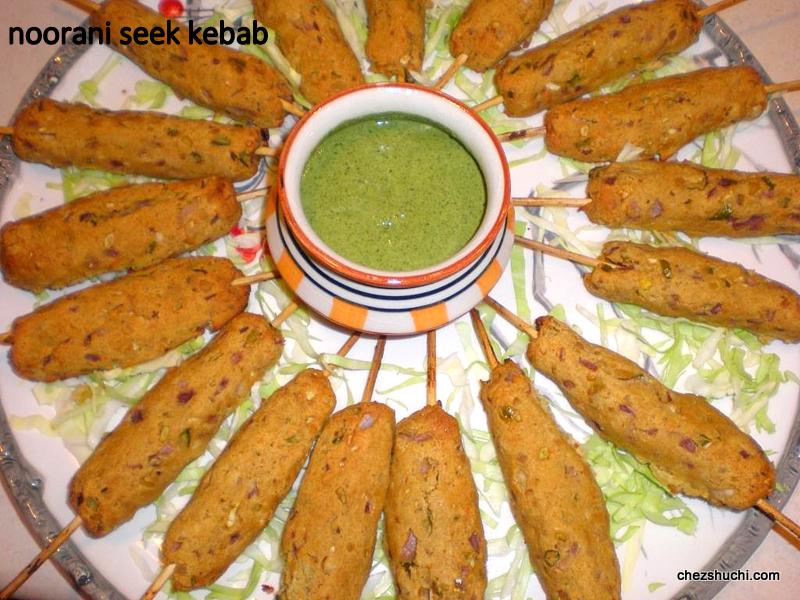 Preparation Time: 10 minutes
cooking time: 20 minutes
Approximately 75 calories in each kebab
Ingredients (makes 14-16)
Bengal gram lentils (chana dal) ½ cup
Mashed paneer 2 cups
Onion 1 medium, finely chopped
Grated ginger 2 tsp 
Green chiles 2, finely chopped
Cabbage ¼ cup, finely chopped (optional)
Carrots 2-3 tbsp, finely chopped
Bell pepper(capscium) 2 tbsp, finely chopped
Salt 1 ½ tsp or to taste
Red chili powder ¼ tsp
Garam masala ½ tsp
Chaat masala ½ tsp
Tandoor masala 1 tsp
Ghee/ oil  for brushing
Method of preparation
Clean, wash, and soak bengal gram lentils (chana dal)  for ½ hour. Boil chana dal with ½ tea spoon salt in a little water. (we do not want soggy dal so make sure that amount of water is perfect)
Let it  cool, then mash the lentils (can be done in a mixer/blender). In case if the mixture is wet, fry it until the water has been evaporated.
In a mixing bowl, take mashed lentils, crumbled/ mashed paneer, chopped bell pepper (capscium/ shimla mirch), cabbage, carrot, onion, green chilis, and ginger.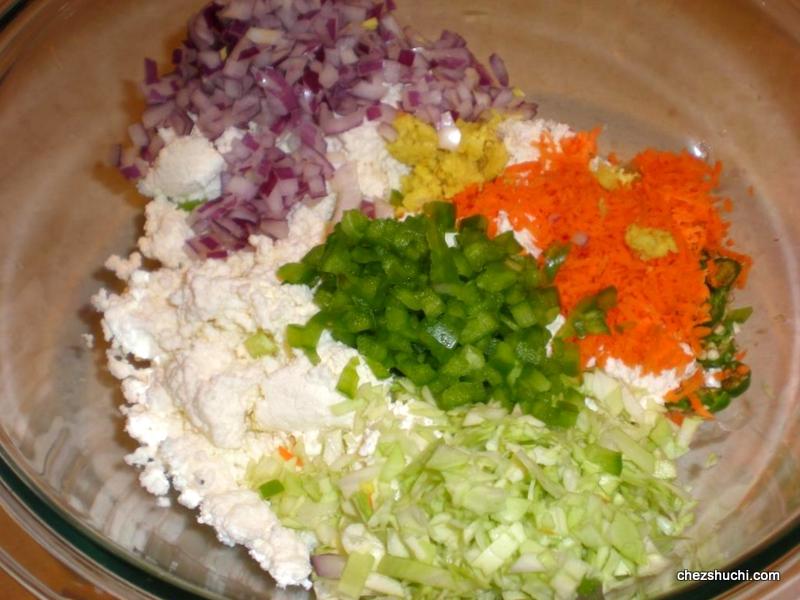 Now add all the spices in the mixture and mix them very well.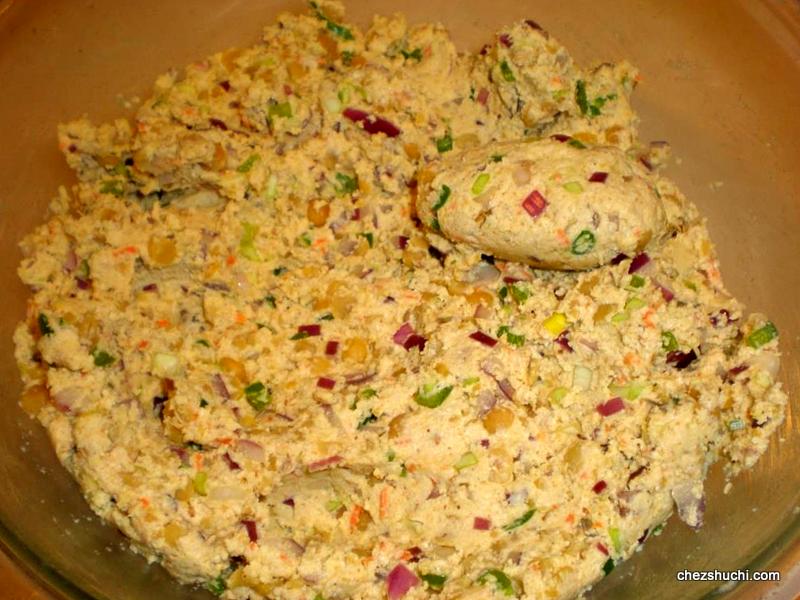 Make about 16 oval shape kebabs. Now hold an oval kebab in your hand and gently slip a skewer in the center. Press and give the required shape .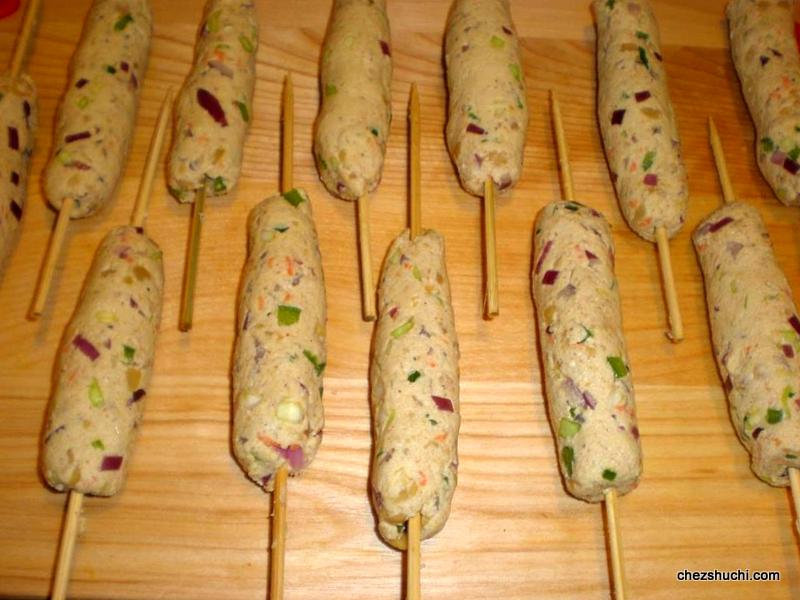 Brush a little ghee from every side of the kebab.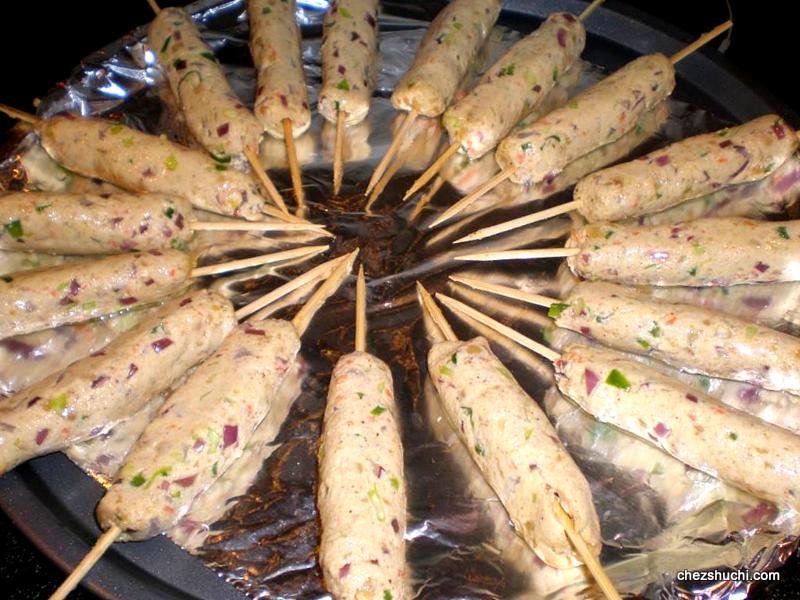 Cooking Options-
I prefer to cook the kebab in the barbeque as this is the most traditional way. For a change, I tried baking the kebabs in the oven. Here are the options to cook seek kebabs-
Oven- If you do not have barbeque do not worry we can make kebabs in the oven. First preheat the oven till 350 F . Now set a butter paper/ foil on the cookie tray and arrange all the skewers in the grill/pizza tray/ cookie tray. Cook till kebabs are golden brown . It takes about 20-25 minutes to cook the kebab in the oven.
Barbeque- Usually I like to barbeque the kebabs over charcoal.
Gas Stove-If you do not have either barbeque or oven, you can still make seekh kebab at home on gas stove. Put a metal net on the flame, hold the skewers and cook over the medium flame.
Deep frying- These kebab can also be deep fried.
Serving Suggestions-
I like to serve these Noorani Kebabs with Lakhnawi Green chutney but kebab can also be served with other chutney of your taste.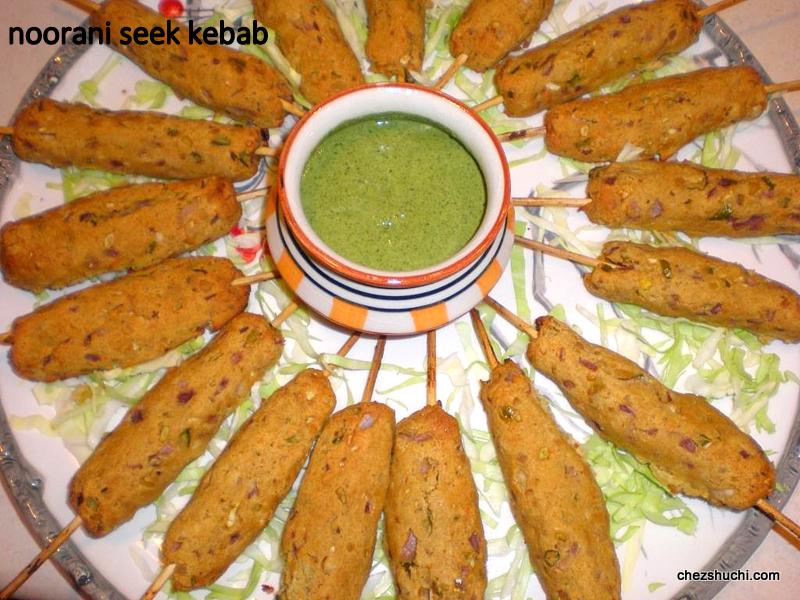 ---