Navratan Korma
हिन्दी में पढ़ें
Navratan korma is a very popular, delicious and rich curry preparation. The Hindi word Navratan means Nine Gems. This word came from the royal courts, where emperors used to appoint nine courtiers.
This delicious mildly spiced, slightly sweet, creamy delicacy has nine things in the curry. I have used paneer, Euryale ferox (makhane), pineapple, cashews, raisins, along with the vegetables to enhance the flavor. The curry is made with onions, khoya (thickened milk), aromatic spices and cream. Try out this exotic delicacy and please do not forget to share your thoughts. Happy cooking, Shuchi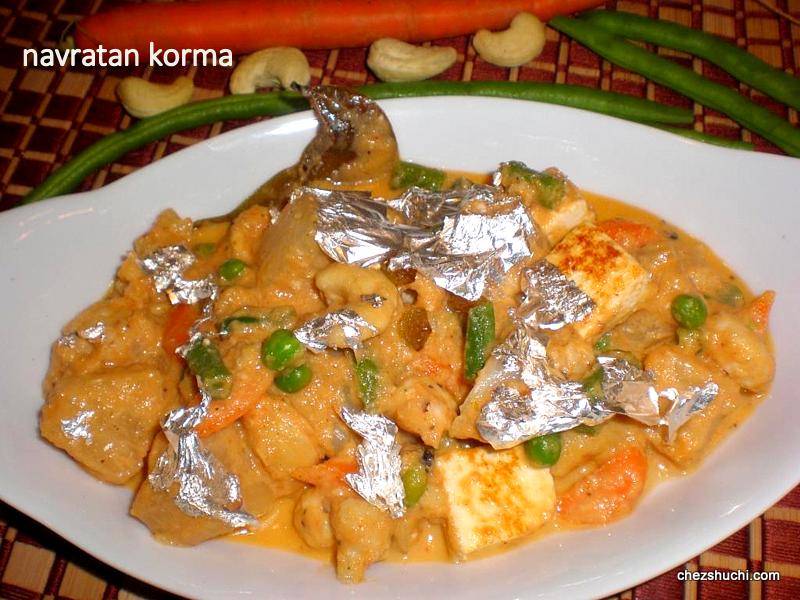 Preparation Time: 5 minutes
cooking time: 25 minutes
450 calories in each serving
Ingredients for Navratan (nine jems) (serves 4)
Paneer   75 gms
Cashews 10-12
Makhane ¼ cup
Pineapple cubes 1/3 cup
Carrot 1 medium
French beans 8-10
Green peas ¼ cup
Cauliflower florets 1/3 cup
Raisins 1½ tbsp
Ingredients For curry
Onion 1 medium /150 gms
Green chilies 1
Ginger 1½ inch piece
Tomatos 2 small (about 150 gms)
Butter/ ghee 3 tbsp
Bay leaves 2
Cloves 4-6
Green cardamoms 2
Cinnamon 2 pieces (½ inch wide and one inch long)
Coriander powder ½ tsp
Red chili powder ¼ tsp
Garam masala ½ tsp
Khoya/ mawa ½ cups
Salt ¾ tsp
Water ¾-1 cups
Heavy whipping cream ¼ cup
Sugar ½ tsp (optional)
To boil the veggies
Method of preparation
Peel , wash and cut the onions in one inch long pieces. Boil the onion in 1 cup water for 3-4 minutes. Drain the onions and let it cool down.
Remove the skin of ginger and the stem of the green chilies and wash them. Roughly chop the green chilies and ginger .
In a blender make a fine paste of green chilies, ginger, and boiled onion. Keep aside.
Wash tomates and grind them into a fine paste. Keep aside.
Cut the chosen vegetables into 1 inch pieces. Heat water in a pan, add ¼ tsp salt. Boil green beans, carrots, cauliflower florets, and green peas until tender. Takes about 5 minutes.
Cut paneer into ½ inch squares. In a non stick wok sauté paneer with a little butter for a minute. Keep aside.
In the same wok heat a little butter and fry Makhane until crunchy. Takes 2-3 minutes. Keep aside.
In the same wok heat a little butter and fry cashew nuts on medium heat until fragnant. Takes a couple of minutes. Keep aside.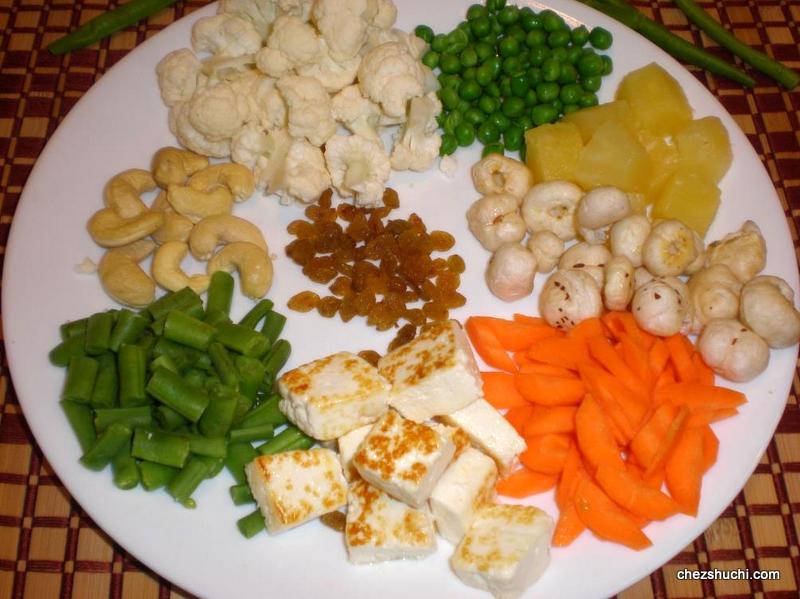 Nine ingredients of Navratan Korma
In a non stick wok heat 2 tbsp butter/ghee . Add all the wholesome garam masala ingredients (bay leaves, cloves, green cardamoms, and cinnamon) in the ghee/ butter and fry on low heat for a minute or until fragrant.
Now add onion paste and fry on medium heat till golden or until it leaves the sides of the pan. (takes about 7-8 minutes)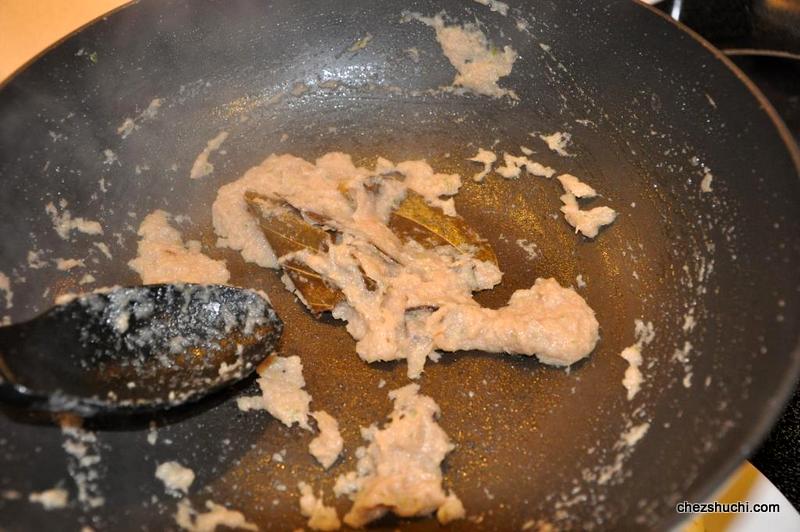 whole masala and onion frying
Now add coriander powder, and red chili/ deghi mirch powder, Mix well and fry for a few minutes.
Now add tomato puree and, garam masala. Fry again until masala leaves the sides of the pan (takes 3-5 minutes).
Grate/ scramble the khoya. Add grated khoya in the masala. Mix well and cook for a minute.
Add 1 cup water, and salt. Take a boil and add boiled vegetables. Cook the vegetables for a couple of minutes.
Add fresh cream. Mix well. Now add sautéed paneer, makhane, cashews, raisins, and pineapple. Mix well. (I like to add a little bit of sugar in this curry at this point, but it is optional) . Cook for another minute. Turn off the heat.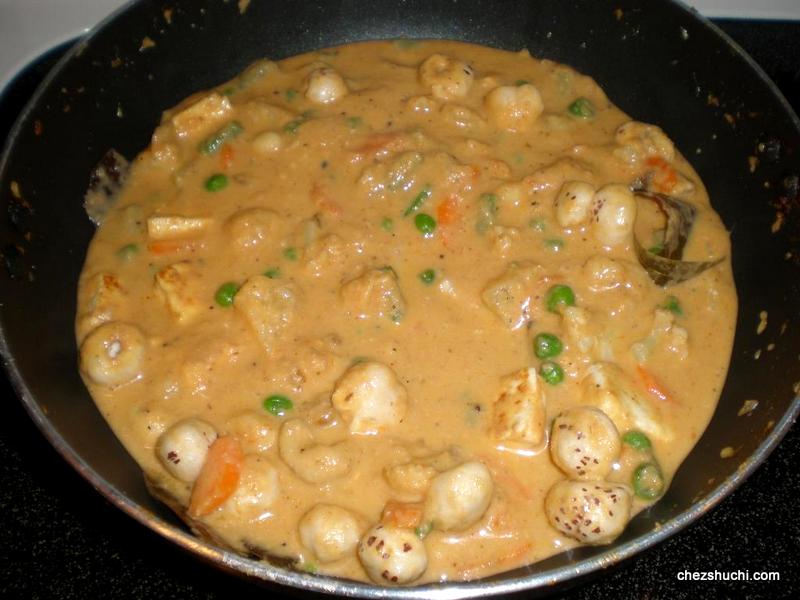 Navratan korma is ready
Delicious Navratan Korma is ready . Serve with Rotis/ butter naan or with other Indian breads.
I have decorated Navratan Korma with silver foil (Vark).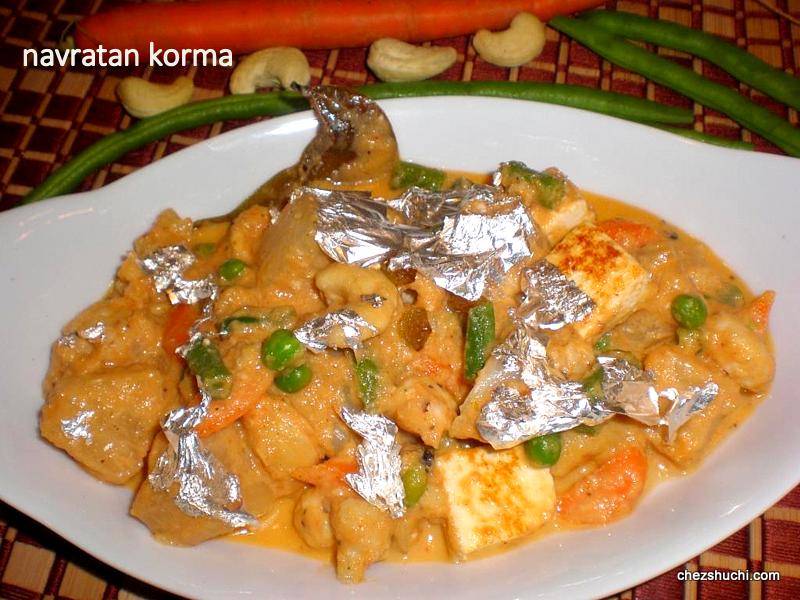 Some Tips/Suggestions:
You can also use cashew nut paste instead of khoya.
You can also use fresh yogurt instead of tomato paste in Navratan Korma.
---
Some Other Rich curries:
---
---