हिन्दी में पढ़ें
Methi Mathri
Mathris are very famous North Indian snacks. Usually mathris are deep fried tea time snacks. Here we are making baked methi mathri. To make these mathris healthier I have used wheat flour. The good thing about mathris is that they can be stored in air tight containers for a month or even longer. These are good finger snacks for parties or for evening tea. Try out these mathris and please do share your comments….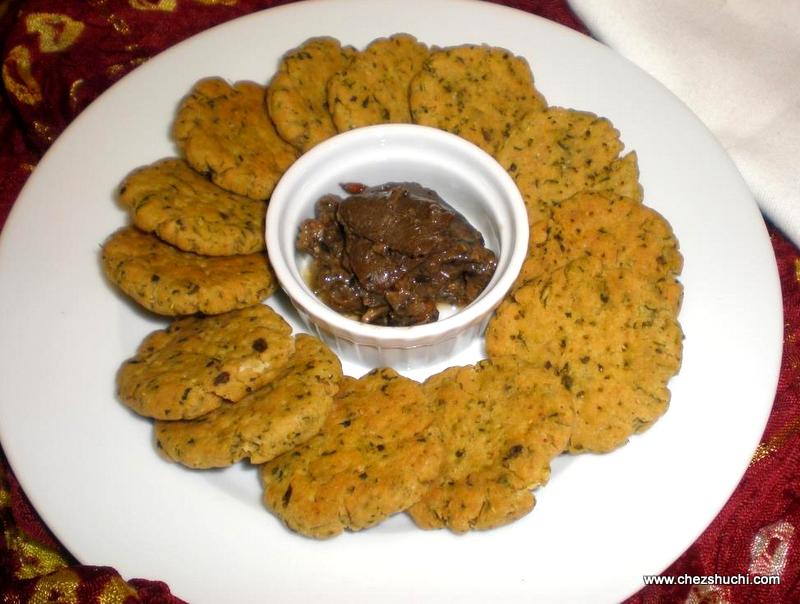 Ingredients
(Makes about 18 mathris)
Wheat flour 1 cup
Semolina 1 tbsp
Oil ¼ cup
Fresh methi leaves, finely chopped 1/3 cup / kasoori methi 2 tbsp
Salt 1 tsp
Red chili powder ¼ tsp
Garam masala ¼ tsp
Chaat masala ¼ tsp
Water about 2-3 tbsp to make the dough
Method of preparation:
Preheat oven at 350°F.
In a big mixing bowl combine wheat flour, semolina, salt, red chili powder, garam masala, chaat masala, and methi leaves well.
Add ¼ cup oil in the flour mixture. Mix well and rub between the hands.
Add a little water (you will be needing a couple of table spoons of water only) at a time and knead a stiff dough. Cover the dough with a damp cloth and set aside for about 15 minutes.
Divide the dough into 18 small rounds. Make them smooth and press them between the palms.
Roll them into semi thick rounds of 1½ inches.
Poke the rolled balls well from both the sides so they do not puff up.
Arrange the mathris in the baking (cookie) tray.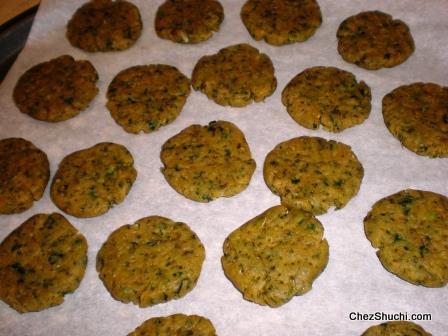 methi mathri are ready to bake
Put the baking tray in the pre heated oven and bake for about 30 minutes.
Let the mathris cool down completely before you serve them.
These mathris can be stored in airtight containers for a month.
Methi mathris are ready to serve. These mathris are very yummy by themselves, but you can also serve them with sweet and sour lemon pickle.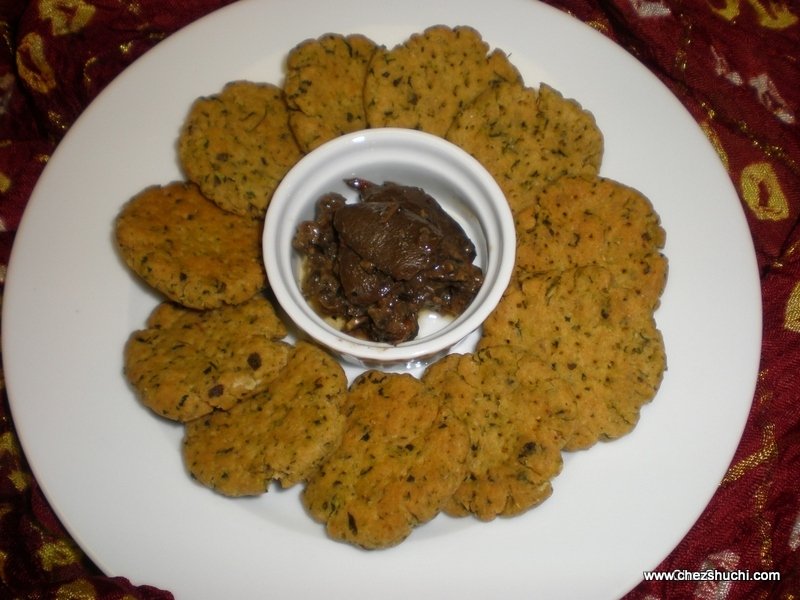 Some Tips/ Suggestions:
You can also use cookie cutter to make different shapes of mathris.
You can also deep fry these mathris. Mathris should be deep fried at low heat.
---
Some other teatime snacks
---
Some other Snacks and starters