Hariyali Tikki
हिन्दी में पढ़ें
Hariyali tikki- the word hariyali means green in Hindi and tikki is a patty, so this recipe is about green patties. These green tikkis are made with spinach, peas, and potatoes, and flavored with mild spices. This is a nutritious snack. It can also be a good option for kids' lunch boxes.....
Ingredients

(makes 12)
Boiled potatoes 4 medium
Spinach 100 gms
Green peas

¾

cups
Green chilies 2
Chopped coriander leaves 2 tbsp
Salt 1 tsp/ to taste
Red chili powder ¼ tsp
Garam masala ¼ tsp
Chaat masala ½ tsp
Cornflour 1 tbsp
Oil  for brushing 
Method of preparation

Remove the thick stems, wash and wipe off the extra water of spinach in a kitchen paper. Now finely chop the spinach leaves.
Wash the green peas. Boil the green peas in a cup of water with a little bit of salt and sugar till they get tender. The salt and sugar maintains the green color of peas.
Remove the stem, wash, and finely chop the green chilies.
Leave the boiled peas on a sieve to remove the extra water.
Now mash the green peas thoroughly.
Peel off and mash the boiled potatoes thoroughly.
Heat 1 tsp oil in a wok. Now add chopped green chilies and chopped spinach. Mix well. Cook for 2-3 minute on medium heat.
Now add mashed peas and cook for couple of minutes . Turn off the heat. Let the mixture cool down.
Spinach and mashed peas
Now add mashed potatoes, chopped coriander leave, and all the spices. Mix well.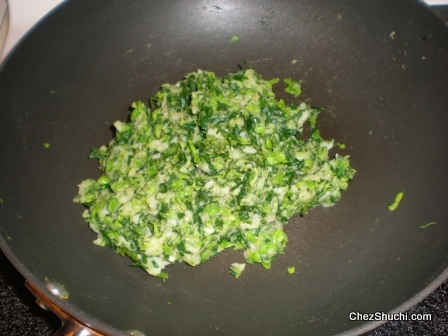 after adding mashed potatoes and spices
Now add cornflour and mix well again.
Make 12 balls out of the green mixture. Press them slightly to flatten them.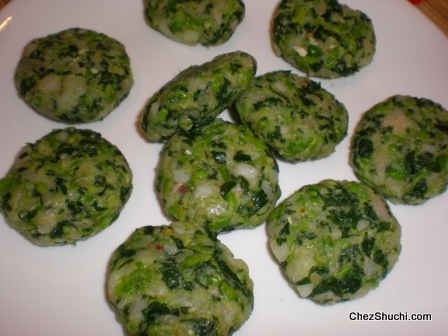 hariyali tikki
Heat a non stick griddle on medium heat. Grease the bottom of the griddle with oil. Now place green patties on the griddle and cook them from both the sides., until well done.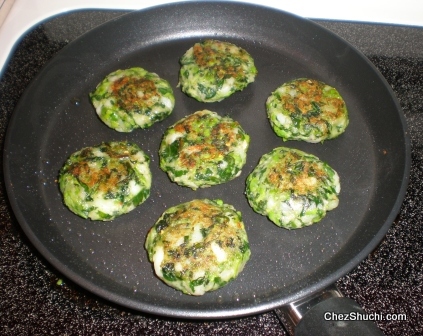 hariyali tikki on the griddle
Delicious and nutritious hariyali tikkie are ready to serve. Serve hot tikkie with tomato ketchup or with coriander chutney .
Some other snacks and starters recipe
---