Kale Paratha
हिन्दी में पढ़ें
Kale is one of the healthiest green leafy vegetables. It is also often called as a super-food. Kale is very rich in Vitamin C, Vitamin A, Vitamin K1, and fiber. It also has a lot of essential minerals. Kale belongs to the family Brassicaceae (old name Cruciferae). Some other common vegetables of this family are mustard, radish etc. Kale can be used in smoothies, soups, stir fries, salads, etc..
Kale is growing in abundance in my kichen garden and I am trying to use it in a way that kids don't make a fuss. Kale is a fibrous vegetable and it is chewy also so it is important to make something yummy that kids usually like . I tried kale Paratha - it was a good experiment. Everyone liked it. It tasted like mooli ka paratha (Radish paratha). So here we go...Please share your feedback after trying this paratha. In case if you do not find kale, use radish leaves to make these parathas.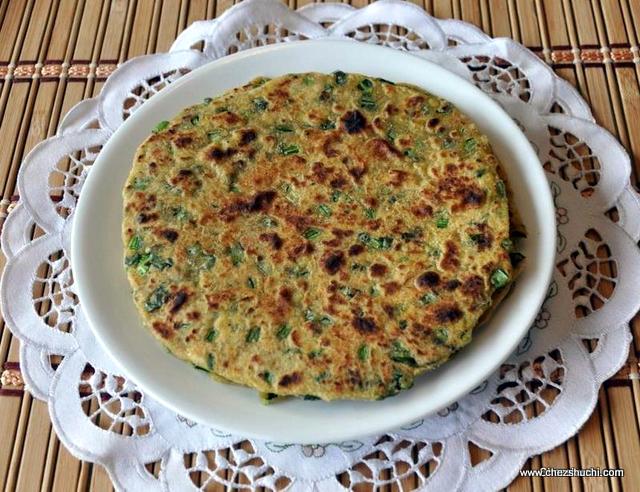 Ingredients (makes 8 parathas)
1 cups wheat flour 
2 tsp oil
1 cup kale leaves, finely chopped
Green chilies 1, finely chopped
¾ tsp salt
¼ tsp red chili powder
½ tsp chaat masala
¼ tsp turmeric powder
about ½ cup water, to make dough 
Ingredients For Rolling and cooking
Flour to roll the parathas : 2-4 tbsp in a plate 
Ghee/butter/oil to brush the paratha, about 2 tbsp  
Method of preparation for Dough:
Following picture shows kale plant growing in kitchen garden.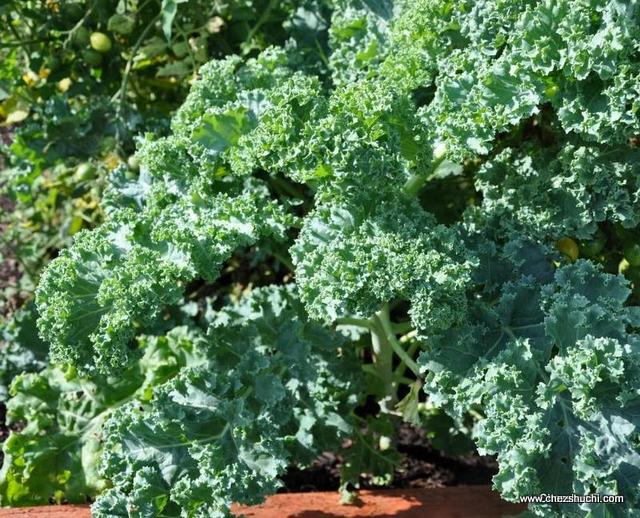 In a big bowl take wheat flour, finely chopped kale leaves, finely chopped green chili, salt, turmeric powder, chaat masala, red chili powder and 2 tea spoon oil. Mix all the ingredients well.
Make a soft dough by adding water a little by little. Cover the dough and keep aside for 5 minutes.
Smoothen the dough by using a little oil. Make 8 small rounds.
Heat the griddle or tawa. While the griddle is heating up, take a ball of the dough and roll it with the help of a little dry flour into a 2 inch circle. Brush the inner layer with a little oil and close the circle into a ball again. Now roll this ball by dusting a little dry flour into a 5 inch circle.
Place the rolled circle (paratha) onto the medium hot griddle. Turn it over (after about 15-20 seconds) when you see some red spots on the paratha.
Cook the paratha from the other side, and brush the top side of the paratha with oil. Turn the side, and press the sides with ladle, paratha will puff up. Cook from the other side
Repeat the process with all the balls.
Serve delicious and healthy kale paratha with your favorite vegetable (sabji).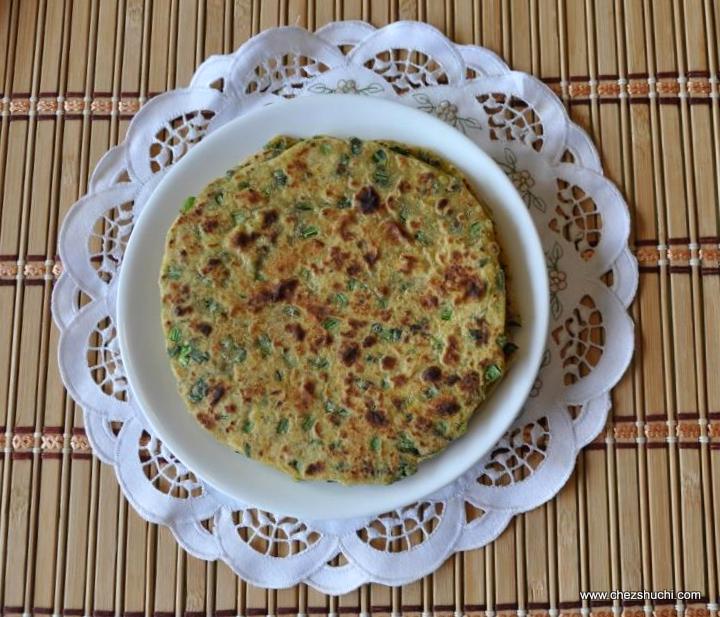 Some Tips/ Suggestions:
You can add any other available chopped greens in this bread preparation.
The best substitute for kale would be radish leaves.
---