Gujhiya
हिन्दी में पढ़ें
Gujiya/ Gujhiya or Gujia are a traditional North Indian dessert specially made for the festival like Holi and Diwali. Gujhiya are khoya/ Mawa (thickened milk), nuts, dry fruits and sugar filled pastries; flavored with cardamoms and deep fried. Traditionally gujhiya are deep fried in pure ghee but feel free to use refined oil instead of ghee if you have any dietary restrictions. Gujhiya is deep fried in slow heat so it gets cooked from inside also. It takes time to make gujhiya. You can divide the work in parts. Like make the mava filling a day ahead and make gujhiya other day.
Gujhiya or almost similar dishes are known by different names the different sates of India like, Purukiya in Bihar, Karanji in Maharashtra, Ghughra in Gujarat, Kajjikaya in southern states of India. There is a similar sweet called as Chandrakala. As the name shows Chandrakala are chaand (चाँद) moon shape.
So this Diwali let us make this traditional dessert gujhiya. Please do try this recipe and don't forget to share your valuable comments. Happy Diwali, Shuchi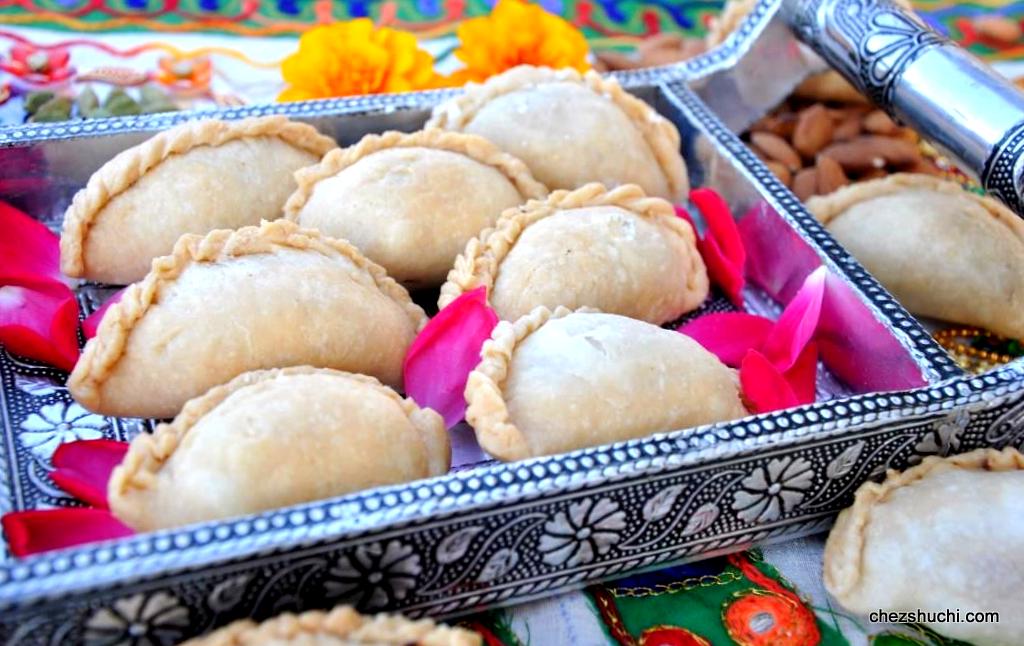 Preparation Time: 20 minutes
cooking time: 45 minutes
Approximately 150 calories in each gujhiya
Ingredients for gujhiya dough (wrapper), makes 20 gujhiya
Ingredients for gujhiya stuffing
Some other ingredients
Method of preparation For stuffing
Thinly slice the almonds/cashews or coarsely grind them in the grinder.
Remove the green skin of the cardamoms and grind the seeds. Don't throw the cardamoms skin, use the skin in tea makin.
Heat a wok add grated coconut and fry for a few seconds.
Add Khoya/mawa and fry for a few (3-4) minutes. Add almonds and chiraunji. Mix well. Turn off the heat and let the mawa cool down.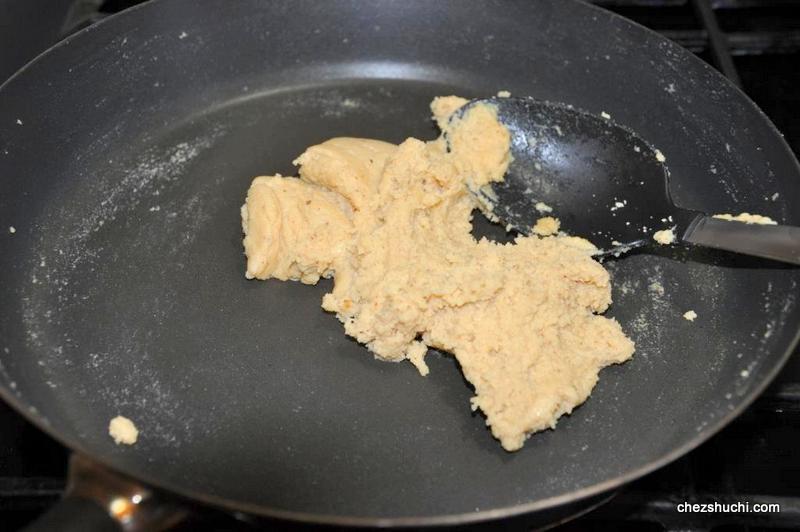 Mawa/Khoya fryung
When fried khoya is still a little lukewarm but not hot, add sugar and green cardamoms. Mix well all the ingredients. Mawa/ Khoya filling is ready. keep aside.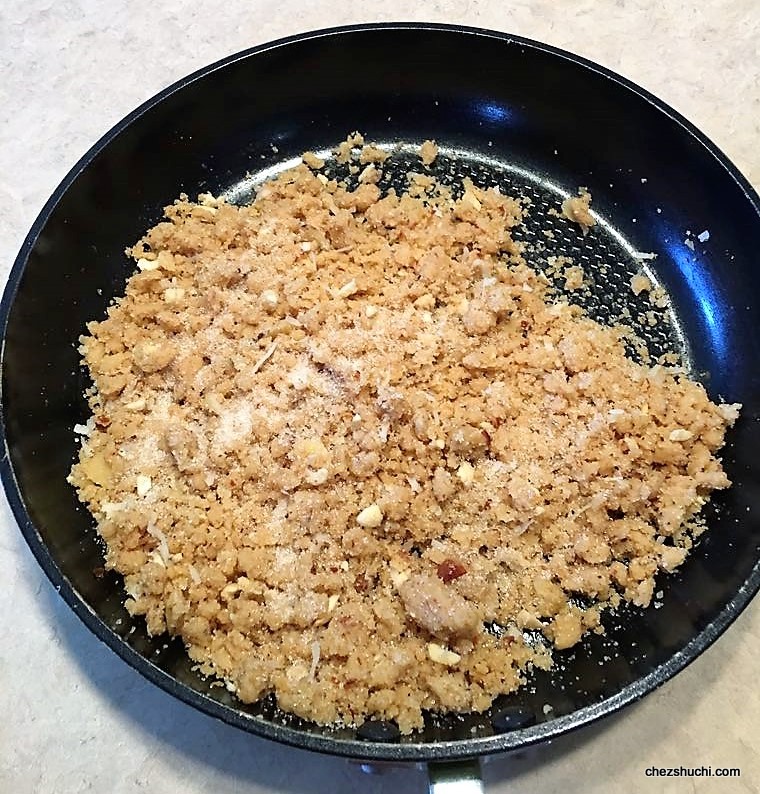 Mawa/Khoya filling for gujhiya
Method of preparation For dough
In a big bowl (parat) take all purpose flour (maida). Add melted ghee and mix well ghee with the flour.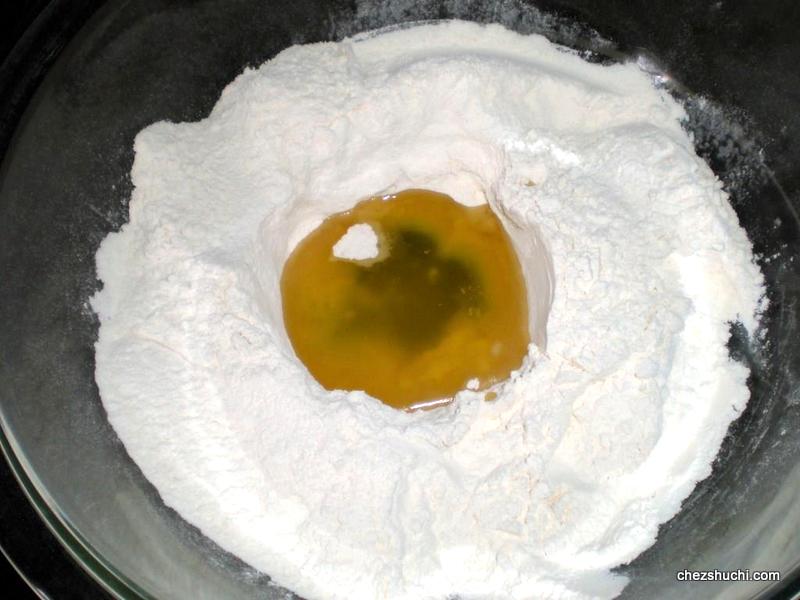 All purpose flour with ghee
Add a little water at a time and knead a semi stiff dough. Cover the dough with a damp cloth and set aside for about 10 minutes.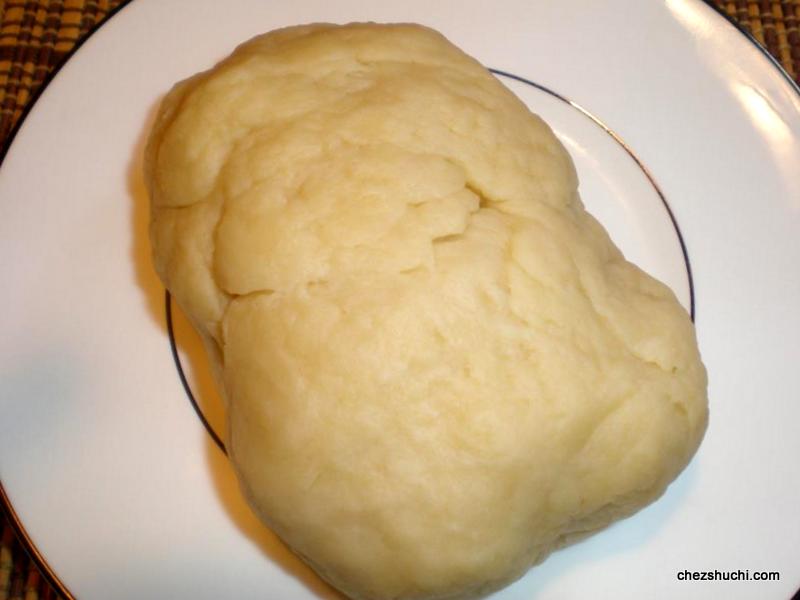 semi stiff dough for gujhiya
In a bowl take 1 tbsp all purpose flour. Add about 1 tbsp water to make paste. This paste will be used to seal the sides of gujhiya wrapper covering. Keep aside.
Divide the dough into 20 round portions.
Roll the balls into a not too thin and not too thick, perfect round of about 2-2½ inch circle.
Hold the rolled circle in a hand. Dip your index finger into the water & flour paste and apply it to the half of the semi circle.
Now put about 1 table spoon full of khoya mixture in the center of the circle and bring the sides together to seal . Press the sides well to seal the edges.
You can make some designs manually or roll a ghujiya spoon or use gujhiya mold to give the sides a design. I have done it with thumb and finger. You can also use pasta maker mold to give gujhiya a nice clean shape.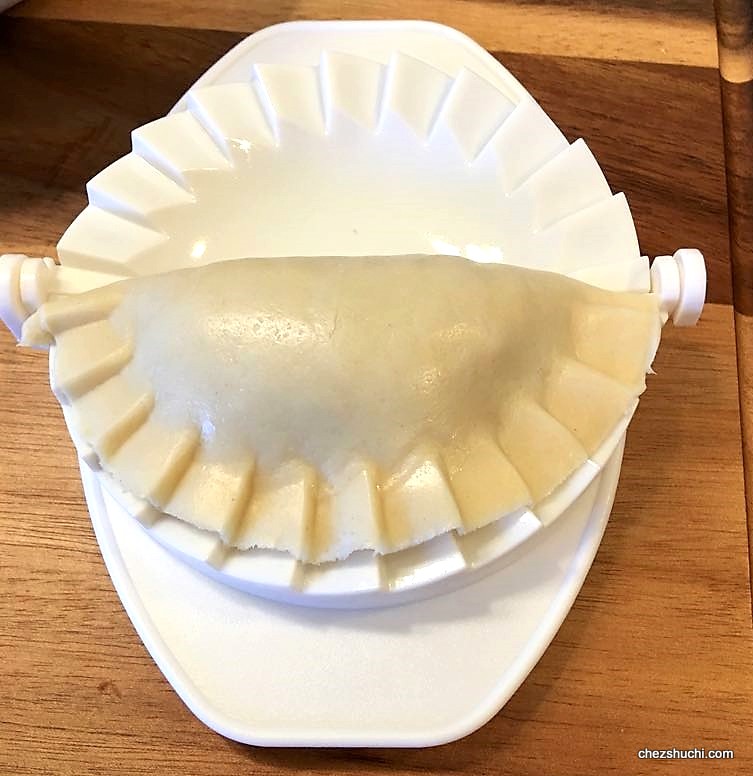 making gujhiya in the pasta mold
Repeat the process with all the balls. Cover a damp cloth on the rolled and ready gujhiyas so that they do not dry up.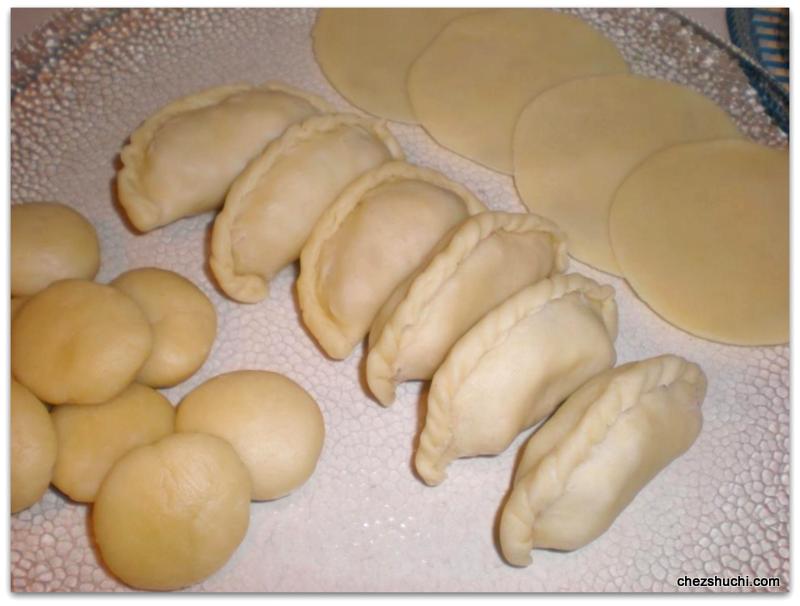 dough balls, rolled balls, and mawa filled gujhiya ready for frying
Heat ghee (clarified butter) in a wok on low heat. We have to deep fry gujhiya so fill about 11/2 inch ghee in the wok. When ghee is warm but not hot, gently drop the gujhiyas in the ghee. After about 3-4 minutes change the sides of the gujhiyas.
Fry gujhiyas till they get pinkish. It takes about 15-20 minutes to fry each round of gujhiya.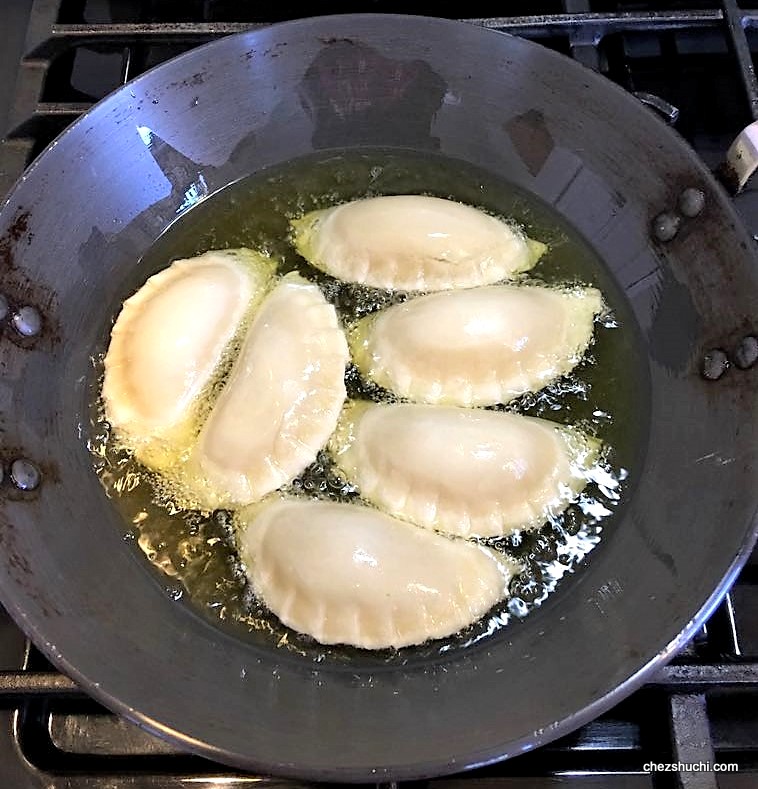 Delicious gujhiyas are ready. Let gujhiya coll before you serve them. Gujhiyas can be stored in airtight containers for a couple of weeks.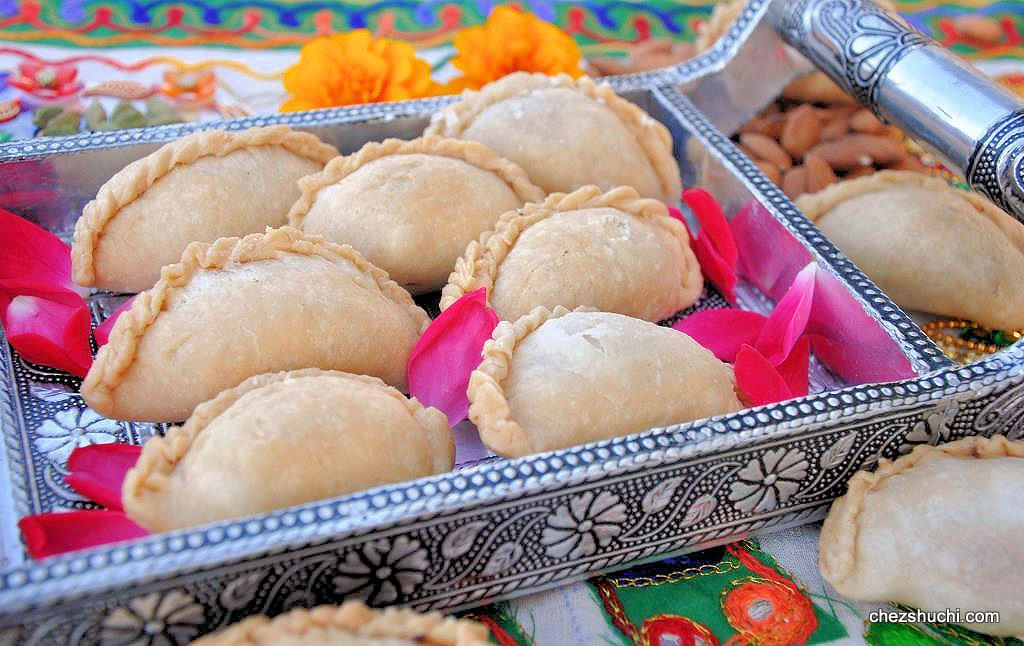 Some Tips and Suggestions
Gujhiya making is an art - It is a little time taking recipe, so please be patient .
Keep all the dough balls, rolled balls, and mawa filled gujhiyas covered with damp cloth till you are ready to fry them.
You can use some other nuts and dried fruits like raisins etc.
Make sure to seal the gujhiys well so it does not open up in the ghee/oil.
If you do not get khoya/ mawa in your city, you can easily make it at home. For this recipe, boil 1½ litre full cream milk. After the first boil, reduce the heat, and let the milk evaporate. Keep stirring every 5 minutes. When milk is thickened and reduce to half stir every minute. It takes about an hour to make khoya. When milk is thickened, stir it continuosly and let it dry (until it leaves the sides of the pan). Khoya is ready. The picture above is of home made khoya of cow's milk.
---