Dahi Wale Aloo
(Potatoes in yogurt curry)
हिन्दी में पढ़ें
Dahi wale aloo is a very simple, yet delicious potato delicacy in yogurt curry. I remember when I was a kid, we used to eat dahi wale aloo with plain paratha in dinner meals. I have inherited this dish from my grandmother, mother and my aunts....I do not put many spices in this potato delicacy as it tastes so good with the flavor of green chilies and sour yogurt....…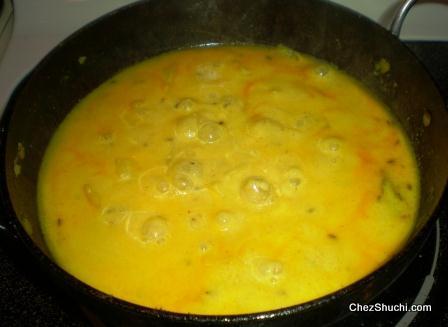 Ingredients

(serves 4)
Boiled potatoes 400 gms/ 4 medium
Green chili 1-2
Oil 1 tbsp
Cumin seeds  ½ tsp
Asafoetida  2 pinches
Turmeric powder ½ tsp
Salt 1 tsp
Red chili powder ½ tsp
Sour curd/ yogurt 1 cup
Water about 1½ cups
Chopped coriander leaves 2 tbsp

Method of preparation
Peel and cut each potato into 8 pieces.
Remove the stem, wash, and finely chop the green chilies.
Beat sour yogurt (dahi). Mix about 1½ cups of water. Keep aside.
In a wok heat oil. Add cumin seeds. When cumin seeds crackle, add asafoetida , and chopped green chilies. Fry for 10 seconds on low heat.
Add turmeric powder, and mix well in the oil. Add potato pieces, red chili powder, and salt. Mix well and fry potatoes for 2-3 minutes.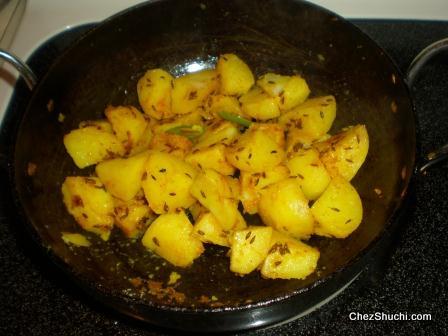 Add yogurt mixutre in the fried potatoes. Mix well and keep stirring until the first boil comes (takes about 5 minutes).
After the first boil reduce the heat, and let it cook for another 4-5 minutes or until curry is well cooked.
Turn off the heat and garnish the curry with chopped coriander leaves.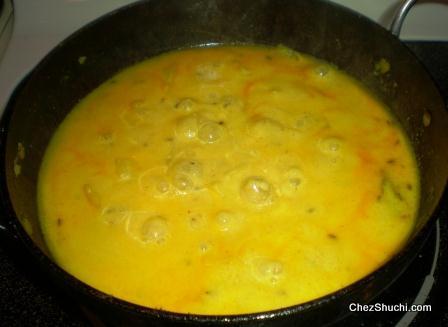 Serve delicious dahi wale aloo with plain paratha....
Some Suggestions/ tips :
You can also add garam masala in the above curry preparation.
Make sure that yogurt (curd ) is on the room temperature. Do not add chilled yogurt as it may spoil the curry.
---
Some Other Yogurt based curries:
---
---