Gatta Curry
हिन्दी में पढ़ें
Gatta curry is a delicious Rajasthani/ Marwari preparation made in a tangy yogurt curry. Gatte is a Hindi word meaning solid pieces. In this preparation, gatte dough is made with gram flour and spices, boiled in water, and then shallow fried. There are different recipes to make the curry. My favorite one is yogurt based curry, made without onions and garlic. Enjoy this delicious Rajasthani cuisine……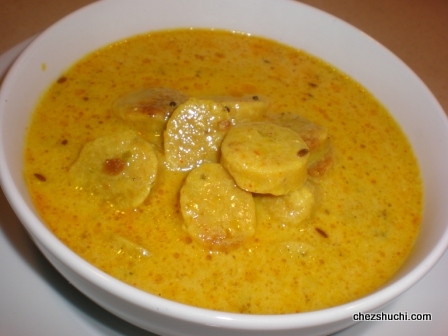 Ingredients

(serves 4)
For Gatte:

Gram flour (besan)  1 cup
Salt ¼ tsp
Asafoetida  2 pinches
Carom seeds (ajwain)  ¼ tsp
Turmeric little bit
Yogurt (dahi) 2 tbsp
Coriander powder ½ tsp
Ginger green chili paste 1 tsp
Water to make batter (about 2 tbsp)
Oil 1 tsp for dough
Oil 1 tbsp for gatta frying
For jhol (gravy):

Gram flour (besan) 1 tbsp
Sour curd/ yogurt 1 cup
Water about 1 cups
Turmeric powder ½ tsp
Salt 1 tsp
Red chili powder ½ tsp
Oil/ ghee 1 tbsp
Cumin seeds  ½ tsp
Mustard seeds ½ tsp
Asafoetida  ¼ tsp
Garam masala  ¼ tsp

Method of preparation
For Gatte:
Sieve the gram flour (besan) thoroughly. Add in all the ingredients of gatte except water. Mix well.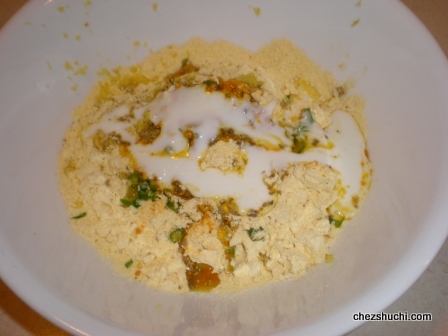 Now add water little by little and make a stiff dough. Cover the dough and leave it for 5-10 minutes.
Now divide the dough into four portions. Take a few drops of oil in your hands and take one portion of the dough and roll it in your hand to make a long cylinder shape. This is about 4 inches long and 3/4 inch in diameter. Repeat the process with the remaining balls.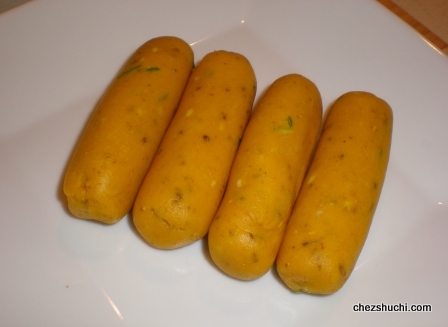 Heat about 1 ½ cups of water in a saucepan. When water starts boiling, pour the rolled gatte in it. Let it boil on medium heat for 8-10 minutes.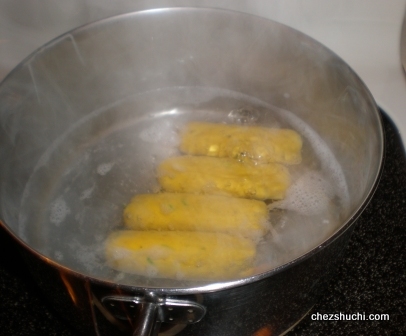 Take the boiled gatte out of water. Save the water for the curry. Allow the gatte cylinders to cool down. Now cut them into about ¼-½ inch thick pieces.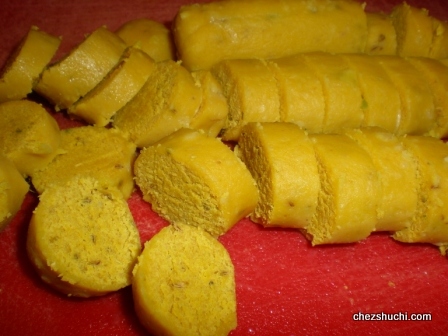 Heat about 1 tbsp oil in a wok. Fry gatte on medium heat till golden brown. Takes about 5 minutes.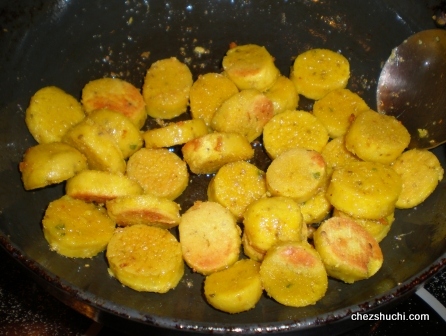 For gravy/curry:
Sieve the gram flour (besan). Add salt, red chili powder, and turmeric powder. Add water little by little and mix well. Keep aside.
Beat the curds (yogurt/ dahi), add in gram flour mixture, mix in well and keep aside.
Heat  oil in the wok on medium heat, and add cumin seeds and mustard seeds. When seeds change the color, add in asofeitida and whole red chili, and fry for 4-5 seconds. Now add gram flour yogurt mixture. Mix well and keep stirring until the first boil comes (takes about 5 minutes).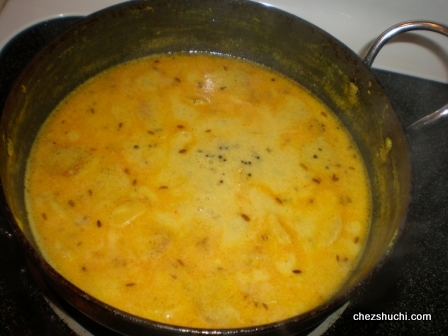 After the first boil reduce the heat, and let it cook for another 4-5 minutes. If the curry's consistency is too thick, add some water.
Now add fried gatte in the boiling curry and mix well. Cook for another 3-4 minutes.
Add garam masala. Mix well. Now turn off the heat.
Gatta curry is ready to serve. Serve with rice or with roti.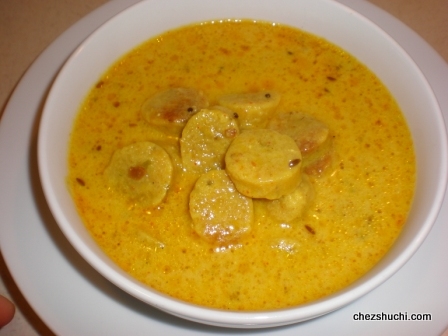 Some Suggestions/ tips :

There are so many different versions of gatte curry. Some restaurants make onion-tomato gravy for gatte curry. So you can make changes as per taste.

You can also add ginger-chili paste in the above curry preparations.

Make sure that yogurt (curd ) is on room temperature. Do not add cold yogurt as it may spoil the curry.

---