हिन्दी में पढ़ें
Cheesy Bread Sticks
There are many varieties of bread Sticks. While hard bread sticks are used with soup, and can also be served with salads, there is another variety which is cheesy. My kids love cheesy bread sticks. You can also follow this base recipe for garlic bread by adding fresh garlic or garlic powder. In this cheesy bread stick recipe you can increase or decrease the amount of cheese as per your family's taste. So try this easy recipe for cheesy bread stick and plese do share your comments.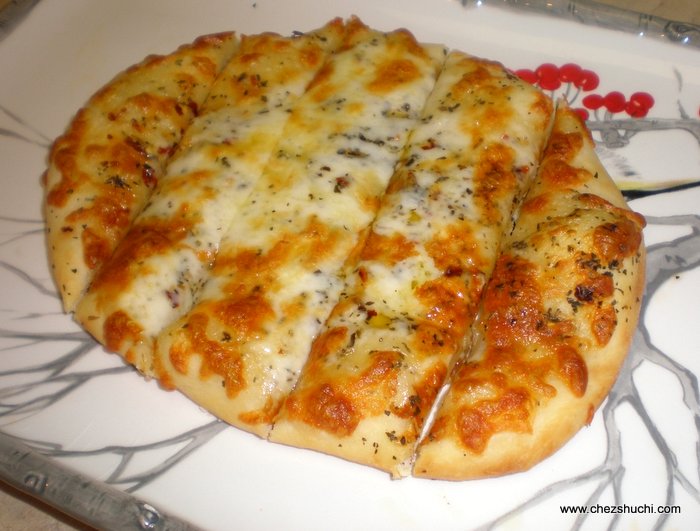 Ingredients (Makes about one 9"/ 5 sticks)
For Cheesy Bread Dough
Whole wheat flour ¾ cup
All purpose flour ¾ cup
Salt ½ tsp
honey/ sugar 1 tsp
Extra virgin olive oil 2½ tsp
Yeast 1 tsp
Warm water about 2/3 cup
Flour 2 tbsp for rolling and smoothing the dough
For Cheesy Bread's Topping
Olive oil 2 tbsp
Basil 2 tsp
Oregano 1 tsp
salt and pepper to taste
Mozzarella cheese, grated ½ cup
---
Method of preparation:
Soak yeast in about 2 tbsp warm water. Make sure that water is neither hot nor cold. Otherwise yeast will not become active. Cover the bowl and leave it for 10 minutes to activate the yeast.
After 10 minutes you will see bubbles appearing on top .
ingredients for bread stick dough active yeast soaked in lukewarm water
Take wheat flour, all purpose flour, sugar and salt in a bowl. Mix them well.
Now make a small spacing in the flour and pour the activated yeast mixture. Leave for 2 minutes. Now mix them together with spoon or with your fingers. Add olive oil and mix again. Make a soft dough by adding lukewarm water, little by little at a time.
Transfer the dough to the work surface and knead it very well for 3-4 minutes. Use a little dry flour if the dough is sticky.
Cover the dough with a damp towel and leave it in a warm place to ferment for about an hour. After an hour the dough will approximately double in size.
Knead the dough again. After kneading, dough will be light and smooth, and will be ready to use.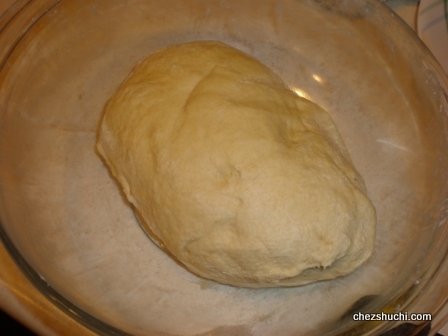 Method of preparation for Cheesy Bread:
Pre heat oven to 450° F.
In 1 tbsp olive oil, mix dried basil and oregano leaves. Add salt and pepper as per taste.
Take the dough and roll it with the help of dry flour in about a 9 inch oval. The base with be thick for this recipe. (about a quarter inch thick)
Place the rolled dough in the baking tray. Poke the rolled dough here and there.

Spread grated mozzerella cheese evenly on top of the bread sticks.

Spread the herb mixed olive oil on top of the cheese.
Place the tray in the preheated oven and bake the bread about 5-7 minutes or until done.
When it is ready, cut it out into required shape and size.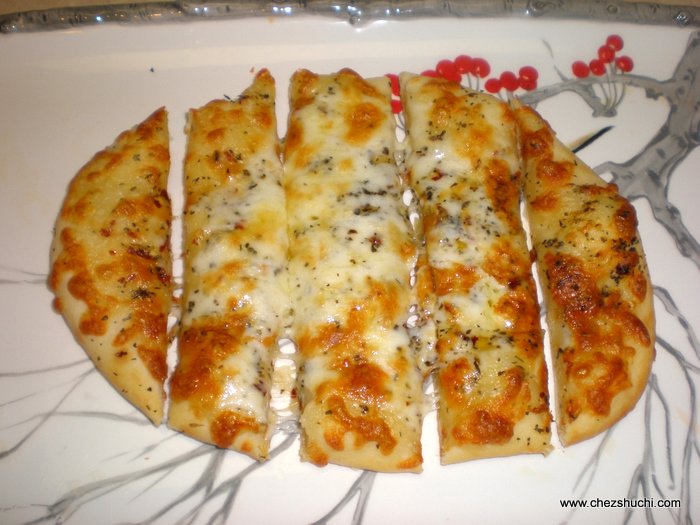 Some Tips/ Suggestions:
You can also add some garlic powder along with herbs in this cheesy bread.
You can also add half mozerrela and half parmesan cheese in this preparation.
Some other baked delicacies-
---