Thin Crust Pizza
हिन्दी में पढ़ें
Pizza- One of the most popular food on planet Earth. There are uncountable variations of pizza. Here is the recipe of Pizza dough, the tomato sauce to top the pizza and vegetarian toppings;-It is your turn to choose. You can use the same dough to make pan pizza, thin crust pizza or even stuffed pizza. So go wild and make a one you like. And please do not hesitate to write to me for any questions…..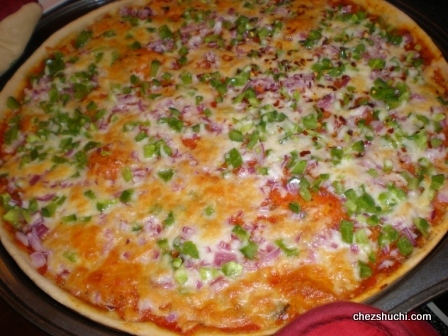 Ingredients

(makes a 12 inch thin crust pizza)
For Pizza Dough:
Whole wheat flour ¾ cup
All purpose flour ¾ cup
Salt ½ tsp
Extra virgin olive oil ½ tbsp
Active dry yeast 1 tsp
Warm water about 2/3 cup
Dry flour 2 tbsp for rolling and smoothing the dough
For Pizza Sauce:
Red tomatoes 3 medium (300-400 gms)
Onion 1 small
Basil leaves 5-6
Oregano 1 tsp
Sugar 1 tsp
Salt ½ tsp
Black pepper, Freshly ground to taste
Olive oil 2 tbsp
Pizza toppings:
Onion finely chopped ¾ cup
Green bell pepper (capsicum) ¾ cup
Mozzarella cheese, grated 1 ¼ cup
Red chili flakes to taste
Other Options- mushrooms, olives, chilies, basil, extra cheese, etc
Special utencils
A big rolling pin- I have used 12 inch
Pizza tray- has whole in the bottom
Pizza cutter
Method of preparation
For Dough:
Soak dry active yeast in about 2 tbsp warm water. Make sure that water is neither hot nor cold. Otherwise yeast will not become active. Cover the bowl and leave it for 10 minutes to activate the yeast.
After 10 minutes you will see bubbles appearing on top .
Take wheat flour, all purpose flour and salt in a bowl. Mix them well.
ingredients for pizza dough" active yeast soaked in lukewarm water
Now make a small spacing in the flour and pour the activated yeast mixture. Leave for 2 minutes. Now mix them together with spoon or with your fingers. Add olive oil and mix again.
Make a soft dough by adding little by little lukewarm water at a time.
active yeast added in the flour" pizza dough
Now transfer the dough to the work surface and knead it very well for 3-4 minutes. Use little dry flour if the dough is sticky.
Now cover the dough with a damp towel and leave it in a warm place to ferment for about an hour.
After an hour the dough will approximately double in size.
flour kneading on the work surfaces" pizza dough afeter rising
Now knead the dough again. After kneading, dough will be light and smooth, and will be ready to use. Keep the dough covered with the damp towel until you are ready to use it.
Peel off, wash and finely chop the onions.
Wash and finely chop the tomatoes.
Wash and chop / tear the basil leaves. If you do not find fresh basil leaves, use dried ones.
Heat olive oil in a pan/ wok. Add chopped onions. Sauté for about 2-3 minutes or until onions are tender and pink.
ingredients for pizza sauce" onion frying
Mix all the spices , chopped tomatoes and other ingredients in the sautéed onions. Mix well and let it cook on medium to low heat for about 20 minutes or until the sauce is thickened and smooth.
other ingredients in the fried onion" sauce is reday
Tips for Pizza sauce:
Add minced garlic if you like to. Adjust the amount of salt, pepper, and oregano to taste.
To make a thin crust Pizza:
Pre heat oven to

385° F

.
Take the dough and roll it with the help of dry flour in about a 12 inch circle.
Place the rolled dough in the pizza tray. Poak the rolled dough here and there.
rolling of pizza dough" rolled pizza placed in the pizza tray
Spread the tomato sauce evenly. Yes, the entire sauce made above will go ....
Now top it with finely chopped onions and bell peppers, evenly.
Spread grated mozzerella cheese evenly on top of veggies.
If you like you can sprinkle some red chili flakes, basil, and/or olive oil also.
tomato sauce on the rolled pizza" rolled pizza placed in the pizza tray
Now bake the pizza on the medium rack of the oven for about 18-20 minutes.
When it is ready, cut it out into required shape.
I have sprinkled red chili flakes, and olive oil in one quarter of the pizza, so kids do not get spicy flavor and we can enjoy the spices too.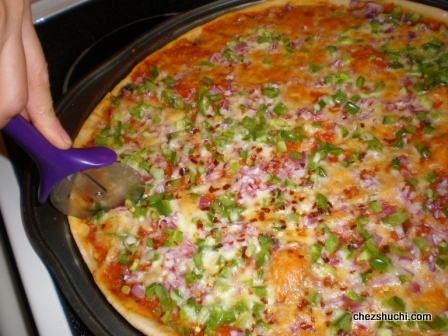 Cut the pizza in required shape
Tip :
For the pizza toppings- You can select the vegetables as per availability.
You can also make 2 small pizzas instead of 1 big pizza with this recipe.
---