हिन्दी में पढ़ें
Cheese Dosa
DDosas are fine pancakes of fermented lentil and rice batter. Dosas can be made with different flavors by adding different stuffings, such as - masala dosa, onion dosa , paneer dosa, etc… Cheese dosas are easy to make and loved by kids. My daughter is not a big fan of dosa but when a friend introduced this variation of regular masala dosa to her, she loved it. Now she asks me to make this cheese dosa even for the lunch box. I am very thankful to my friend Ruchi who shared this recipe with us….Hope your kids also enjoy this yummy dosa! As always please do not forget to share your comments!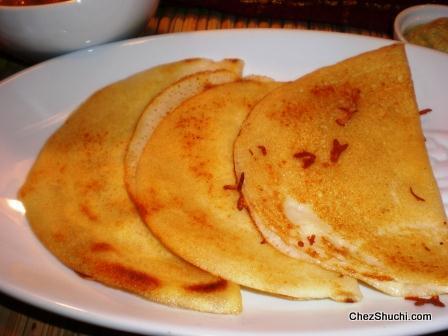 Ingredients
(Makes 8-10 dosa)
Dosa batter about 4 cups
Oil about 2 tbsp
Salt to taste
Mozzarella/ Cheddar Cheese 2 cups, shredded
Method of preparation:
Add a little salt in the dosa batter. Mix well.
Heat a flat griddle or tawa on medium heat.Clean the griddle with a wet cloth or kitchen towel.
Take one ladle of batter and pour it onto the center of the griddle. With the help of a ladle, spread out the batter in a small circle/ oval of about 5-6 inch big to make a thin dosa. Sprinkle a little oil around the dosa and let it cook for about 30-35 seconds or until you see some red spots.
Put about 2-3 table spoons of shredded cheese of your kid's taste on one half side of the dosa.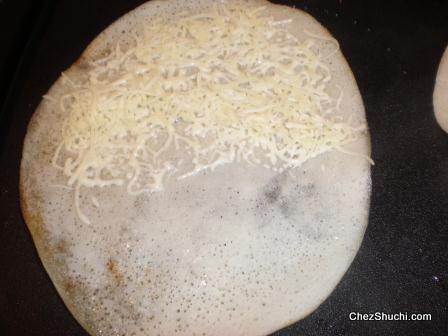 cheese spreaded to the half side of the dosa
When cheese starts melting, cover the plain half side of the dosa to the cheese side.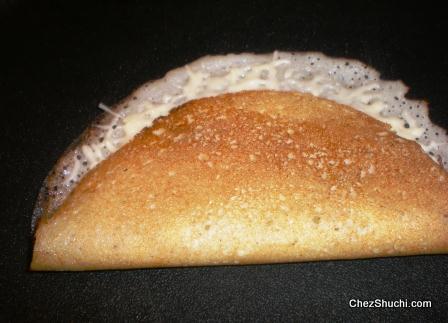 dosa after covering the cheese side
Press gently. Cook from both the sides.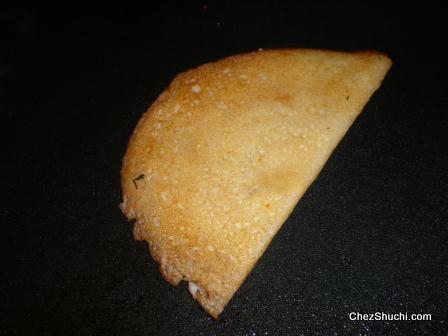 Delicious cheese dosa uis ready to serve. Serve with coconut chutney or even with tomato ketchup for snacks.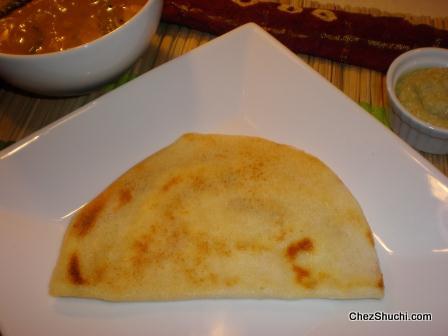 Cheese dosa is ready to serve.
Some Tips/ Suggestions:
If you are using Iron tawa, clean it with a piece of onion (or onion half) - this helps in maintaining a non-stick surface.
Do not forget to wipe the griddle with wet kitchen towel after every making of dosa.
You can make dosa batter at home or can use the store bought batter for dosa making.
I cut the amount of cheese to maintain the calorie level but to be frank more cheese means yummier and tastier dosa....
---
Some Other South Indian delicacies
---