हिन्दी में पढ़ें
Aloo Posto
(potatoes cooked with poppy seeds paste)
Aloo Posto (potatoes cooked in poppy seeds paste) is a very popular Bengali vegetarian dish. This has come to you via Amrita, a Bengali friend of mine. I am extremely thankful to Amrita who invited me over for lunch and taught me in detail to cook Aloo Posto. All the pictures were taken at Amrita's kitchen. Amrita made the dish absolute traditional way. Enjoy this delicious aloo posto recipe and please do share your comments. Shuchi.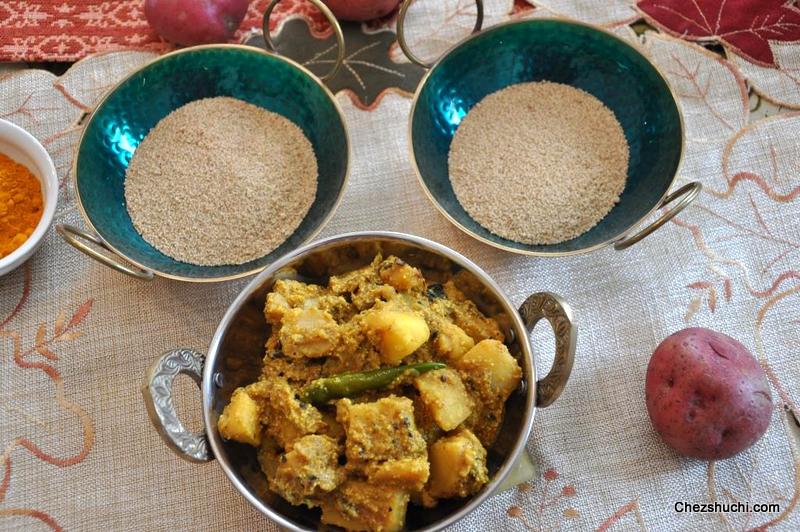 Ingredients ( serves 4)
Potatoes 6-7 medium
Onion 1 medium
Green chilies 2
Panch pohron( mix of nigella seeds, fenugreek seeds, cumin seeds, mustard seeds, fennel seeds) masala 1 tsp
Turmeric powder ¾ tsp
Salt 1¼ tsp
Poppy seeds 4 tbsp
Cooking oil 3 tbsp
Method of preparation:
Peel, wash and finely cut onion. wash green chilies, emove the stem and finely chop the chilies.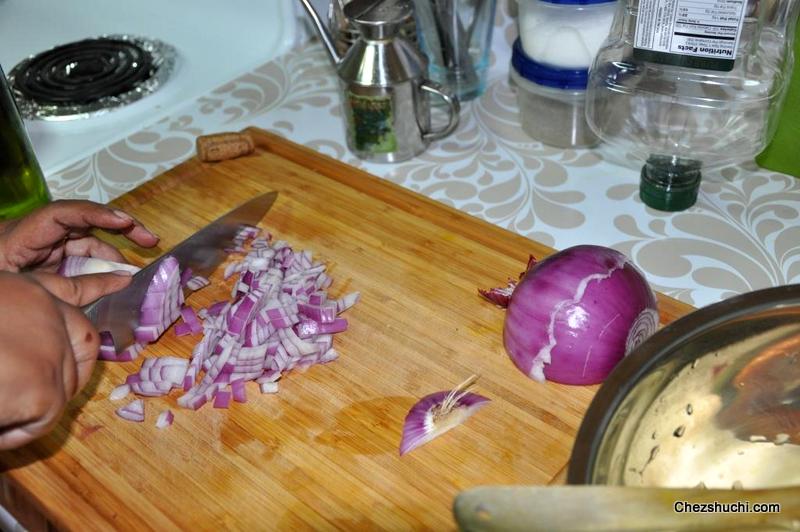 Peel the potatoes, wash them. Cut each potato into 8 pieces.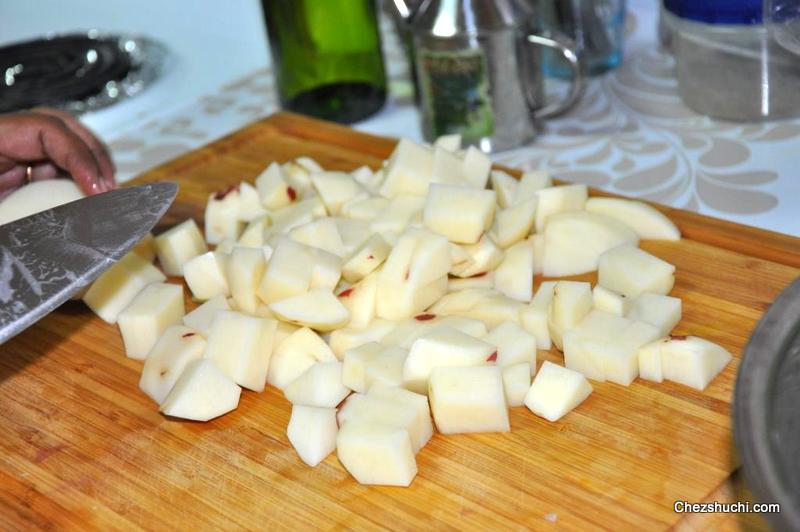 Heat 2 tbsp oil in a wok. Add panch phoron. When seeds crackle, add onions. Fry onions until translucents. It takes a couple of minutes to fry onions.
Add potato pieces. Mix well. Fry for a couple of minutes. Add salt and cook potatoes for 5 minutes or until they are half way done.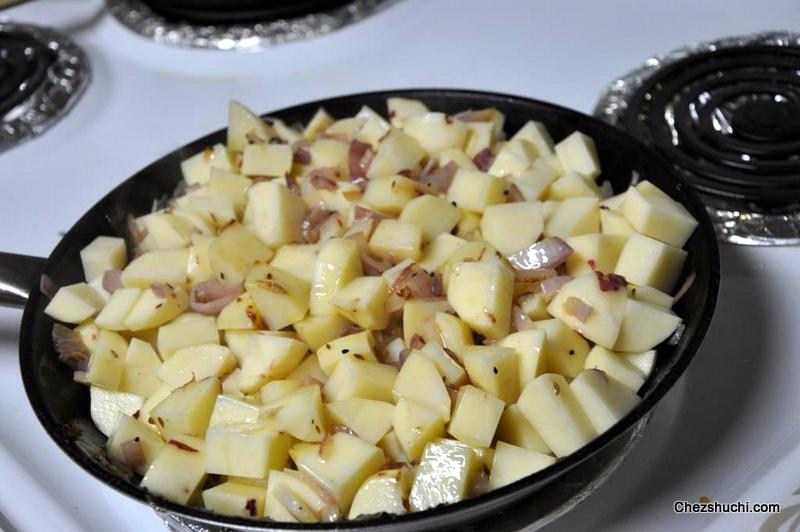 Add turmeric powder and chopped green chilies. Mix well and reduce the heat and cook potatoes for 5 minutes or until they are done.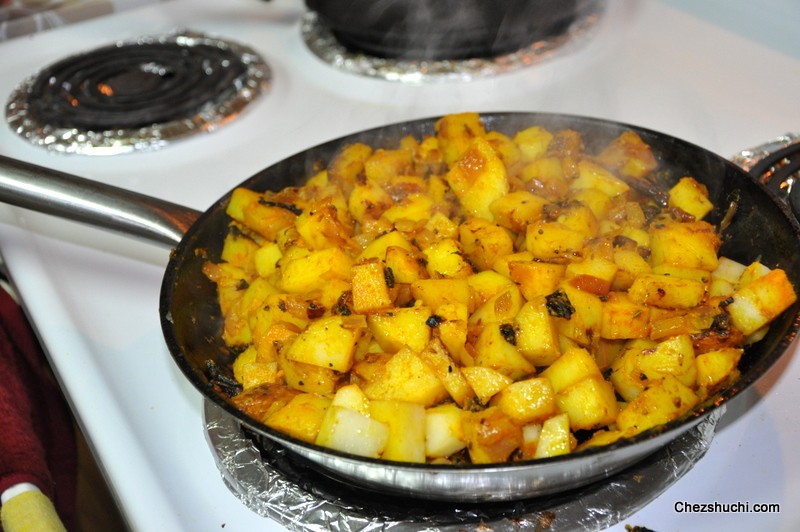 After adding turmeric powderPotato pieces
While potatoes are cooking grind poppy seeds with a little water and make a fine paste.
Add poppy paste in the cooked potatoes.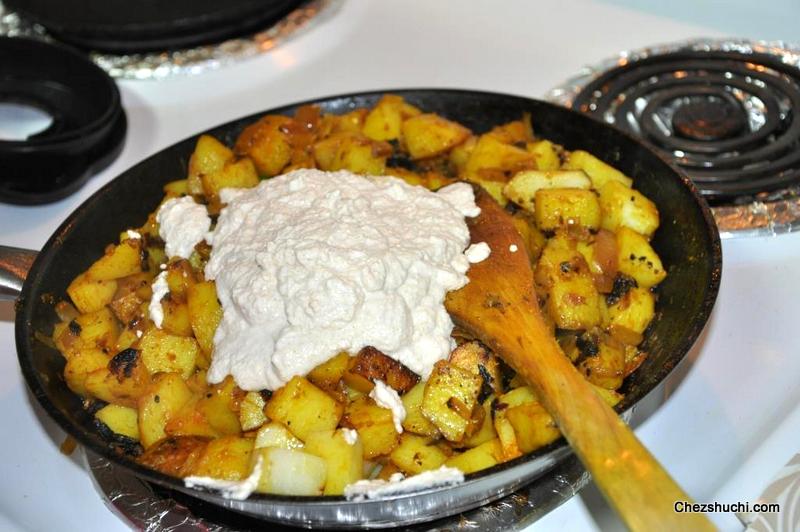 Mix well poppy paste with potato pieces. Add 1 tbsp of oil and let it cook for a couple of minutes.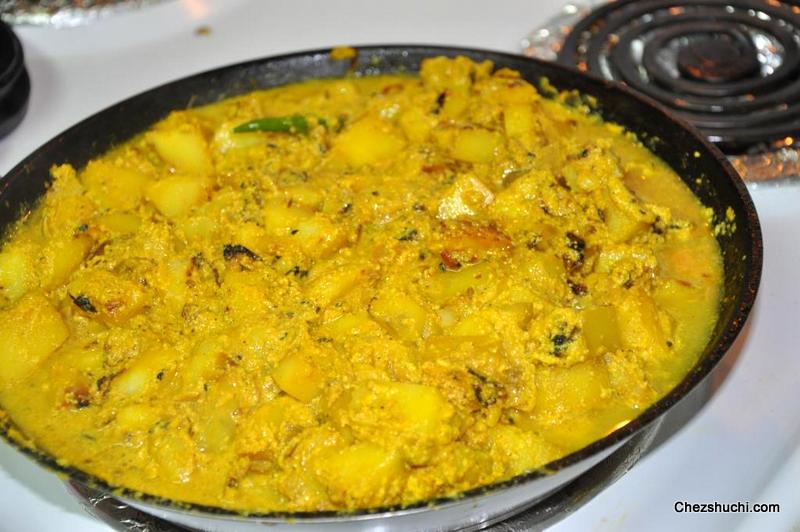 Aloo Posto is ready now. Turn of the heat.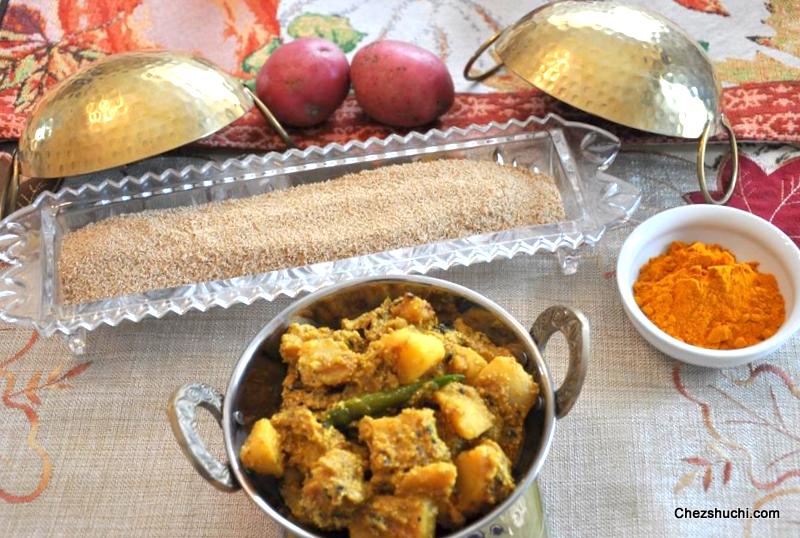 Some Tips/ Suggestions:
If you like spicy food add in more green chilies or you can grind green chilies with poppy seeds .
You can garnish this with cilantro leaves.
Traditionally aloo posto is made in mustard oil in Bengal but Amrita made it in olive oil to make a healthier version.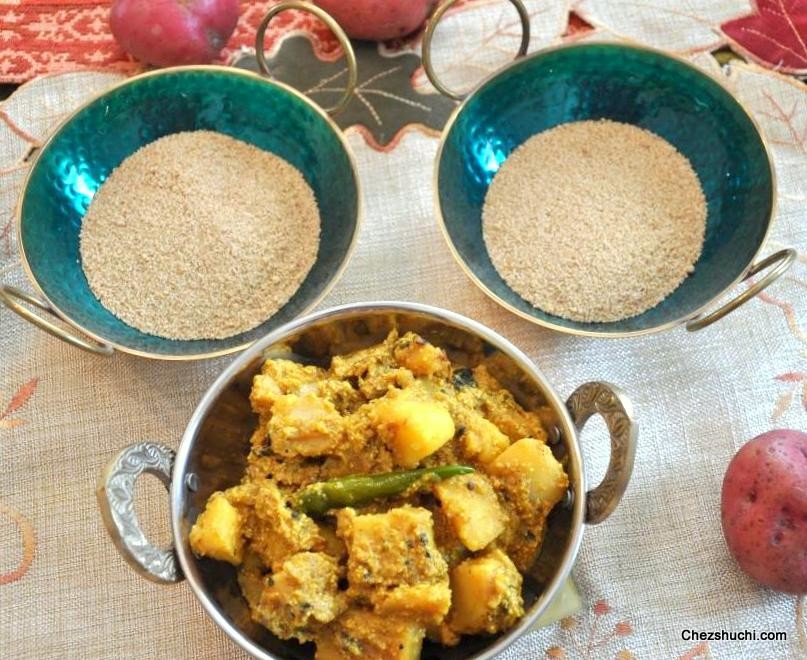 Some other delicious Dry Vegetables preparations
Some other potato delicacies
---
>
---