Tutti Frutti Cookies
हिन्दी में पढ़ें
Tutti frutti cookies are delicious eggless cookies that melt in the mouth. Tutti frutti is a British term for a confection containing small pieces of candied mix fruits. You can find tutti frutti in an Indian store as well as any superstore's dry fruits and nuts section. I bought the mixed candied fruits from a nearby superstore.
I am thankful to my friend Sonal for sharing the recipe of tutti frutti cookies. Last year Sonal visited us for the holidays and brought homemade, eggless tutti frutti cookies which everyone loved. Sonal is just perfect in baking; her baking skills are outstanding. Believe me or not but Sonal makes cakes which one cannot find even in big bakeries. So here we are with Sonal's Tutti frutti cookies recipe. I have substituted a couple of ingredients which I will explain in the recipe. These cookies are also know as Karachi biscuits. Please try these cookies and do share your comments. Happy baking, Shuchi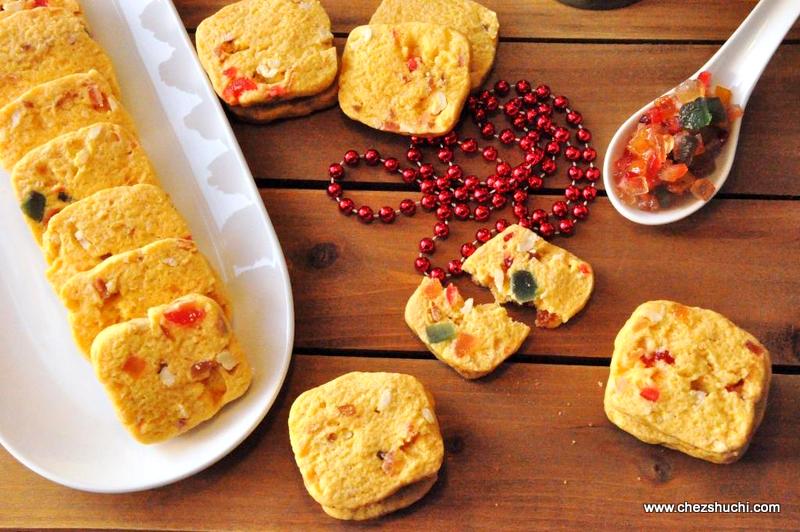 Preparation Time: 10 minutes
cooling time: 1 hour
Baking time: 17 minutes
Approximately 70 calories in each cookie
Ingredients (Makes about 24 cookies)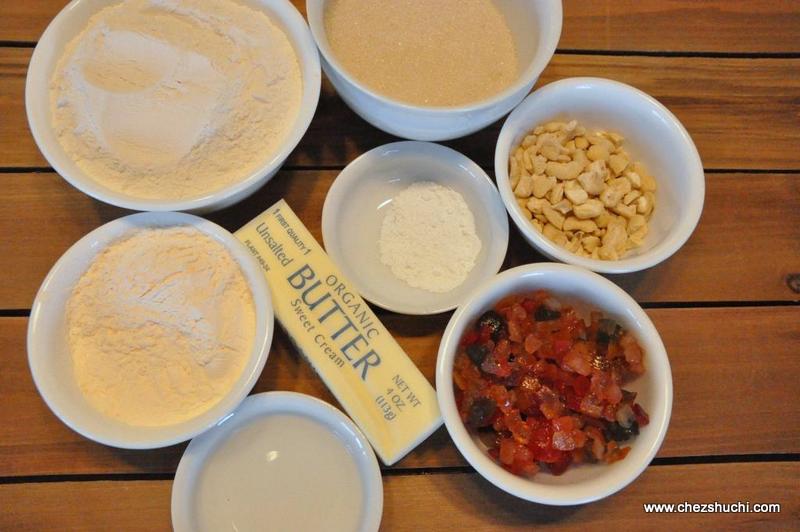 Butter ½ cup
Ground organic sugar 1 cup
All purpose flour (white flour/maida) 1½ cup
Custard powder ½ cup
Baking powder 1 tsp
Tutti frutti ½ cup
Cashews and pistachio broken ¼ cup
Rose/pieapple essence 2 tsp ( I have used 1½ tbsp rose water )
Milk about ¼ cup
Method of preparation:
Sieve together white flour, custard powder and baking powder together. Keep aside
Take butter in a mixing bowl. Butter should be soft but not melted. Add sugar in the butter and beat in one direction until light and fluffy. Do not over beat the mixture. You can use electric mixer or can do it maually. The sugar and butter mixture will be light and creamy.
Add rose essence. Mix well
Add in dry mixture of flour and make dough. Add milk if mixture is too dry. I have used about 4 tablespoon milk to make nice dough.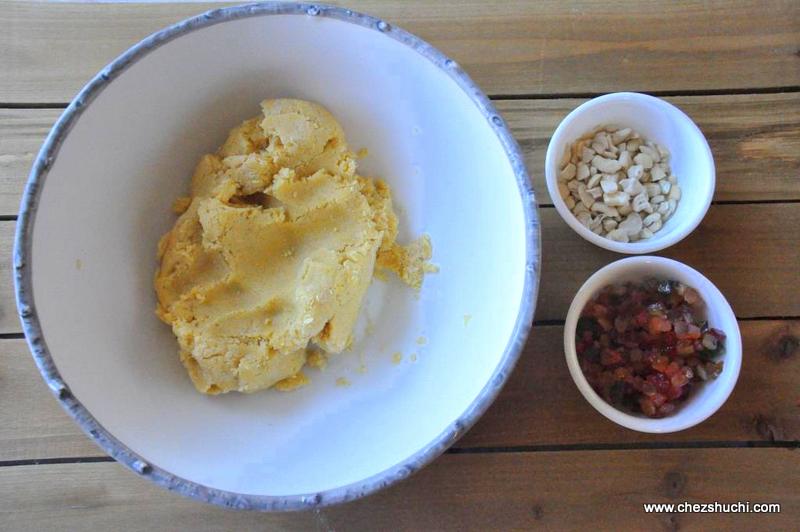 Add tutti frutti and chopped cashews in the dough and mix well. smoothen the dough.
.
cookie dough after adding nuts and tutti frutti
Soothen the dough and divide it into two portions. Grease your hand with a little butter and make two logs. You can make round log or square depending on what shape cookies you want to make.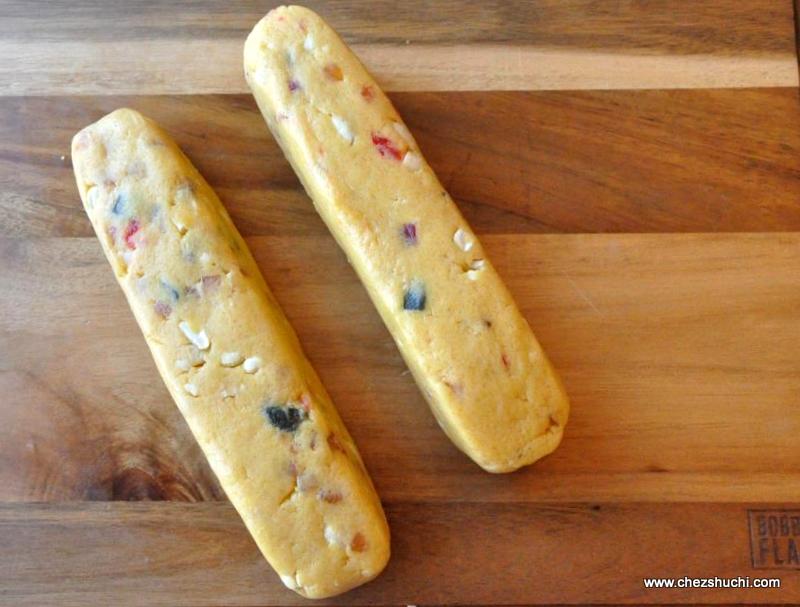 Cover the dough logs with cling sheets (clear plastic film) and keep it in the fridge for about an hour.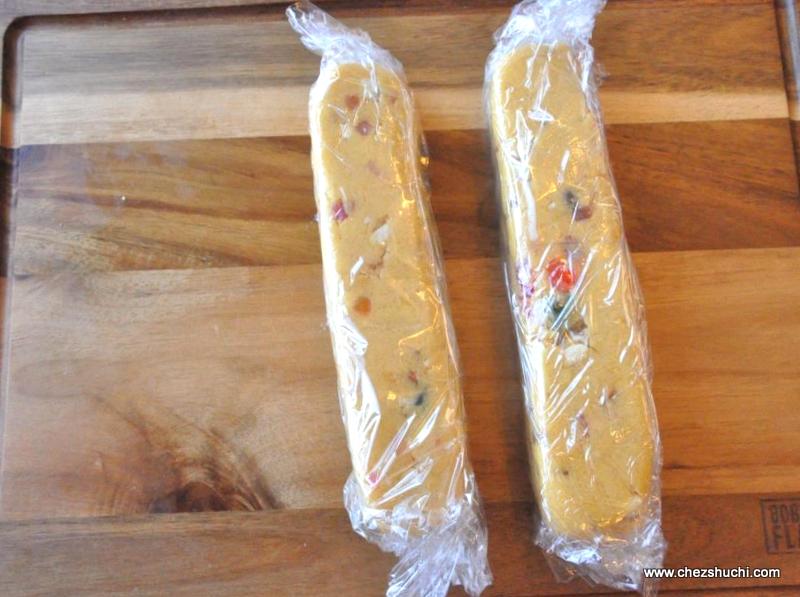 cookie dough covered with plastic film.
Preheat oven at 350°F.
After an hour take the dought out of fridge. Cut it into about quater inch pieces.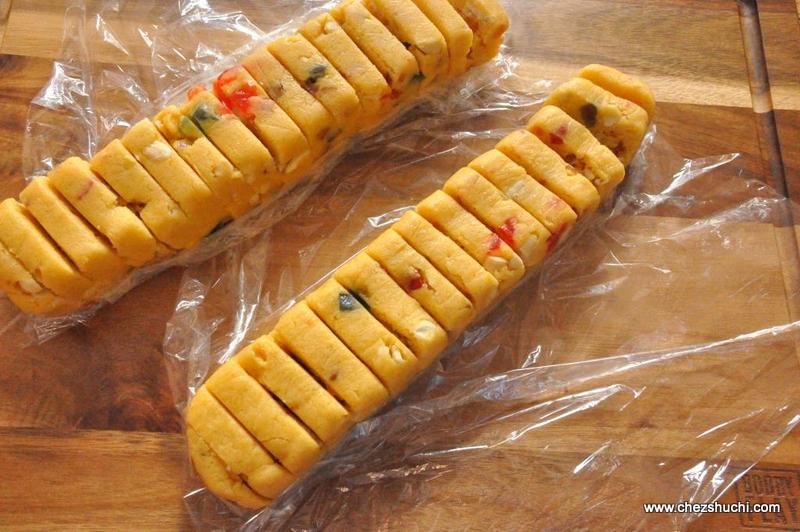 Arrange the tutti frutti cookie in the cookie tray .
Put the cookie tray in the pre heated oven and bake for about 15-17 minutes. Cokkies will be slightly golden but will not change the color. Do not overbake the cookies.
Let the cookies cool down completely before you serve them.
Delicious, eggless, tutti frutti cookies are ready to serve.
These cookies can be stored in airtight containers for a couple of weeks.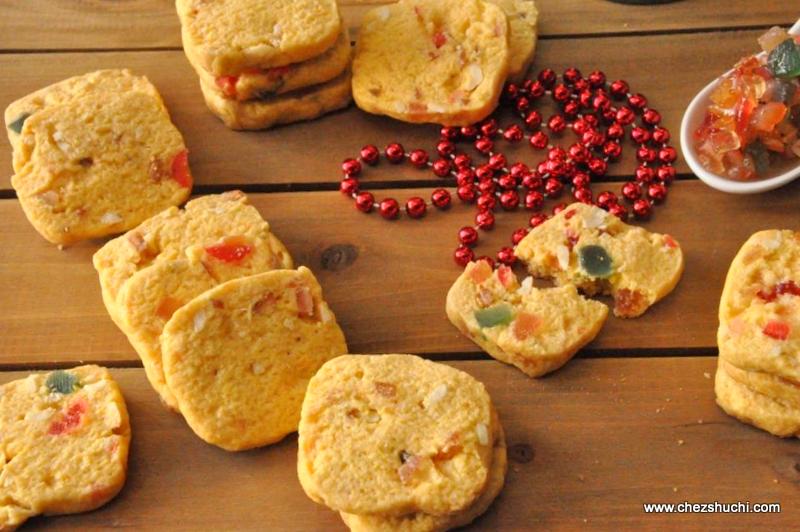 Some Tips/ Suggestions:
I did not get tutti frutti in Indian store so I got the candied fruits from American store.
I did not get rose or pineapple essense in any of the stores in my city so I used Rose water instead.
You can also use ghee (clarified butter). Increase the amount of butter if you want super soft cookies.
These cookies are very easy to make, make them with your children. It can be a fun project for weekend.
You can add some other nuts as per taste.
Tutti Frutti Cookies recipe featured in Twinkl
---