Veggies in Thai Red Curry
हिन्दी में पढ़ें
Thai food is very close to Indian food and probably that's the reason I just love it. There are plenty of vegetarian options in Thai cuisine. Thai red curry is one of the most popular curries. Usually the red curry paste is prepared in advance with shallots, garlic, galangal (a variety of ginger), lemon grass, coriander seeds, cumin seeds, and lots of Thai red chilies. This red paste is used in curry by adding coconut milk at the time of cooking.
For vegetarians and vegans, one can add a lot of vegetables like, onions, bell peppers, broccoli, cauliflower, celery, carrots etc. and one can also adjust the spice as per taste. I recommend you to either use Thai red chilies or Kashmiri red chilies to get a nice red color. This is a very delicious preparation and has a lot of colorful vegetables which makes it healthy also. Try this Thai red curry recipe and please do share your valuable comments. Happy cooking, Shuchi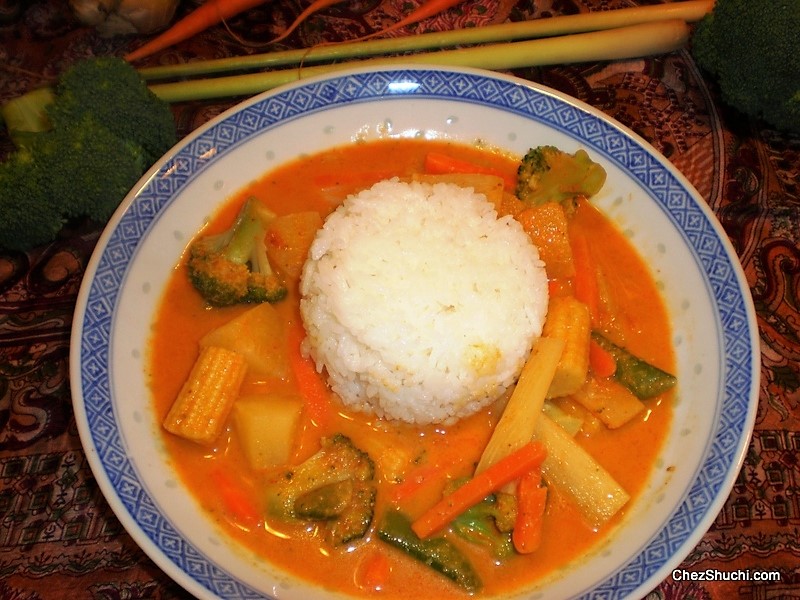 Preparation Time: 10 minutes
cooking time: 10 minutes
Approximately 400 calories in each poori
Ingredients(serves 4)
Red curry paste 1/3 cups
Coconut milk 2 cups
Onion 1 medium
Carrots, about 2 medium
Broccoli florets 1 cup
Baby Corn 1 cup
Red and green bell peppers sliced, 1 cup
Bamboo shoots ½ cups
Celery sticks ½ cups
Oil 2 tbsp
Salt 1½ tsp
Brown sugar 1 tsp
Method of preparation
Wash the carrots. Cut them into desired shape
Wash all the other veggies and cut them into desired shape and size. Try to cut all the veggies in a similar shape and size so they take the same time to get cooked. It also looks nice!
Heat the wok on high heat. Add about 2 tbsp oil. Add onions and stir fry for a minute.
Add carrots, broccoli, bay corns, and bell peppers, celery and stir fry for a couple of minutes.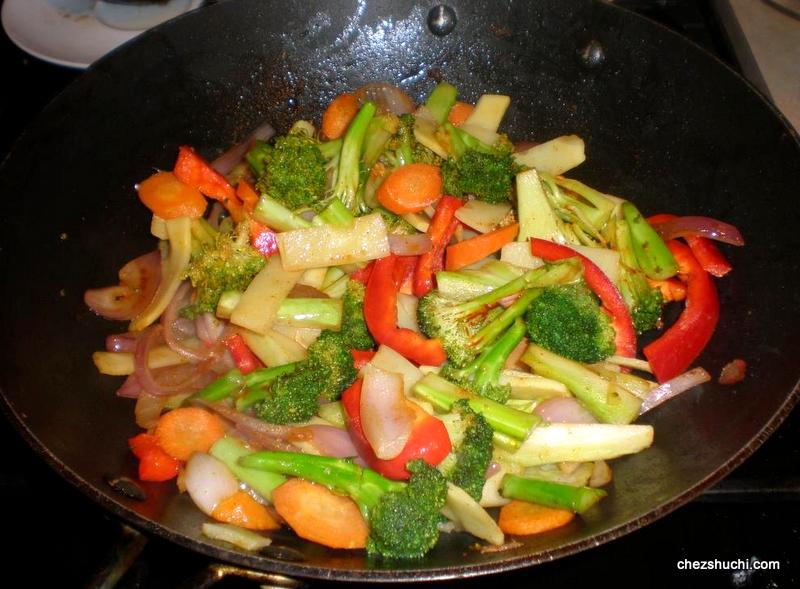 stir fried vegetables for Thai red curry
Add red curry paste in stir fried veggies. Fry it for a minute.
Add in coconut milk and stir for a minute. Mix well. Add salt and sugar. Cook for 2-4 minutes. Turn off the heat. Taste and adjust the seasoning.
Vegetables in Thai red curry are ready to serve. Crunchy and crisp vegetables taste better so please do not over cook the veggies.
Serve delicious and healthy Thai red curry with boiled Thai Jasmine rice.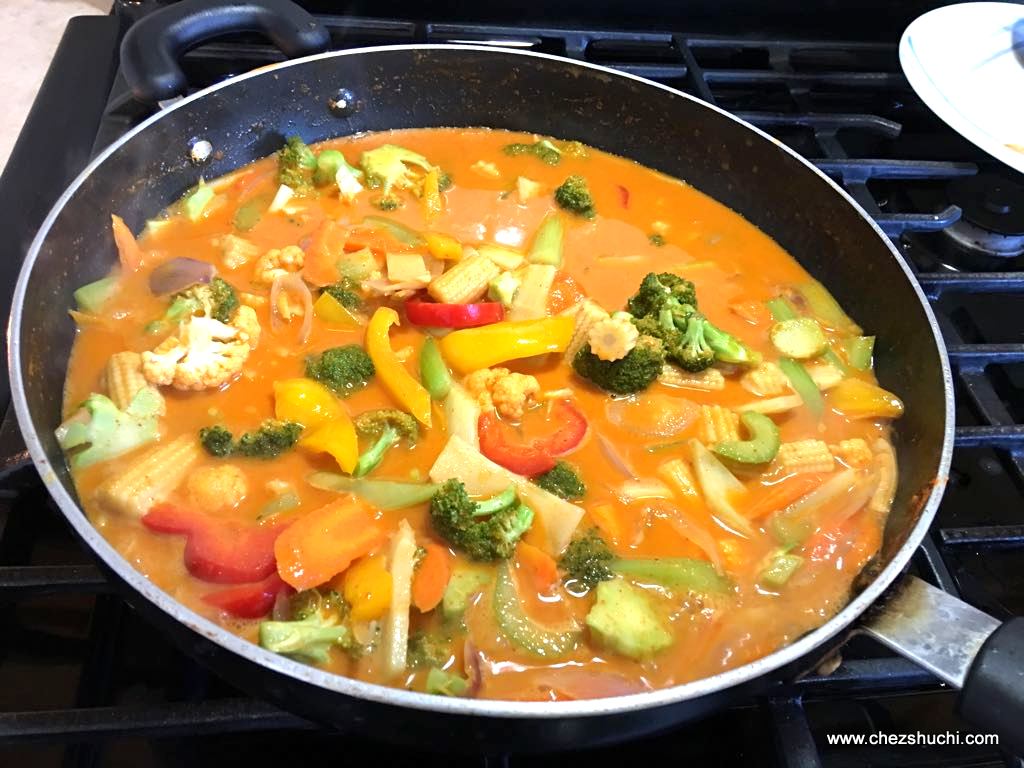 Some Suggestions/ Tips
Other vegetables like french beans, cauliflower, corn kernels , eggplant (brinjal), mushrooms, tofu etc. can also be used in this recipe. You can also add some pineapples to add more flavor.
There are many other dishes which can also be made with this red curry paste.
If the coconut milk is very thick add some water.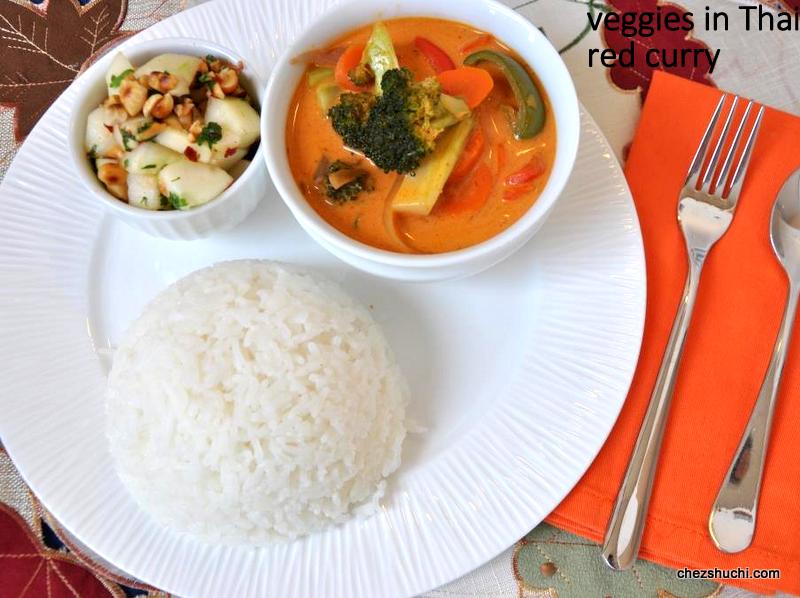 ---