Thai Red Curry Paste
हिन्दी में पढ़ें
Red curry paste is one of the most popular pastes used for many Thai delicacies. This is a real hot stuff, but you can always cut the spice level when making this paste at home. Red curry paste can also be bought readymade from Asian stores.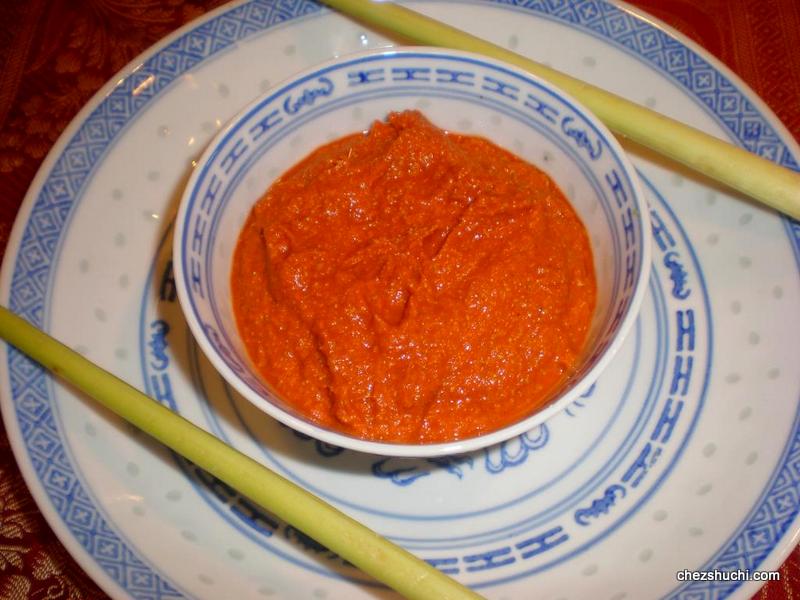 Ingredients

(makes ¾ cup)
Lemon grass 1
Dry red chilies 7-8
Shallot 1 small
Garlic clove 1 (optional)
Ginger 1 inch piece
Lemon juice 1 tsp
Coriander seeds 1 tbsp
Cumin seeds 1 tbsp
Peppercorns ¼ tsp
Brown sugar ½ tsp
Salt ½ tsp
Method of preparation
Ingredients for red curry paste....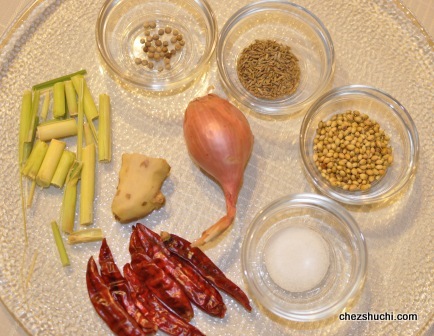 ingredients for red curry paste
Pee off the shallot, wash and cut them into juliennes. Peel garlic clove.
Remove the hard top white portion of the lemon grass and cut the green lemon grass into an inch long pieces.
Soak the red chilies in the lukewarm water for 10 minurtes.
Dry roast coriander seeds, cumin seeds, and peppercorns on low heat for about a minutes or until fragrant.
In the blender grind all the ingredients.
Red curry paste is ready to use.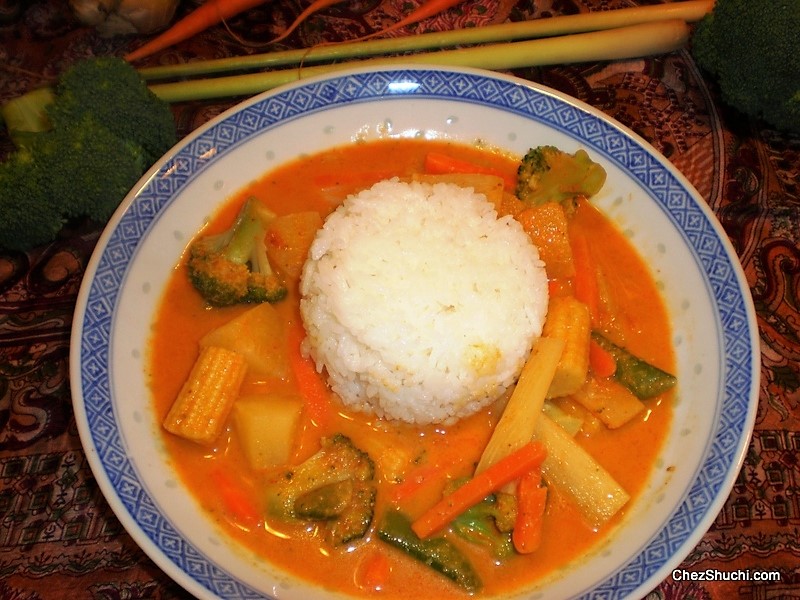 A dish made with red curry paste
Some Tips and Suggestions
This paste can be stored in the refrigerator for about 2 weeks and in the deep freezer for about 3-4 months.
Garlic cloves are also added in this paste so if you eat garlic add in coulp of garlic cloves.
Lemon grass is very fibrous.  After the grinding, you may notice lots of fibers (threads) in the paste. Squeeze off the juice and remove the extra fibers.
In traditional Thai cooking Galangal is used in place of ginger. Galangal is also a rhizome and is from the same family like ginger. Since ginger is easily available I have used it for the red paste preparation.
---