Sweet Saffron Rice
हिन्दी में पढ़ें
Sweet saffron rice is a very traditional dessert made for Basant panchami or Saraswati Pooja. This delicious dessert is made with cooked rice, nuts, sugar and saffron. Sweet saffron rice is mildly flavored with whole spices. This dish is usually offered to Goddess Saraswati (the goddess of knowledge) for bhog before serving.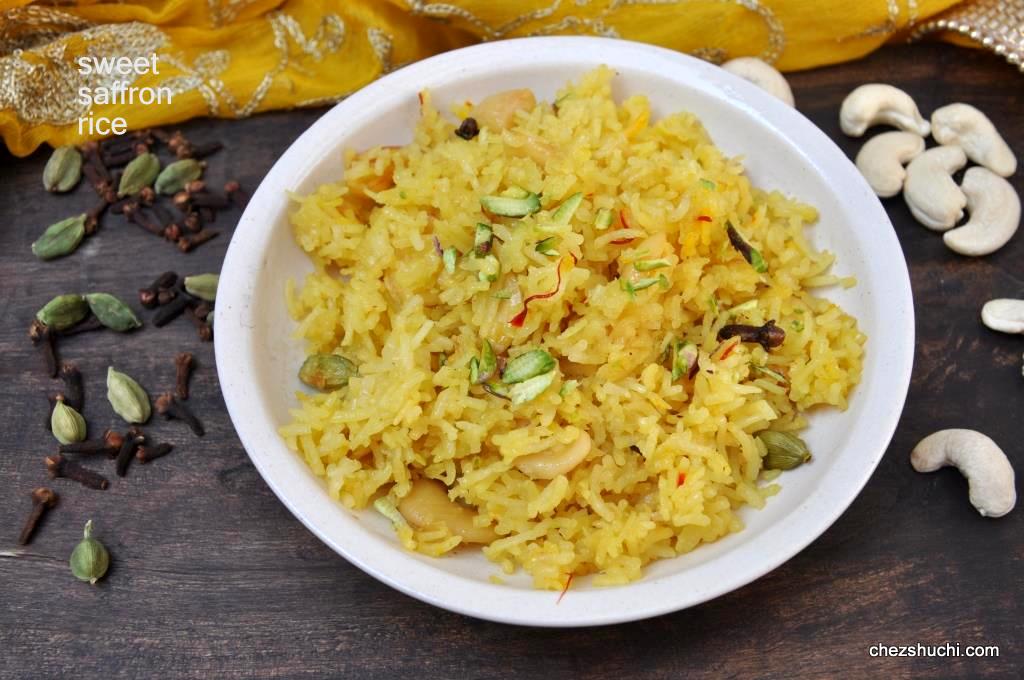 Ingredients (Serves 4)
Basmati Rice  ½ cup
Saffron (Amazon link for Organic Saffron) threads  ¼ tsp
Milk 2 tbsp
Ghee 3 tbsp
Green cardamoms 6
Cloves 4-5
Black cardamom 1
Cinnamon 1 small piece
Cashew nuts  ½ cup
Raisins 2 tbsp
turmeric powder ¼ tsp
Sugar  ½ cup
Method of preparation
Clean, wash and soak the rice in water for about 20 minutes.
Boil about 4 cups of water. Add soaked rice. Cook until the rice are done. Strain the rice to remove extra water. Do not overcook the rice for this recipe. Keep rice aside to cool down.
Soak saffron threads in two tablespoons of lukewarm milk. Keep aside.
Heat ghee in a wok on medium heat. Add cloves, green and big cardamoms and cinnamon stick and fry for 10-15 seconds. Add cashew nuts and fry for 30 seconds. Add rasins and also turmeric powder. Mix well.
Add rice. Mix the rice well. Now add saffron milk and sugar. Mix all the ingredients gently. Reduce the heat and let the rice cook with sugar till the rice absorbs the sugar syrup. Stir occasionally. It takes about 5-7 minutes to cook the rice with sugar.
Delicious sweet saffron rice is ready.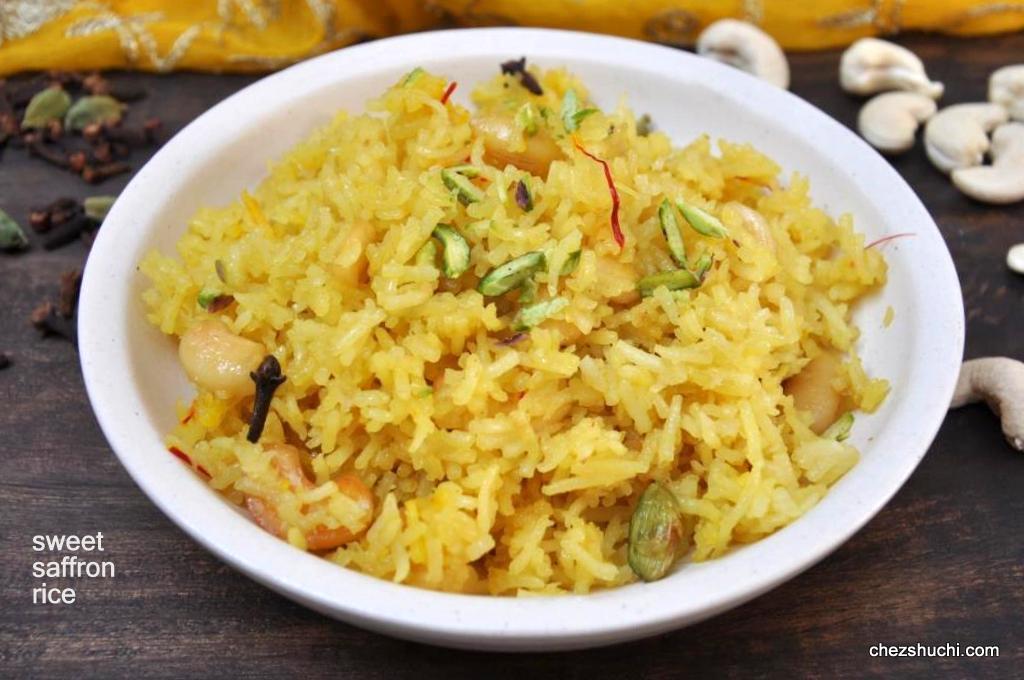 Some Tips and Suggestions
You can add some other nuts as per your taste.
Turmeric podwer is optional. I have added turmeric to give a nice yellow color.
One can also add a little bit of ground cardamoms to enhance the flavor.
Garnish sweet saffron rice with slivered pista. The green color of pista gives a beautiful color contrast with the yellow color of rice.
Some other sweets for Basant Panchami
---