Sabudana Khichdi
हिन्दी में पढ़ें
Sabudana also called as sago or tapioca, is a good source of carbohydrate. It is also rich in calcium. Sabudana is also gluten free, so it makes a perfect meal for gluten allergic. Sabudana is one of the few things eaten during the days of fasting in India. There is a variety of dishes made from Sabudana such as, sabudana papad, sabudana kheer, sabudana vadas etc. Here we are going to make sabudana Khichdi. It is also called as sabudana pulav in some families. I have added peanuts in this preparation. Peanuts are a good source of protein and enhances the flavor of sabudana. Serve this delicious khichdi with phalahari green chutney specially made for fasting. Try this sabudana khichdi and please do share your comments. Happy fasting, Shuchi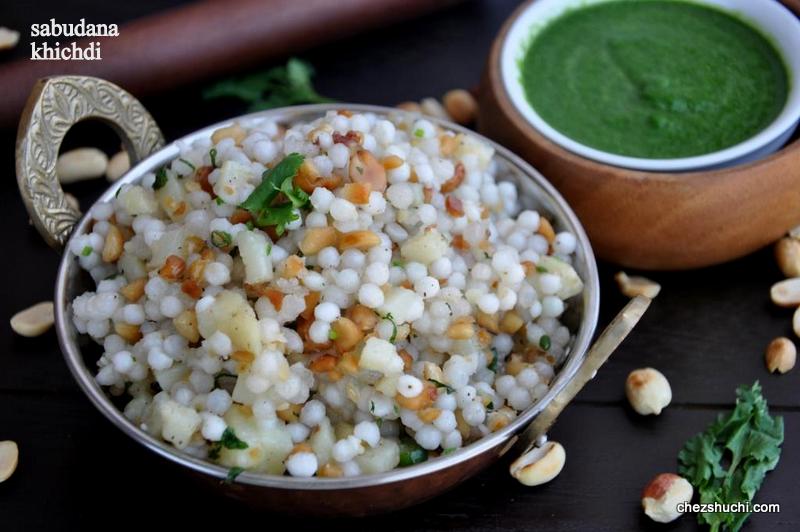 Ingredients (serves 4)
Sabudana ¾ cups
Boiled Potatoes 2 medium
Roasted and crushed Peanuts ½ cups
Green chilies 2 tsp, finely chopped
li class="recipe2">Ginger grated, 2 tsp
Sendha namak/ rock salt Amazon Link 1½ tsp or to taste 
Ghee(clarified butter) 2 tbsp
Lemon juice 1 tbsp
Chopped coriander leaves 2 tbsp
Water to saok sabudana about 1½ cup
Method of preparation
Clean and wash the sabudana. Soak them in about double amount of water for 4 hours.
After saoking sabudana granules will absorb the water and will become soft. If sabudana is still hard add a little more water and leave it for some time. If sabudana has extra water after soaking, strain the water out.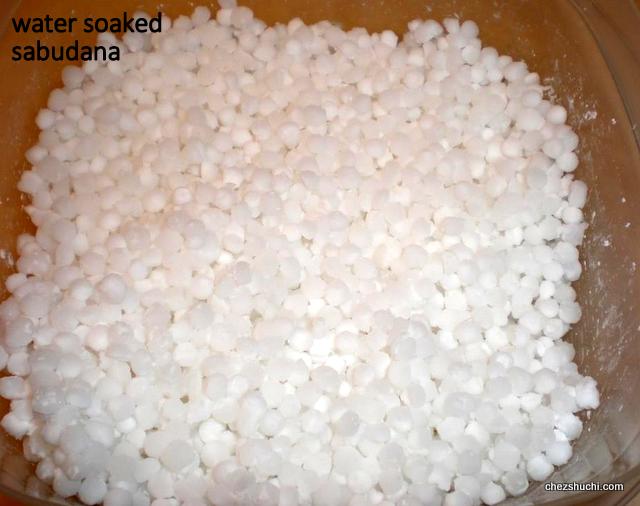 Water soked sabudana granules
Peel boiled potato and cut into small pieces.
Heat ghee in a pan. Add chopped green chilies and grated ginger and fry for a few seconds. Add crushed peanuts, and potato pieces. Sauté on medium heat for a couple of minutes.
Add soaked sabudana and salt. Miix well all the ingredients. Sauté sabudana for a couple of minutes. Cover the lid and cook for 2-4 minutes.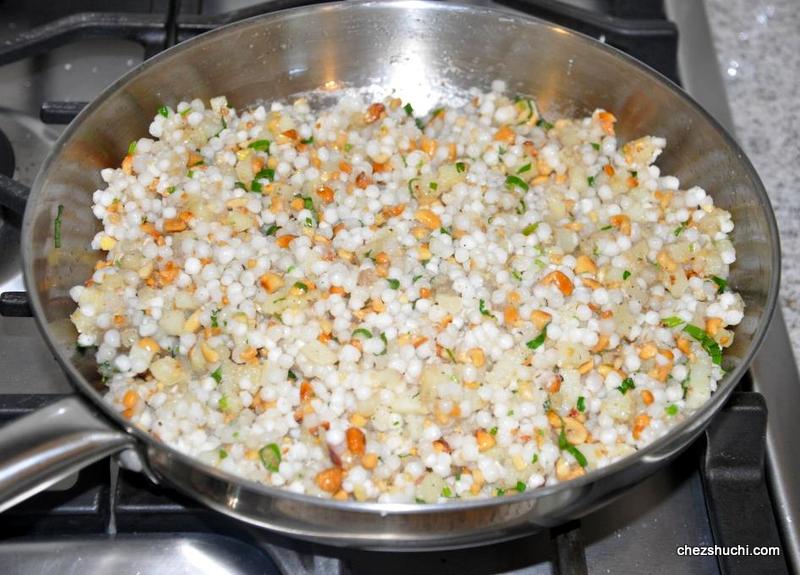 Sabudana will become translucent. It shows that the dish is done. Turn off the heat.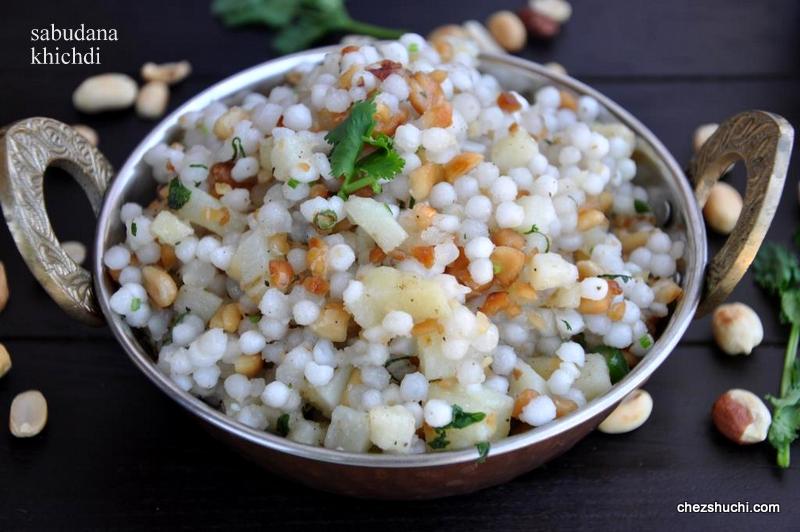 Add lemon juice. Mix well.
Delicious sabudana khichdi is ready to serve. Garnish sabudana khichdi with chopped coriander leaves. Swerve with fresh curds or phalahari chutney.
Some Tips/ Some suggestions:
This sabudana khichdi can also be made in regular days. In that case add more veggies like, peas, carrots, beans, etc..
If you like spicy food add black pepper to your sabudana khichdi.
---