Russian Salad
हिन्दी
में पढ़ें
Russian salad is a very popular salad all around the world. Russian salad is also known as Olivier salad. Traditionally, this salad is made with boiled veggies, egg, and boiled meat dressed with mayonnaise sauce. Vegetarians always find their way, so here we will make a vegetarian and eggless Russian salad . This salad is very popular in India also. Here is a simple and easy way to make this Russian salad at home with easy to find ingredients. Please try this salad recipe and as always share your thoughts. Happy coking, Shuchi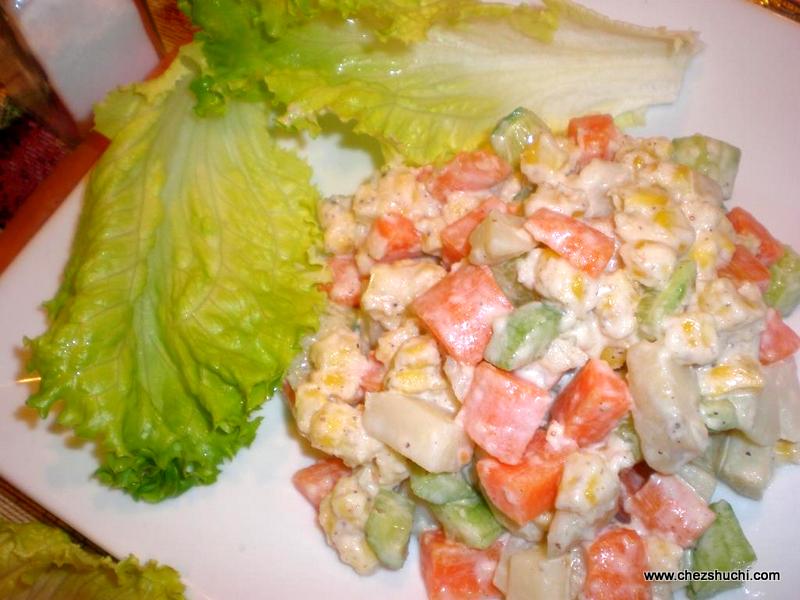 Preparation Time: 5 minutes
Cooking time: 5 minute
Approximately 125 calories each serving
Ingredients (serves 4)
Boiled potatoes 2 medium
Cucumber 1 medium
Carrots 2
Sweet corn kernels 1/3 cups
Mayonnaise suce ½ cup
Salt ½ tsp
Black pepper to taste
Lemon juice 1 tsp
Method of preparation
Wash, peel off, and cut the cucumber into half inch pieces.
Peel off and cut the boiled potatoes into half inch pieces.
Scrap the carrots and wash them. Now cut the carrots into half inch squares.
Wash the sweet corn kernels.
Boil a cup of water add pinch of salt and carrots and corn kernels. Boil for a couple of minutes.
Drain the water off and keep the carrots and corn aside.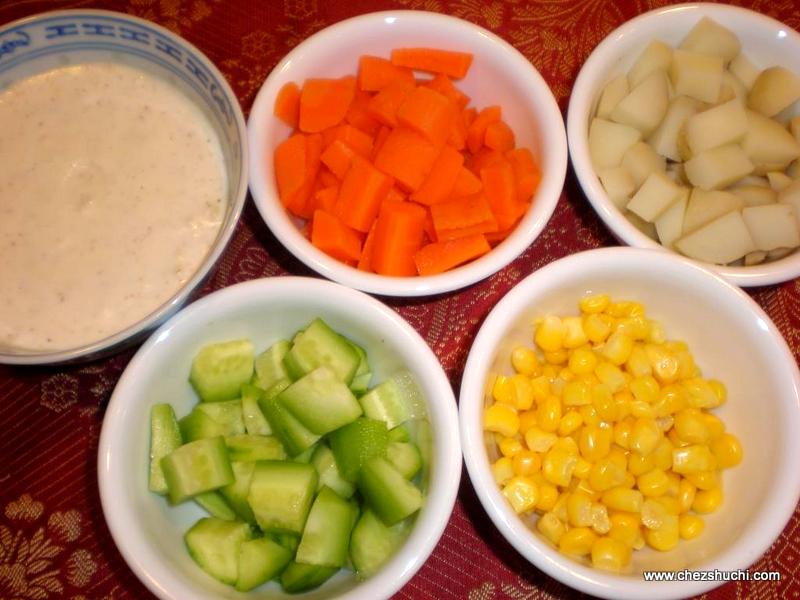 veggies for the salad
In a bowl take all the veggies. Pour chilled mayonnaise sauce, salt, lemon juice, and black pepper. Mix all the ingredients well.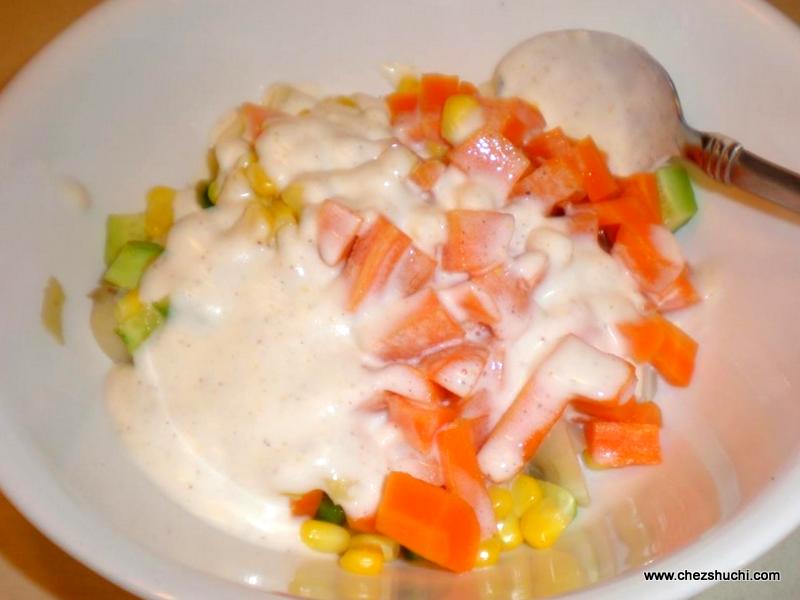 mayonnaise sauce poured onto boiled veggies
Delicious Russian salad is ready to serve. You can serve this salad as an appetizer with crusty breads or along with the main course.
Some Tips and Suggestiona
Add a bit of sugar to give a different flavor.
You can also add some beetroot or other veggies as per taste.
---