Patta Gobhi Gujarati Style
(Cabbage Preparation)
हिन्दी में पढ़ें
Patta gobhi/ cabbage cooked in Gujarati style, is a low calorie delicious preparation. I have learnt this recipe from a very dear Gujarati friend of mine. Patta gobhi is a hindi name for cabbage. Cabbage is a good source of Vitamin K and C, and dietary fibers. Cabbage has a very important place in Indian cooking and is used in different preparations. This recipe is of Gujarati style of making cabbage. It is a quick, healthy preparation, with a very little oil and spices. I just love this crunchy Gujju veggie. Please do try this dry vegetable preparation and share your suggestions and comments. Happy cooking, Shuchi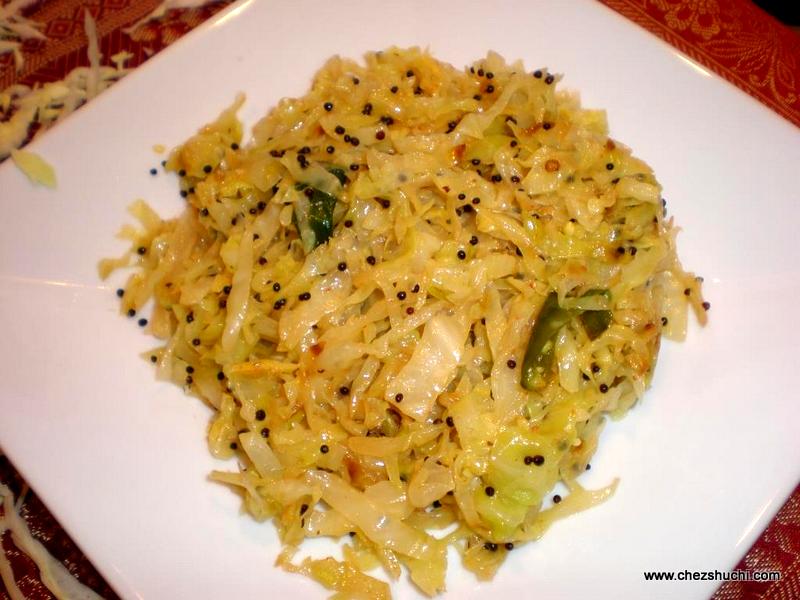 Preparation time : 5 minutes
Cooking time:10 minutes
about 35 calories in each serving
Ingredients (serves 4)
Cabbage (patta gobhi) 1 small, about 6 cups shredded, about 500 gms
Ginger 1½ inch piece
Green chilies 2-3
Mustard seeds 1 tsp
Whole red chili 1
Chana dal 1 tsp
Curry leaves 7-8
Asafoetida a pinch
Salt 1 tsp or to taste
Red chili powder little bit
Lime juice 2 tsp
Oil 1½ tbsp
Method of preparation
Wash the cabbage and cut it into about 1 and a 1/2 inch long and about 1/4 inch wide pieces. (Start cutting the cabbage from one side. Then change the side to get even pieces).
Peel , wash, and cut the ginger into small pieces. Remove the stem, wash, and finely chop/ slit the green chilies. Wash the curry leaves and pat them dry on the kitchen paper.
Heat oil in the wok on medium heat. Add mustard seeds. When seeds stop crackling add asafoetida. Add whole red chili and chana dal. Fry for a few seconds ot until chana dal change the color. Reduce the heat, add grated ginger and chopped/ slitted chilies. Fry for a few seconds.
Add shredded cabbage. Mix well and fry for a minute. Add salt, and red chili powder, mix well. Cover the lid and cook for 3-4 minutes. For this preparation we just cook cabbage a little- they remain crunchy that way. Open the lid and fry cabbage for one minute. Now turn off the heat.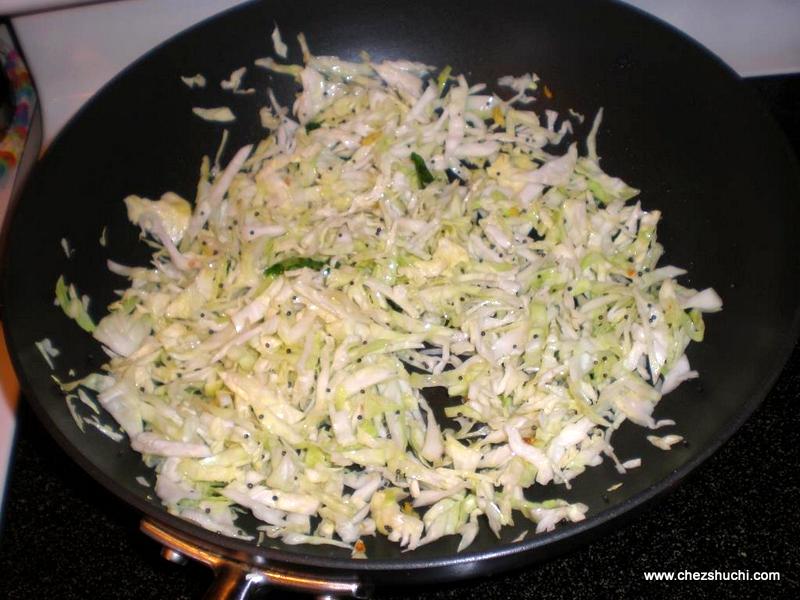 Add Lemon juice. Mix well.
Patta gobhi ki sabji (cabbage vegetable) is ready to serve.
Serve with Roti or Plain Paratha. It actually taste very good as a salad also.
Some Tips/ Suggestions:
For this dish please do not overcook cabbage, as cabbage taste better when it is crunchier.
You can also add some grated coconut in this preparation.
---