Apple Crumble/Apple Crisp
हिन्दी में पढ़ें
Apple crumble is a very popular Western dessert. In the United States, it is commonly known as Apple Crisp. I did not know about this dessert when I was living in India. I first had a crumble in France, at a French friend's place. They had made pear crumble which was just amazingly delicious. Since then, I have made it several times, and over the years I have modified the recipe to make it healthier. In this dessert, flavored apple slices are topped with crumbly flour, sugar and butter mix. Often rolled oats and nuts are also used to top the crumble to enhance the flavor. Then, the slice and crumble mix is baked until crisp and aromatic. For crumbles, one can also use a combination of fruits. Some very popular combinations are apple and pear, peach and strawberries, and a combination of berries. Often people like to serve crumble with ice-creams, however I feel it is a very rich and delicious dish in itself. This recipe of apple crumble is easy to follow. Be imaginative and make it your way and serve it your way…. Try this apple crumble recipe and please do share your comments. Happy cooking, Shuchi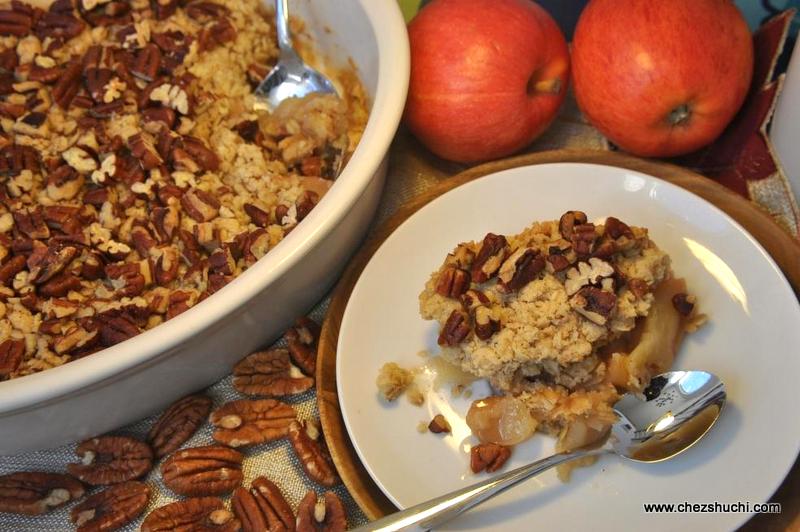 Ingredients

(serves 4-8)
4 apples (I use organic gala apples)
3 tbsp brown sugar
1½ tbsp lemon juice
½ tsp salt
½ tsp cinnamon powder
¼ tsp nutmeg powder
1 tbsp wheat flour
Ingredients for crumble layer
½ cup cold butter
½ cup old fashioned oats
1/3 cup all purpose flour
½ cup wheat flour
1/3 cup brown sugar
¾ cup pecans/ walnuts
Some other things
1 baking dish about 12 inch long
1 Tsp butter to grease the dish
To Serve
Vanilla ice cream to taste (optional)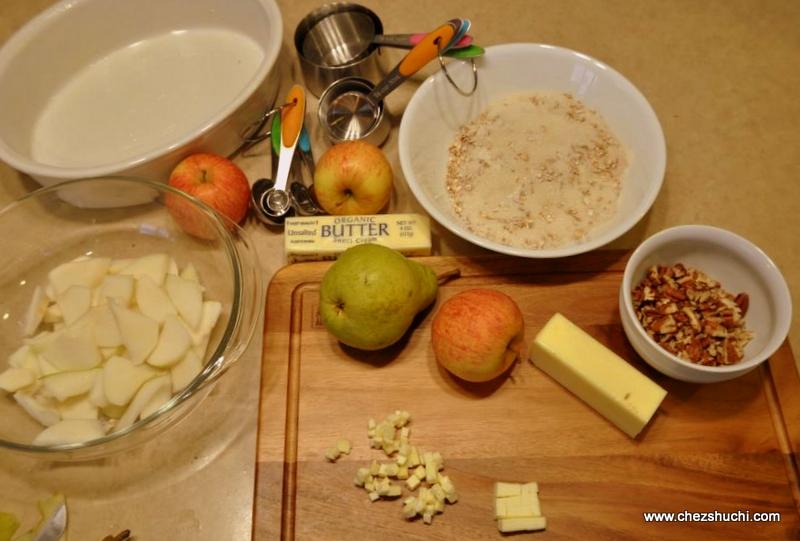 Ingredients for apple crumble
Method of preparation
Grease a 12 inch baking dish . It could be of any shape.
Preheat oven at 375°F/ 190°C.
Wash apples and cut them into thin slices. Remove the core. I have kept the skin of the the apple but you can remove it if you wish to.
Sprinkle sugar, lemon juice, salt, cinnamon powder, nutmeg powder and 1 tbsp whet flour on apple slices. Toss well. Keep aside.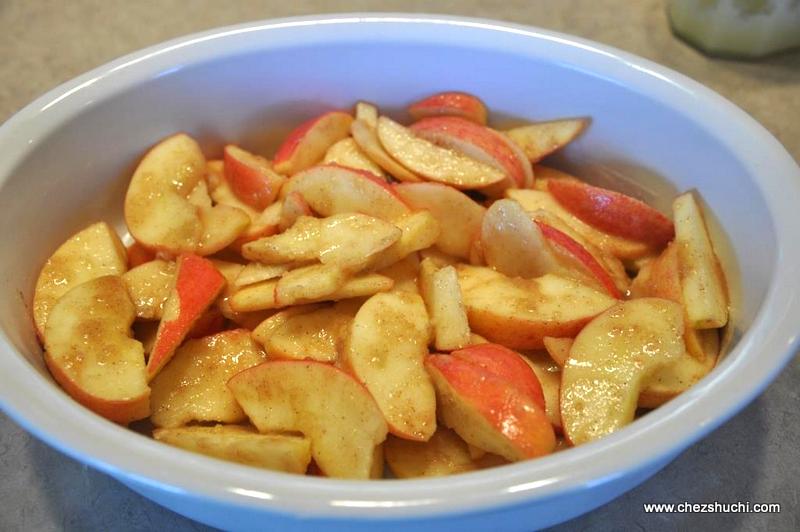 apple slices coated with flavoring
Method of preparation to make Crumble layer
Cut cold butter into quarter inch pieces .
In a bowl mix wheat flour, all purpose flour, rolled oats and sugar.
Add butter pieces in the flour and crumble them with finger tips. Keep the crumble mixture in the freezer for 10 minutes, this makes the crumble aromatic, taste better and crispier after baking.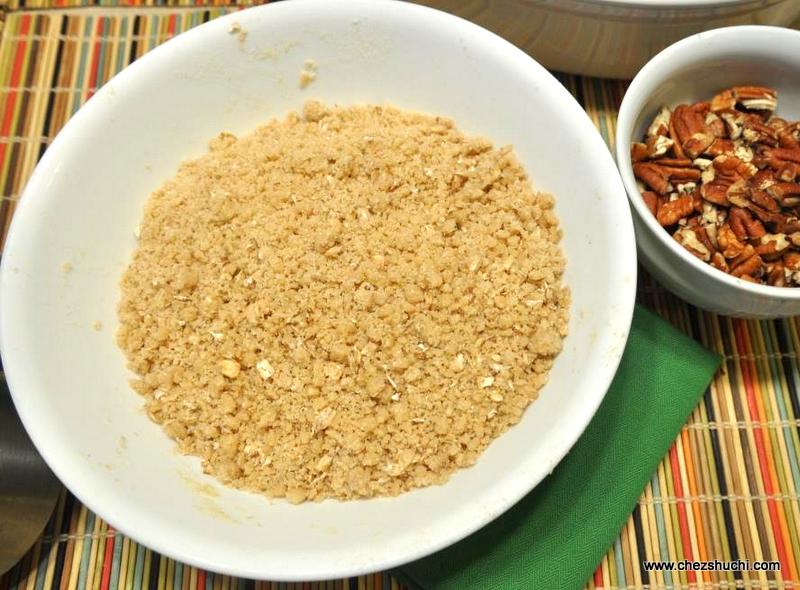 crumbly flour and oat mixture
In the greased baking dish transfer the flavor coated apple slices. Press them slightly.
Arrange the crumbly mixture evenly on top of apple slices.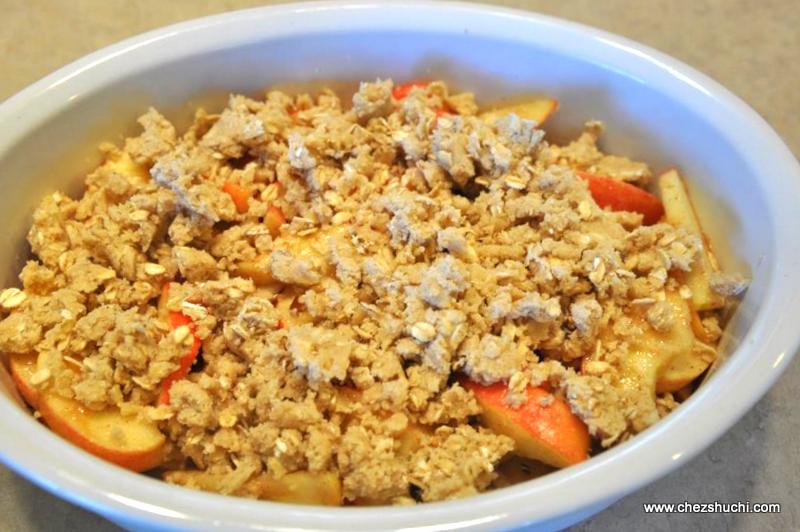 apple crumble arrangement
Press the crumble layer and spread it evenly.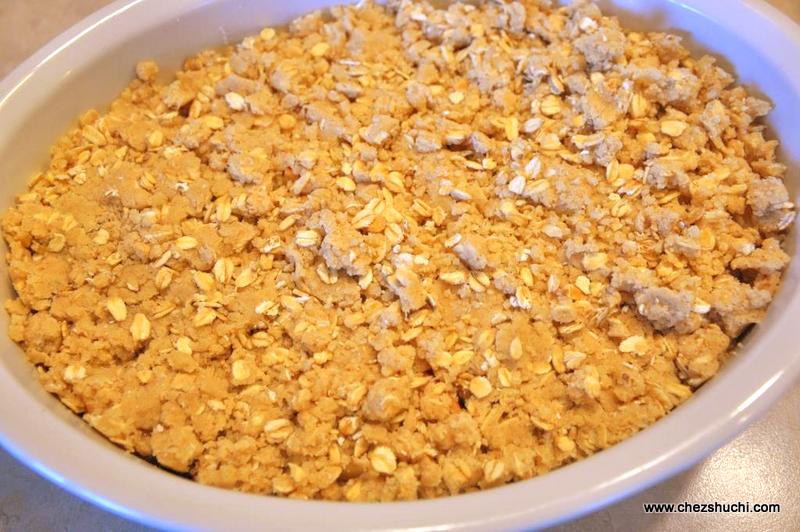 Top the crumble with pecan or walnut pieces.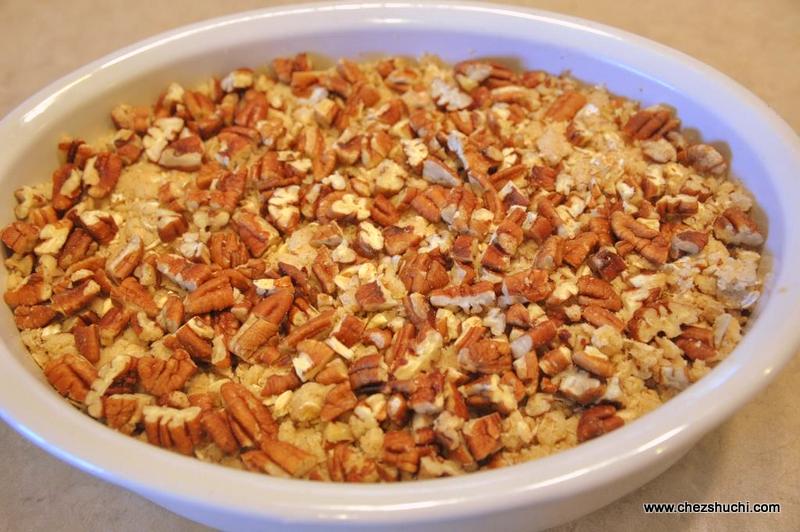 Keep the baking dish in the pre heated oven and bake apple crumble for about 35-40 minutes or until aromatic and the color of crumble changes.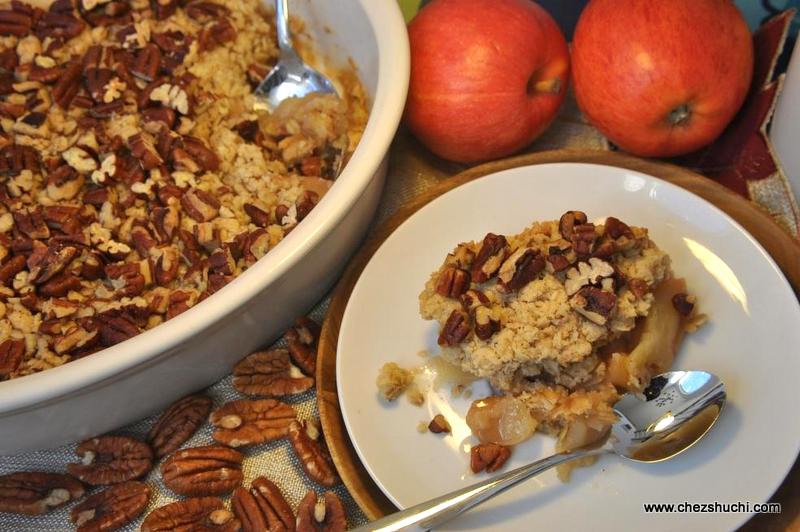 To Serve:
Let the apple crumble cool for 15-20 minutes.
With a flat serving spoon take a serving portion, and set it on the serving dish. Delicious crumble is ready to serve.
You can also serve crumble with vanilla ice cream.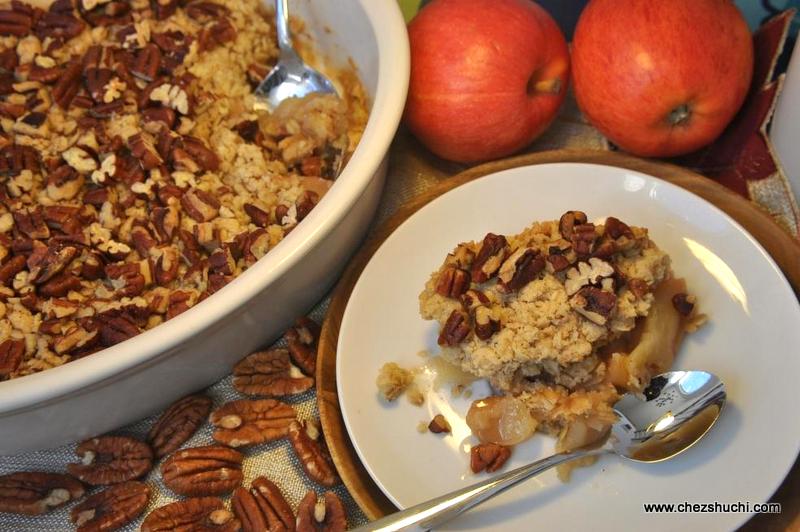 Some Tips/Suggestion:
You can also use pear with apples for this preparation.
I like to add wheat flour to cut the amount of all purpose flour. You can change the flour as per your taste.
You can also use walnuts or almonds instead of pecans as per taste.
---
---