हिन्दी में पढ़ें
Classic Trifle
Trifle is a very well known Western dessert made with sponge cake soaked in juice or sometimes in liqueur spread with jam and fresh fruits, covered with a pudding/custard and topped with whipped cream. The credit for this recipe goes to a very dear friend who introduced this dish to us. This is an easy to make dessert. The small hands you see in the pictures are those of my daughter, now you can guess how easy it is to assemble the Trifle....Most of the ingredients are available in ready to use form in the supermarkets. However, I have made the dish from scratch, so as to explain to those readers who may not be able to find some of the readymade ingredients in their part of the world. Please feel free to choose jam, juice, and fruits as per availability and your taste.... So let's make trifle... please do share your valuable comments......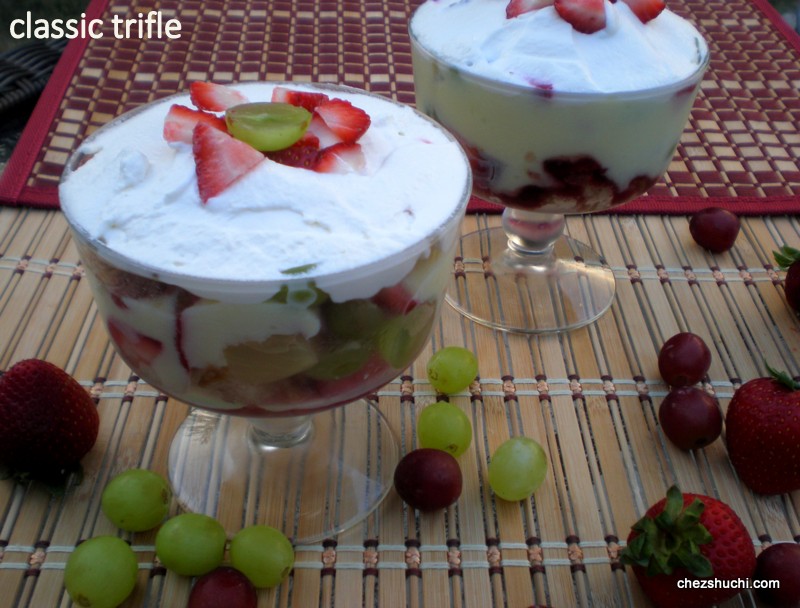 Ingredients (serves 6-8 people)
6"x3.5" Sponge cake ( 2 cups of cake chunks)
2-3 Cups assorted fruits (I have used grapes, peaches, pineapples, and strawberries)
1/3 Cup fruit juice (orange/pineapple)
1/3 Cup strawberry jam
For Vanilla Pudding
2 Cups Milk
3 Tbsp sugar
2 Tbsp corn starch
2 pinches salt
½ Tsp vanilla extract
½ Tbsp butter
For Whipping the cream
1 Cup heavy whipping cream
2 Tbsp powdered sugar
½ Tsp vanilla extract
---
Method of preparation:
Cut the cake into chunks.
Cut the fruits into small pieces.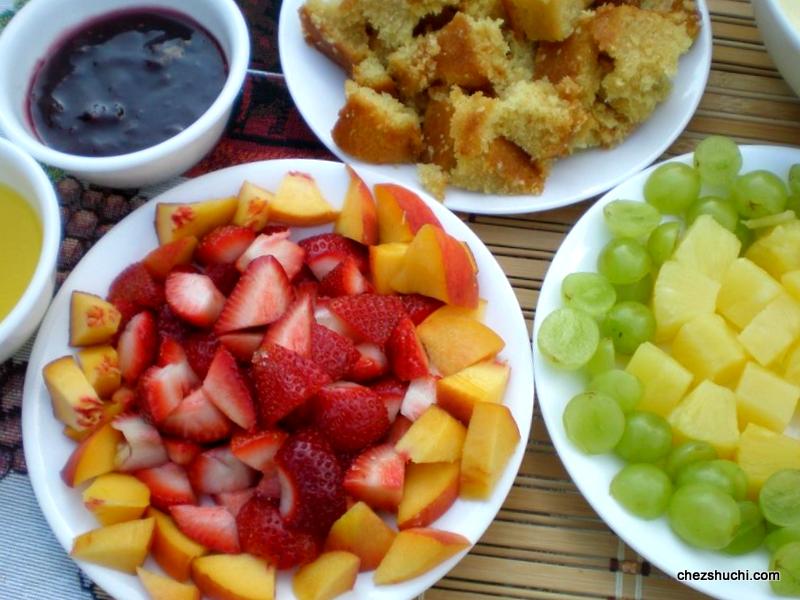 Method of preparation for Vanilla Pudding:
Vanilla pudding is a thicker version of vanilla custard.
In a heavy bottom saucepan boil milk. After the first boil, reduce the heat, add sugar and mix in well with the milk. Reduce the heat.
In a small bowl take 2-3 tbsp lukewarm milk, add corn starch and salt. Mix well. Make sure there aren't any lumps in the mixture.
Add cornstarch mixture little by little in the milk and keep stirring. Cook for a few minutes until the milk is thickened and cornstarch is completely cooked. Now turn off the heat and still keep stirring the mixture for a couple of minutes.
When milk is lukewarm add vanilla extract and butter. Mix well. Vanilla pudding is ready. Keep it in the refrigerator for 2-3 hours to settle down completely before you use it.
You can also add few drops of yellow food color to get nice yellow pudding.
Whipping the cream:
In a mixing bowl take chilled whipping cream, powdered sugar, and vanilla extract. With a hand blender whisk the cream for a minute. The cream will look like the picture below. Keep the whipped cream in the refrigerator until you are ready to use it..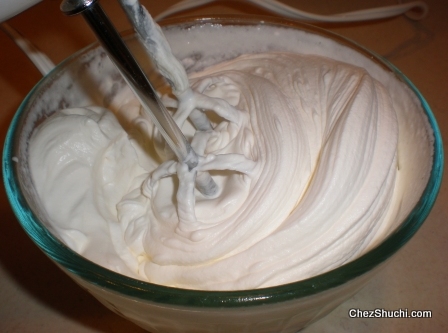 Assembling the Trifle
You can assemble trifle in individual serving bowls or it can also be assembled in a big clear bowl, and can be served in the plates or bowls.
In a clear and deep glass bowl, line up a layer of cake. Sprinkle fruit juice on the cake. Spoon all color fruits over the cake. Brush with jam. Now pour vanilla custard over the fruits. Repeat the layering if needed, and top with whipped cream. Refrigerate the trifle for 2-3 hours.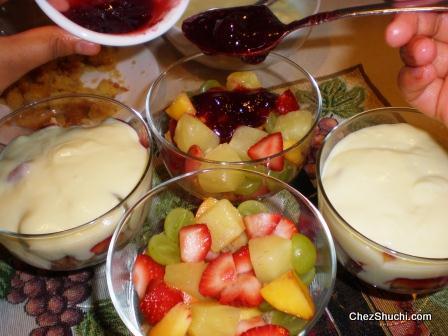 Delicious trifle is ready. Serve chilled.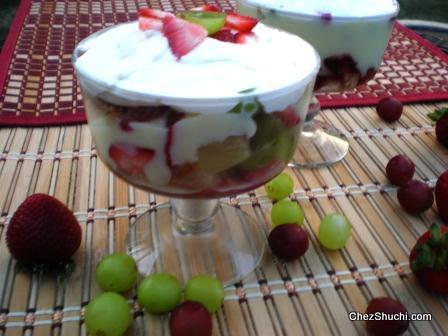 Some Tips/ Suggestions:
You can also add some chopped nuts in this trifle preparation..
You can also use some other cake like fruit and nut cake, for this recipe.
Make sure that the cream is absolutely chilled before you start whipping it.
---
---