Veggies in Red Curry
हिन्दी में पढ़ें
Thai red curry is made with shallots, garlic, galangal, lemon grass, coriander seeds, cumin seeds, and lots of red chilies, etc. This is a basic curry paste for many of the Thai preparations. In this curry paste coconut milk is added and cooked with meat or with veggies. I have added a bunch of veggies in this curry. This dish is hot and for sure very yummy……..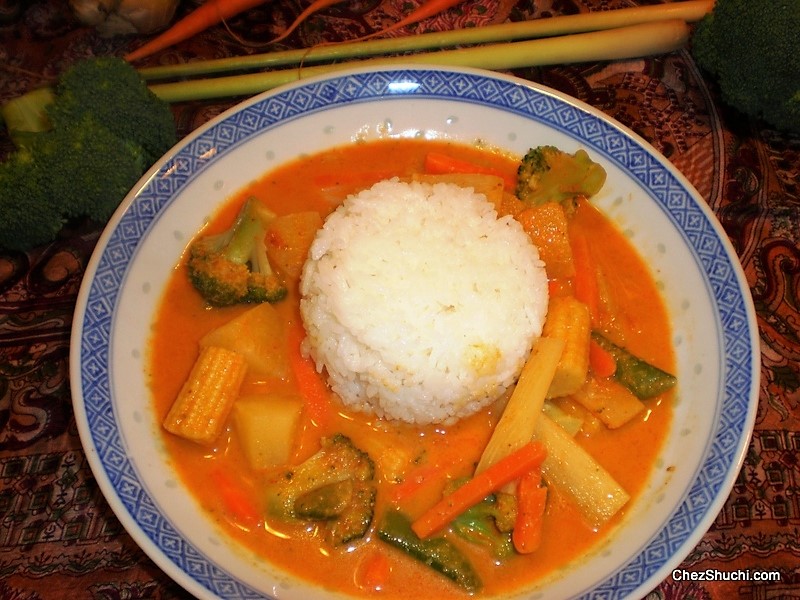 Ingredients

(serves 4)
Red curry paste 1/3 cups
Coconut milk 1½ cups
Onion 1 medium
Carrots, about 2 medium
Broccoli florets 1 cup
Baby Corn 1 cup
Red and green bell peppers sliced, 1 cup
Bamboo shoots ½ cups
Pineappe chunks 1/3 cups
Oil 2 tbsp
Salt 1 tsp
Brown sugar ½ tsp

Method of preparation
Wash the carrots . Cut them into desired shape
Wash all other veggies and cut them into desired shape and size. Try to cut all the veggies in similar shape and size.
Heat the wok on high heat,, and put in about 1 tbsp oil. Add onions and stir fry for a minute.
Add carrots, broccoli, bay corns, and bell peppers and stir fry for a couple of minutes. Add pineapple. Mix well.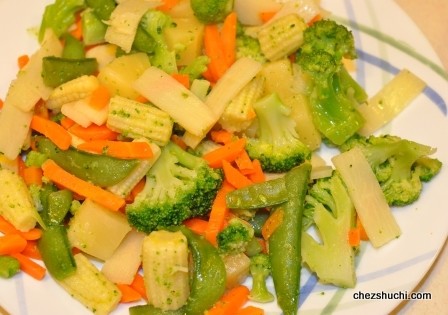 stir fried vegetablkes for Thai red curry
Add red curry paste in stir fried veggies. Fry it for a minute.
Add in coconut milk and stir for a minute. Mix well. Add salt and sugar. Cook for 2-4 minutes.
Vegetables in red curry is ready to serve.
Serve with boiled Thai Jasmine rice.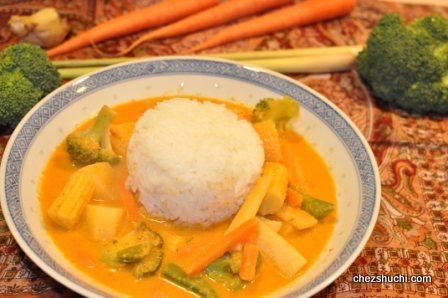 Some Suggestions/ Tips
Other vegetables like french beans, cauliflower, corn kernels , egg plant (brinjal). bell pepper (capscium), mushrooms, tofu etc can also be used in this recipe.
There are many other dishes which can also be made with this red curry paste.
If you are using canned pineapple add juice as well.
If the coconut milk is very think add some water.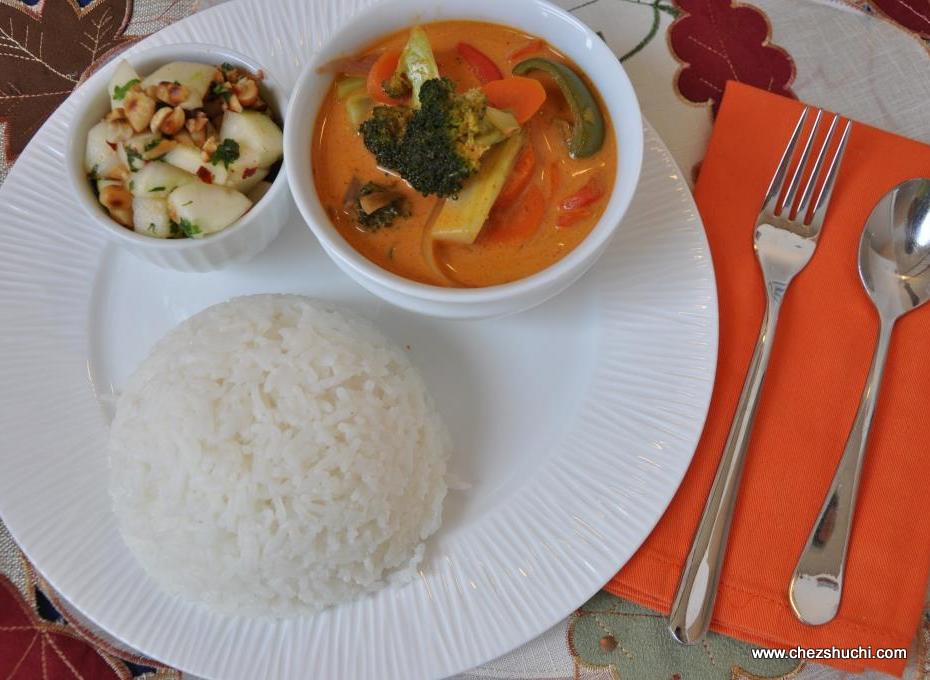 ---