हिन्दी में पढ़ें
Vegetable Chopusey
Vegetable Chop suey or chopsuey is an Indian Chinese dish. I remember even 2 decades back, in Indian fast food joints, there used to be a whole range of chop suey dishes and one of them used to be American chop suey. It is funny that in America, American chop suey is an entirely different dish made with macaroni and beef….I have never seen any chop suey dish in any of the Chinese restaurant menus….anyways!!!
Indo Chinese Chop suey is a very delicious dish made with colorful vegetables and fried noodles. For this dish veggies are stir fried and cooked in delicious sweet and sour sauce and served with fried noodles. Try out this yummy chop suey and please do not forget to share your comments…..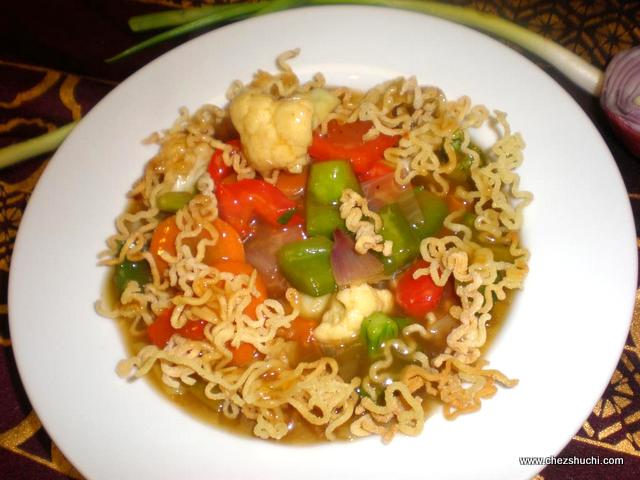 Ingredients (serves 4)
Onion 1 medium
Carrot 1, cut into slices
Bell pepper (capscium) 1 medium, cut into ½ inch squares
Cauliflower,cut into samll florets, 1 cup
Broccoli, cut into small florets, 1 cup
Spring onions 2-3, cut into 1½ inch pieces
Oil 1 tbsp
For Fried Noodles
Noodles 3-4 ounce/ 1 packet
Rice flour/ all purpose flour 2 tsp
Oil to deep fry the noodles
For sauce
Ginger juliennes 1½ tsp
Soya sauce 1½ tbsp
Distilled vinegar 1½ tsp
Corn starch 2 tbsp
Salt ¾ tsp
Red chili flakes as per taste
White/ black pepper to taste
Brown sugar 1½ tsp
Water about 2 cups
Oil 2 tsp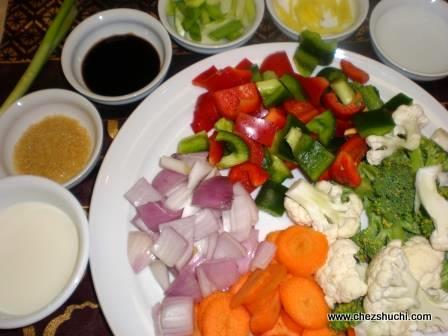 ingredients for vegetable chop suey
Method of preparation for crispy fried Noodles:
Cook the noodles as suggested on the noodle packet. Do not overcook the noodles. Leave on the strainer to remove extra water. Wait for 2-3 minutes. Now transfer the noodles in a clean cloth or on a kitchen towel to absorb the extra moisture.
Rub a little oil on your fingers and separate the noodles.
Sprinkle a little rice flour or all purpose flour on the boiled noodles to absorb any leftover water.
Heat oil in a wok. Add some boiled noodles and fry them till they turn golden red.
Fry the remaining noodles in the same way. Keep the fried noodles aside.
NOTE - I use very little oil for deep frying, so I do not have to worry about discarding the fried oil and also I do not need to reuse the fried oil.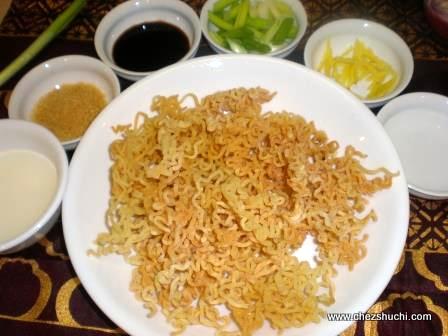 Method of preparation for Chop Suey:
Mix corn starch in 1/2 cup water. Mix it well. Keep aside.
Peel off, wash, and cut onion into ½ inch squares .
Heat 1 tbsp oil in a wok. Add chopped onions. Fry onions for a minute on medium high heat.
Add cauliflower, and broccoli florets and fry for a couple of minutes. Add carrots and fry for 1-2 minutes. Now add bell pepper and fry for a couple of minutes on medium heat.
Add ginger, red chili flakes, salt, sugar, and black pepper and mix well. Fry the vegetables for another minute. Add soy sauce and distilled vinegar. Mix.
Add 1½ cups warm water in the stir fried vegetables and also add the corn flour mixed in water. Keep stirring the veggies so that no lumps form.
Cook for a couple of minutes. Add Spring onions. Mix well. Taste and balance the spice, salt, and sugar level as per taste. Turn off the heat.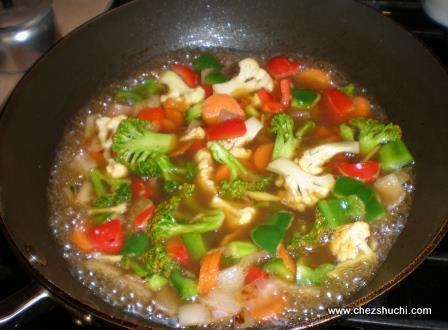 To Serve:
In a serving dish, arrange some crispy, fried noodles. Top with stir fried vegetables and pour some sauce.
Delicious chop suey is ready to serve. Serve immediately.
Some Tips/ Suggestions:
You can use instant noodles, flat noodles, wheat noodles or any other noodles as per availability and taste.
You can also use some other veggies like cabbage, bean sprouts, bok choy, French beans, bay corn etc in this preparation.
You can deep fry the noodles in advance an store it in a air tight container and use as needed to save the time.
Add vegetable stalk instead of plain water to enhance the flavor of sauce.
Add some garilc if you wish to. You can also use some green chilies if you like spicy food.
---