हिन्दी में पढ़ें
Tri Color Pulav
On the special occasion of Independence Day let's make this delicious and nutritious tri color rice preparation. To make three different color layers, I have used spinach to give green color, coconut milk to make white layer rice, and tomatoes to make saffron/kesariya layer of tri color rice. Hope you enjoy this delicious dish. Please do not forget to share your precious comments…..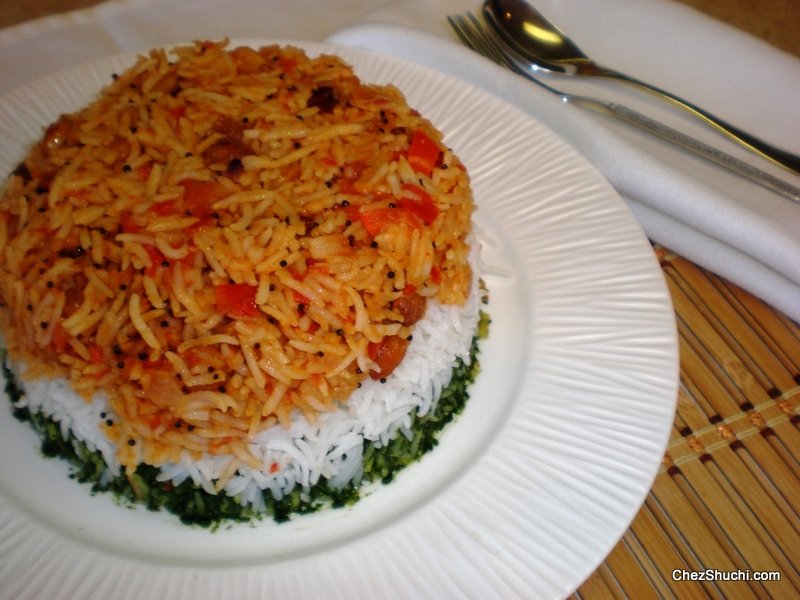 Ingredients (serves 4)
For Green color (Spinach Rice layer)
250 gms/½ pounds spinach about
¼ tsp sugar
¼ tsp salt
water 1 cup
1 green chili
¼ tsp cumin seeds
1 small onion, finely chopped
1 small tomato, finely chopped
¼ tsp salt
¼ tsp garam masala
2 tsp oil
For Tomato rice
1 small onion, finely chopped
2 medium tomatoes , finely chopped
1 tbsp oil
¼ tsp mustard seeds
2 pinches asafoetida
2 tbsp peanuts
4-5 curry leaves
½ tsp salt
1 tbsp ground tomato rice dry masala
For White rice
4 tbsp coconut milk (optional)
---
Method of preparation:
Clean, wash, and soak Basmati rice in two cups of water for 20 minutes.
Cook the rice in microwave or in the pan until they are almost done but not overcooked. Keep the cooked rice aside to cool down.
Divide the rice into three portions
Method of preparation for Green rice:
Remove the thick stems of spinach leaves and wash the leaves thoroughly.
Boil 1 cup water in a pan with ¼ tea spoon salt and ¼ tea spoon sugar (to maintain the green color).
Blanch the spinach leaves in the hot water for 2 minutes, and then take them out. Let the boiled leaves cool down.
Make a coarse paste of boiled spinach leaves and green chilies.
In the wok, heat oil. Add cumin seeds; when cumin changes color, add chopped onions. Fry onions until they are transluscent (takes about 2 minutes). Add chopped tomatoes. Fry for a couple of minutes.
Add spinach paste and cook for a few minutes, add garam masala, and salt. Cook for another minute. Spinach masala is ready.
Add one portion of cooked rice to the spinach masala. Mix the rice and the spinach masala well.. Turn off the heat. Keep aside.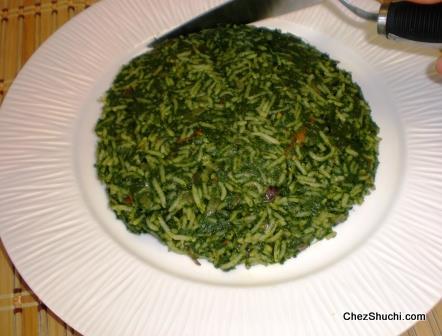 Green color rice made with spinach
Method of preparation for Red/Tomato rice:
In the wok heat 1 tbsp oil. Add mustard seeds. When seeds crackle, add peanuts. Fry peanuts on medium heat for a minute. Add asafoetida, and curry leaves. Fry for a few seconds. Add onions, and fry for 2-3 minutes or until the onion has changed the color.

Add chopped tomatoes, ground masala, and salt. Cook until tomatoes are softened.
Separate the second portion of the cooked rice gently with the fork and add it to cooked tomato mixture. Mix well gently and cook for a couple of minutes. Turn off the heat and cover with the lid so that rice absorbs the flavor.
Method of preparation to assemble the tri color rice:
Add coconut milk to the third portion of cooked rice. (optional)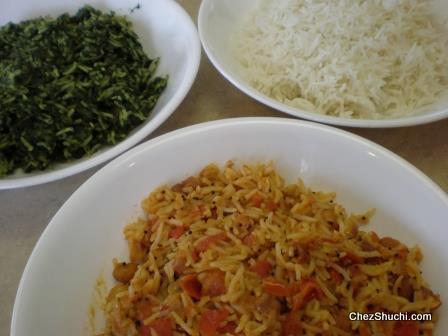 In a serving dish, take the green rice, and set them well in the center of the dish with the help of a spatula.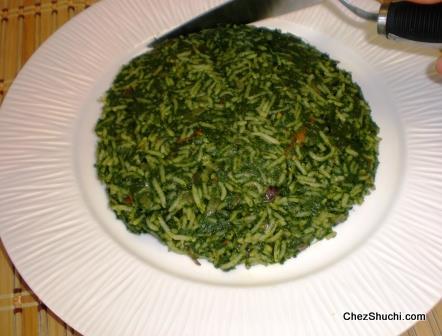 Green color rice made with spinach
Top the green rice with white rice. Set from the sides.
Now on top of white rice set a layer of tomato rice.
Remove the fallen rice from the sides. Serve delicious tri color rice with yogurt/ Curds, or pickle of your choice.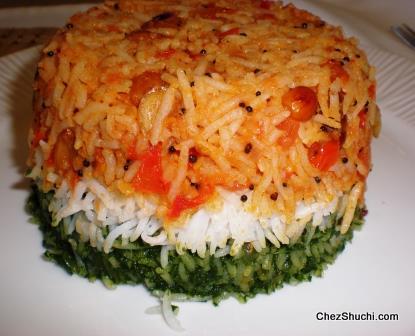 ---
---