Til Laddoo
(Sesame Balls)
हिन्दी में पढ़ें
This is a very traditional dessert and is especially made for festivals like Sakat Chauth and Sankranti. Sesame is very rich in iron, calcium, magnesium, and also in phosphorus. I have used jaggery which is unrefined whole cane sugar. Til ke laddoo ( Sesame balls)can be easily made at home and loved by even kids... This sankranti try this healthy, nutritious, and delicious dessert.......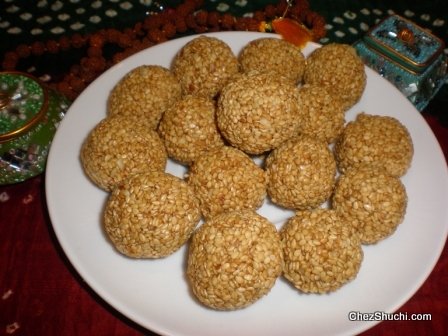 Ingredients

(makes about 14 laddoos)


Start to finish time about 20 mins
White sesame (safed til) 1 cup

Almonds 2-3 tbsp

Jaggery, grated ¾ cup

Water ¼ cup
Ghee ½ tsp
Method of preparation
Dry roast the white sesame till light brown (takes about 5 minutes). Be careful when you roast the sesame as it splutters. Set aside to cool down.
Dry roast the almonds for a couple of minutes.
Grind the almonds in the grinder. We need absolutely coarse almond. I have used skinned almonds as the skin is very nutritious.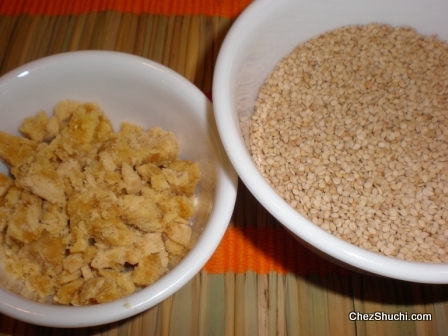 Unhulled Sesame (saphed til) and jaggery (gud)
In a non stick wok boil water, and add jagerry. Now let the jaggery completely melt in the water. Add ghee, mix well and cook for about 2 minutes .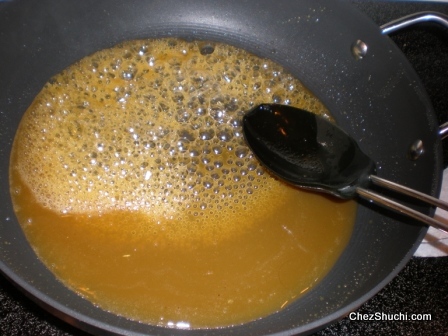 jaggery syrup
Now add sesame and ground almonds. Mix well, and cook for 30 seconds. Turn off the heat.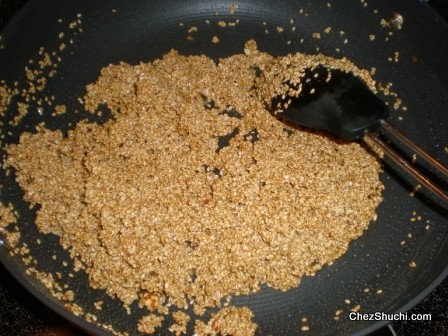 sesame and ground almonds in the syrup
Let the mixture cool down a bit (for about 2 minutes). When the mixture is still lukewarm but not hot -
Grease your palm with ghee/ oil - take about 1 table spoon mixture, and make a round ball between your palms as shown in following pictures.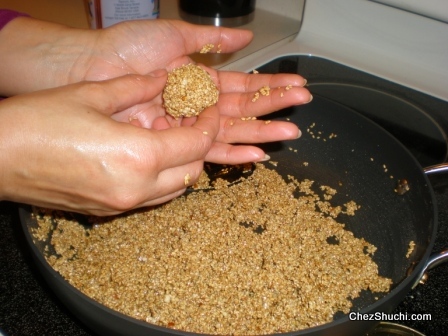 Laddo making
Delicious til ke laddoos (sesame balls) are ready to offer to gods. Serve them right away or in case if you want to make in bulk , these laddoos can be stored in airtight container for a mon.th.
Tips / Some Suggestions:
Those who live outside India- Jaggery is easily find in Indian store, it can also be found in health store/ organic stores. In case if you do not find jaggery, use brown sugar.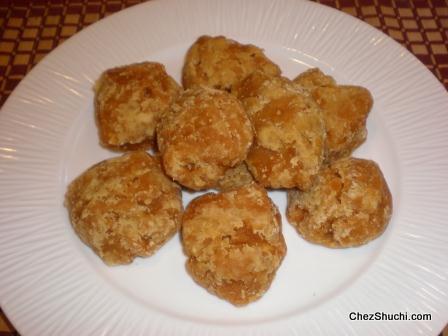 The laddoo mixture should be warm to make laddoos. The mixture hardens as it gets cold. In case if it hard and you are not able to make the ball- sprinkle a few drops of water and warm up the mixture...
---
---
---