Sweet Saffron Rice
हिन्दी में पढ़ें
Sweet saffron rice is a very traditional dessert made for Basant panchami pooja (prayer). This delicious dessert is made with thickened milk (khoya/mawa), assorted dry fruits, and saffron. Sweet saffron rice is mildly flavored with green cardamoms and cloves. Like any other dessert the sweet saffron rice is first offered to goddess Saraswati (the goddess of knowledge) before serving...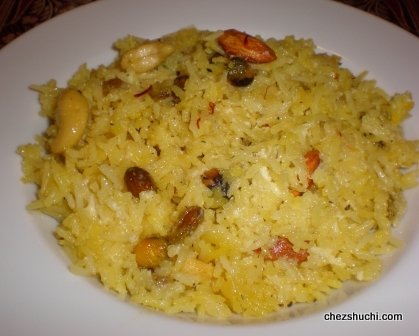 Ingredients

(Serves 4)
Basmati Rice 2/3 cup

Ghee  4 tbsp
Khoya/mawa (thickened milk) 2/3 cup
Sugar 1/3 cup

Pistachio, Cashew nuts, Almonds  ½ cup
Raisins 2 tbsp
Green cardamoms 8
Cloves 4-5

Saffron (Amazon link for Organic Saffron) threads  ¼ tsp
Milk 2 tbsp
Water 1½ cup
Method of preparation
Clean, wash and soak the rice in the water for 20 minutes.
Boil the rice on high flame/heat, now reduce the flame/heat after the first boil. Cover the lid, and cook until the rice are done. (it takes around 8-10 minutes  to cook the rice). Do not overcook the rice for this recipe.

Remove the green skin of the 4 cardamoms and ground the seeds.
Soak saffron threads in two tablespoons of lukewarm milk. Keep aside.
Wash the raisins, and keep aside.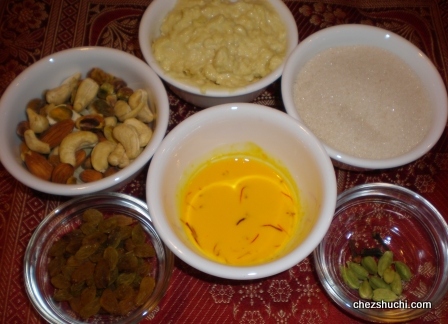 Dry fruits, saffron milk, sugar, cardamoms, and khoya

Let the rice cool down. Now separate the rice with the help of fork.
Heat ghee in a wok on medium heat. Now fry cloves and cardamoms for 10-15 seconds. Add all the dry fruits and fry for about 10-15 seconds.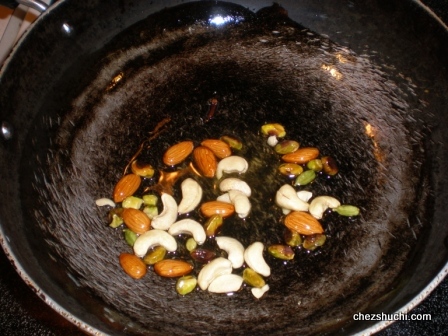 cardamoms, clove, and dry fruits frying
Add rice in the fried dry fruits. Mix the rice well with the dry fruits. Now add saffron milk and sugar. Mix all the ingredients gently. Reduce the heat and let the rice cook with sugar till the rice absorbs the sugar syrup. Stir occasionally. It takes about 5-7 minutes to cook the rice with sugar.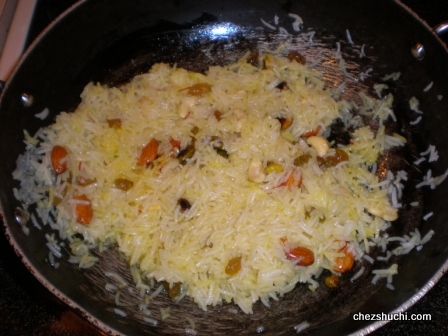 Now it is time to add khoya/ mawa (thickened milk). Mix khoya with the sweet rice. Add grounded cardamoms.
Delicious sweet saffron rice is ready . Offer it to goddess Saraswati before serving.
Tip
If you do not have khoya, you can easily make it at home - For this recipe, boil about 1 lt full cream milk. After the first boil, reduce the heat, and let the milk evaporate for about half an hour. Do not forget to stir occassionally. When milk is thickened, stir it continuosly and let it semi-dry (until it leaves the sides of the pan). Khoya is ready.
---