Choose-Your-Own Stir Fry
हिन्दी में पढ़ें
Many of you must be familiar with the term stir fry. Stir fries are not only delicious but also healthy. Stir fried food takes very little time to cook although preparation takes a while.
In America, there are some joints where you can pick your food from a wide range of rice, pasta, and noodles (carbohydrates) , tofu, soy nuggets, seitan (wheat protein ), vegetables (vitamins), sauces (flavor) etc. in a bowl. The cooks then cook your selection and the dish comes back to you. It is a healthy and fun variation on everyday food. Especially for kids !!...
So here we go, working on the same pattern. Display whatever you have, let the family and friends pick their selection, and then cook it in a wok.
Ingredients

For base Options-
Boiled noodles
Boiled rice
Boiled bulgar/ fada (cracked wheat)
Boiled pasta
Beans Options-
Boiled Chick peas
Boild Black eye beans
Boild Kidney beans
Boiled soy beans
boiled lentils
Veggie Options-
Broccoli florets
Cauliflower florets
Cabbage cut into stips
Green onion cut into an inch pieces
Carrots, cut into pieces
Bell pepper, red/ yellow/ green cut into pieces
Green beans, cut into pieces
Tomatoes cut into pieces
Nut Options-
Pine nuts
Walnuts
Cashews
Pumpkin seeds
Other Options-
Boiled potatoes
Paneer /Tofu
Seitan
soy nuggets
Sauce/flavor Options-
Tomato sauce
Sweet and sour pineapple sauce
Soy Sauce
For Seasoning-
Salt
Freshly ground Black pepper
Oil to cook
Method of preparation
Pineapple sauce- In a bowl mix ½ cup pineapple chunks, and ½ cup pineapple juice with 2 tbsp tomato sauce.
Sweet chili dip- In a pan, boil ¼ cup sugar with 2 tbsp water, until sugar crystals are completely dissolved. Takes about 1-2 minutes. Now add 1½ tbs vinegar and 1-2 tbsp chili flakes. Mix well and turn off the heat. Let the dip cool down.
Lemony ginger and chili dip- In 3 tbsp lemon juice add 1 tbsp grated ginger and 1 tbsp chopped green chilies. Mix Well.
Display all the options:
Carohydrates - boiled macaroni, boiled noodles, boiled rice, boiled pasta etc..
Protein and dietary fiber- Boiled beans ( it could be black-eyed beans, kidney beans, soy beans, chick peas etc...)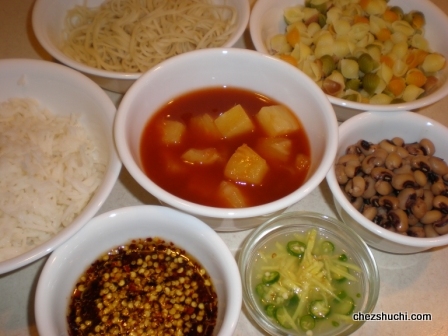 Boiled and roasted potatoes, sauteed paneer, tomatoes, red and green bell pepper (capscium).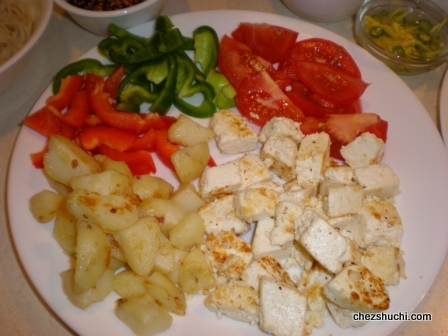 vegetablkes for stir fry
Fibres and Vitamins- Broccoli, cauliflower florets, carrots, cabbage, green(spring) onions etc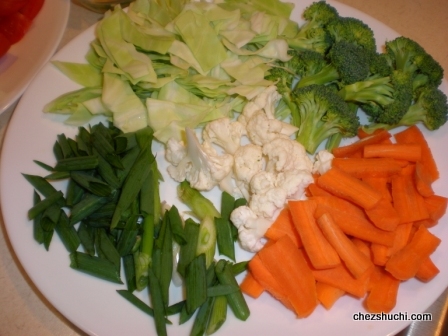 How to Proceed:
Start with the kids- Now let the kids choose their favorite things first in a bowl.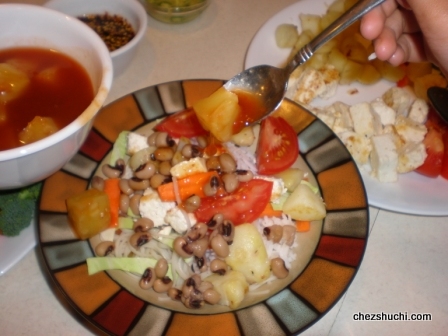 Procedure of cooking
Heat a wok on high heat. Add some oil. Transfer the entire material in the wok. Cook the food by constantly stirring for couple of minutes.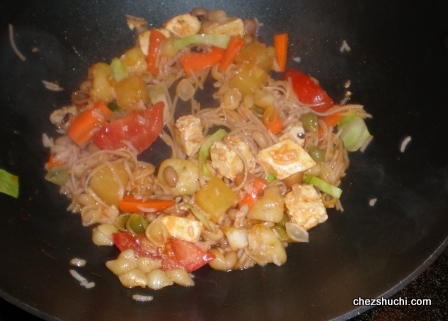 Delicious and healthy kids plate of stir fry ..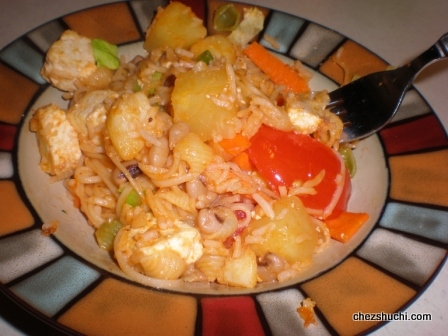 Preparation of stir fry for adults with sweet chili dip.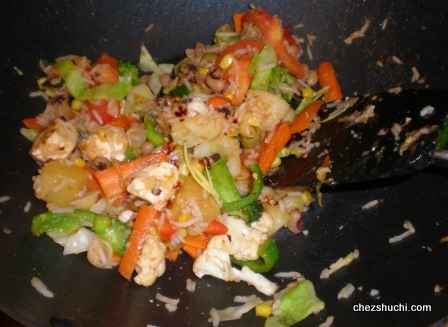 Some Tips/ Suggestions:
There are some tips to follow while making stir fries.......We need to keep all the vegetables ready for frying. All cutting, chopping, and measurement of the ingredients needs to be completed beforehand. Since frying is done on a high heat, we need to stir continuously or else vegetables may burn!
Variation : Other vegetables like french beans, baby corn, mushrooms, tofu etc can also be used in this recipe.
Usually kids like sweet and sour pineapple sauce. So make more sauce as required.
---