Sabudana Pulav
हिन्दी में पढ़ें
Sabudana or sago is a very good source of carbohydrate, and is also eaten during the days of fasting. There is a variety of dishes made out of Sabudana/ Sago like sabudana papad, sabudana kheer, sabudana vadas etc. Here we are going to make sabudana pulav......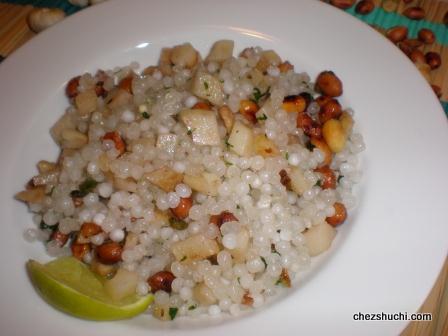 Ingredients

(serves 4)
Sabudana ¾ cups
Potatoes 2 small
Peanuts ¼ cups
Green chilies 2-4
Sendha namak/ rock salt 1 tsp or to taste 
Ghee(clarified butter)/ oil 1½ tbsp
Lemon juice 1 tbsp
Chopped coriander leaves 1 tbsp
Water 1¼ cup
Method of preparation
Clean and wash the sabudana. Soak them in about 1¼ cup water for 2-3 hours.
After 2-3 hours sabudana granules will absorb the water and will become soft. Add a little more water and leave it some time, if needed.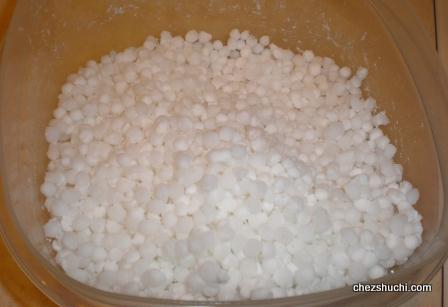 Water soked sabudana granules
Remove the stem, wash and finely chop the green chilies.
Peel off potato, wash and cut into small pieces.
Heat ghee/ oil in a pan. Now add peanuts. Fry peanuts on medium heat till they are dark red in color and a nice aroma comes out. Takes about 4-6 minutes.
Add chopped green chilies and fry for few seconds. Now add potatoes and fry for another minute.
Now add salt and mix well. Cover the lid and cook until potatoes are tender.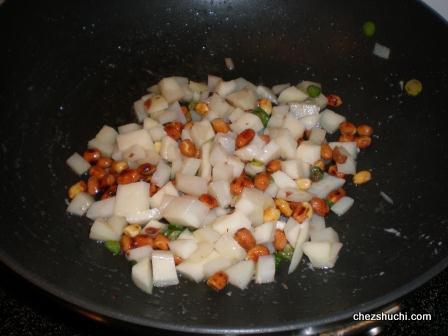 Now add soaked sabudana and mix well . Fry the sabudana for a couple of minutes.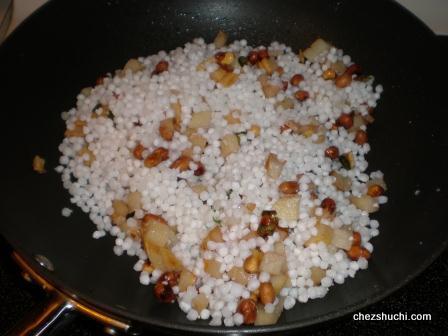 Now cover the lid and reduce the heat. Cook sabudana for 2-4 minutes.
Sabudana will become translucent. It shows that the dish is done. Turn off the heat.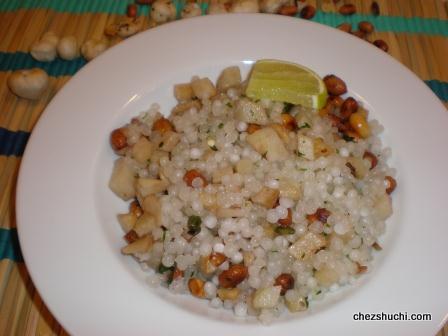 Now add lemon juice. Mix well.
Delicious sabudana pulav is ready to serve. Garnish sabudana pulav with chopped coriander leaves.
Tips/ Some suggestions:
This sabudana pulav can also be made in regular days. In that case add more veggies like, peas, carrots, beans, etc....
If you like spicy food add more chilies to your sabudana pulav.
Some other recipes for fast/ vrat
---