हिन्दी में पढ़ें
Pad Thai
Pad Thai is a stir fried rice noodles dish. While this dish is generally made with a combination of meat, vegetables, and eggs, here we are making vegan Pad Thai with rice noodles, vegetables, homemade Pad Thai sauce, and herbs (coriander). Pad Thai is a delicious preparation and you can make it healthier by adding more vegetables. The level of spices can also be increased as per taste. Pad Thai is usually served with roasted peanuts and lemon wedges. So try out this delicious Thai delicacy and as always please do share your comments....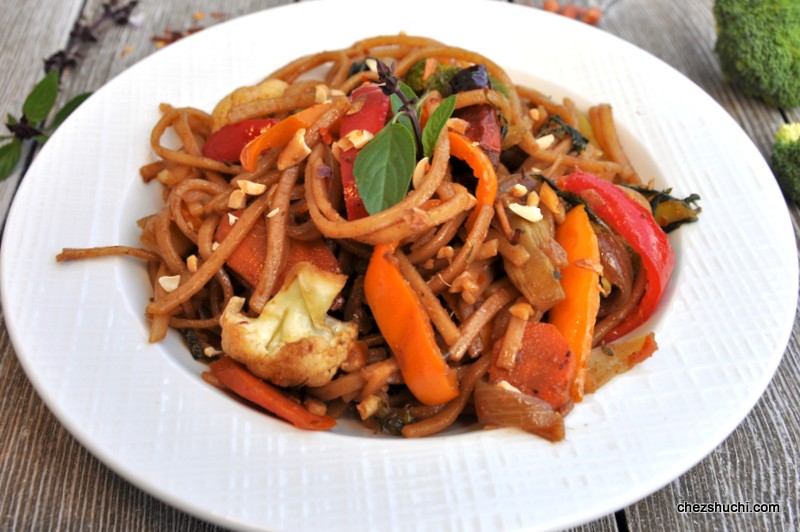 Ingredients (serves 4)
For Pad Thai Noodles:
Rice Noodles (linguini style) 6 oz/ 175 grams
Shallots 1 / regular onion 1 small
Spring (green) onions 1-2
Beans sprouts ½ cup (optional)
Chopped coriander leaves 2 tbsp
Carrot 1 medium
Broccoli florets 1 cup
Salt 1½ tsp or to taste
Oil 2-3 tbsp
For sauce:
Tamarind paste 1 tbsp
Red chili crushed ½-1 tsp
Red chili powder to taste
Brown Sugar 1 tbsp
Soya sauce 1 tbsp
Water 1½ tbsp
To Serve:
Roasted and crushed peanuts 2-3 tbsp
Lemon wedges
Soy sprouts as per taste
Method of preparation:
Cook the rice noodles as suggested on the noodle packet. Do not overcook the noodles, noodles should be soft but firm. Leave on the strainer to remove extra water.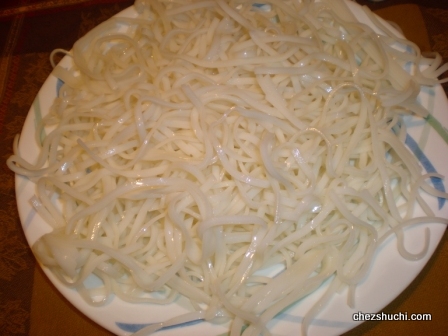 Peel, wash, and cut the shallot/onion in juliennes. Scrap the outer skin, wash, and cut the carrots in about two inches long and half inch wide thin slices. Wash, remove the roots, and cut the spring onions in one and half inch long pieces diagonaly.
Method of preparation for Pad Thai Sauce:
In a bowl take about 1 tbsp brown sugar and 1½ tbsp water. Mix well until sugar is dissolved.
Add tamarind paste, soya sauce, red chili powder, and red chili flakes in the sugar mixture. Mix well. Keep aside.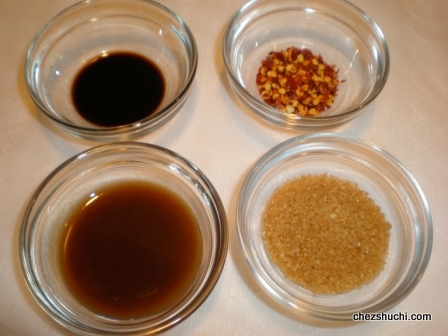 Tamarind paste, brown sugar, soya sauce and red chili for sauce
To Make Pad Thai:
Heat oil in a wok on high heat. Fry shallots for 30 seconds. Add broccoli florets, stir fry for a minute. Add carrots and stir for a minute. Now add rest of the vegetables, and fry for another minute.
Add rice noodles to the stir fried vegetables. Mix well. Add Pad Thai sauce and salt and stir well for a couple of minutes on high heat.
Add chopped coriander leaves. Taste and adjust the seasoning as per taste. Turn off the heat.
Yummy Pad Thai is ready to serve. Garnish with crushed peanuts and lemon wedges and serve hot.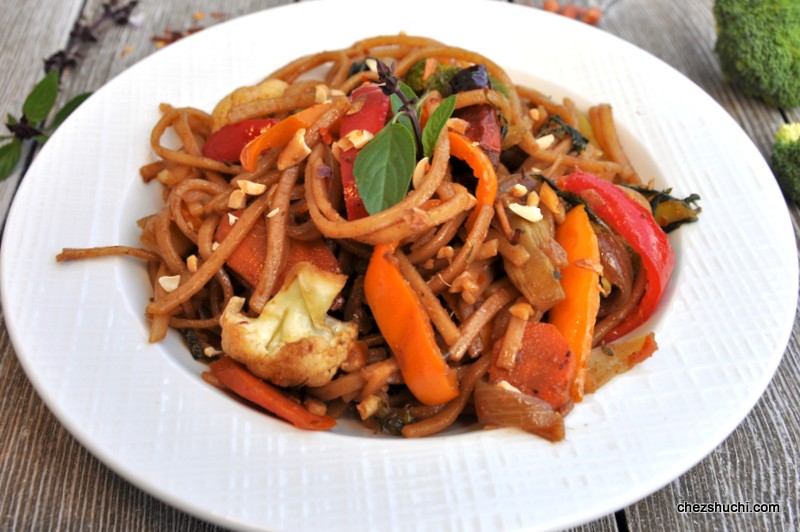 Some Tips/ Suggestions:
You can use some other vegetables like cabbage, bell pepper (capscium), bok choy, bamboo shoots, water chest nuts, baby corns etc as per taste.
The amout of suace and spice can be increased and reduced as per taste.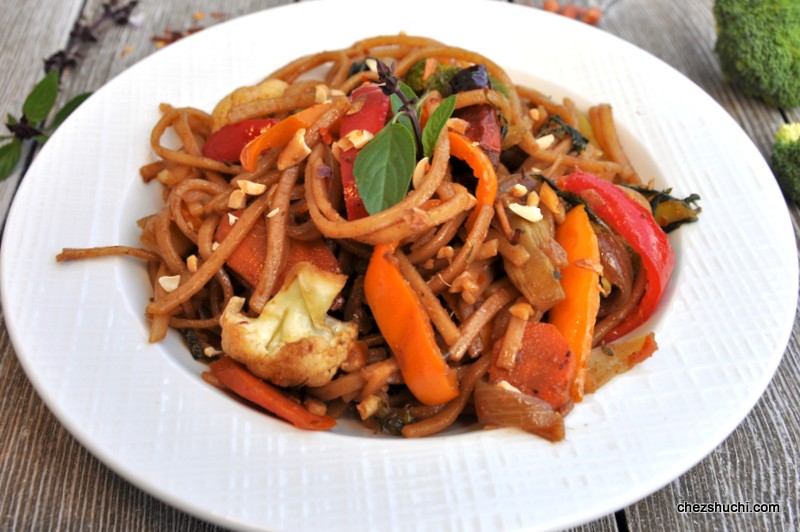 ---