हिन्दी में पढ़ें
Moat Sprouts with Kachumar Salad
Moat (also spelled as moath) are oval shape beans that can be easily found in Indian and Asian grocery stores. These are also available in most health/ organic stores. Sprouts (germinated seeds) are a good source of digestive enzymes; these are also rich in amino acids, vitamins, proteins etc. Sprouts can be easily made at home...There is a variety of delicacies made from sprouts. Here we are making a breakfast dish out of moat beans sprouts. This is a highly nutritious breakfast recipe for all ages. You can use the same recipe to make Mung/ Moong sprouts breakfast. Serve moat sprouts with kachumar salad and mattha (butter milk) to enhance the taste of breakfast and to have all the nutrients required for our bodies This breakfast menu is also ideal for diabetics. So try out this recipe and please do share your comments. Happy Cooking! Shuchi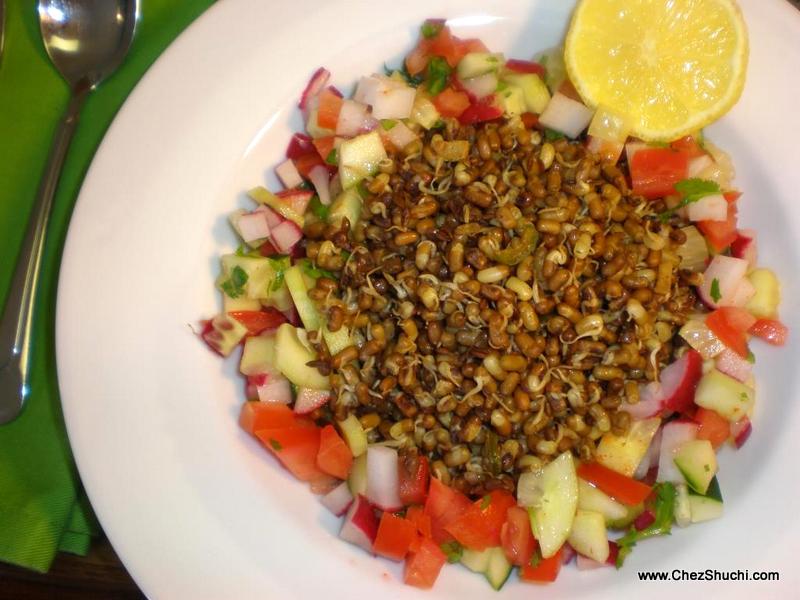 Ingredients
(Serves 4)
Moat beans 1 cup
Potato 1 medium
Green chili 1-2
Ginger, finely chopped 1 tsp
Oil about 2 tsp
Cumin seeds 1 tsp
Asafoetida 2 pinches
Salt 1 tsp/ to taste
Coriander powder ½ tsp
Garam masala ¼ tsp
Chopped coriander leaves 2 tbsp
Ingredients for Kachumar
Cucumber 1 medium
Tomato 1 medium
Radish (as per taste)
Salt as per taste
Red chili powder as per taste
Lemon juice 2 tsp
Ingredients for Serving
Method of preparation:
Clean, wash and soak the moat beans overnight in enough water (about 5-6 cups).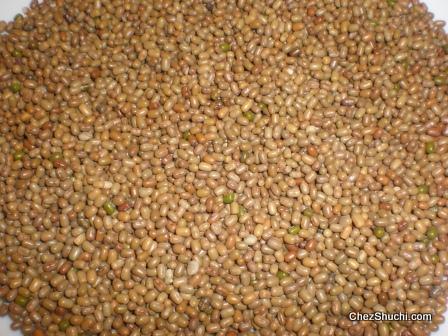 Making Sprouts
Transfer the soaked moat beans into a colander. When most of the water is drained, cover the colander from all the sides with a kitchen towel/ clean towel. Keep them in a warm place. Moat beans start germinating very quickly, and you will notice small sprouts germinating in a couple of hours in summers and in about 6-7 hours in winters. If you want longer sprouts keep them for a longer time period (may be one/ two days depending on the weather). Do not forget to wash the seeds twice a day in summers so that no infection develops.
Moat sprouts are ready to use.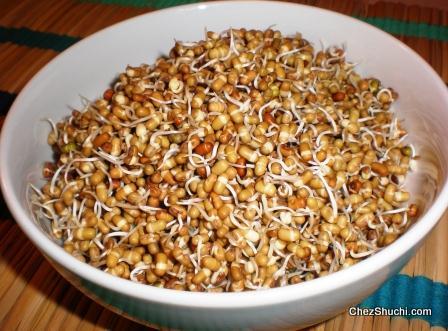 Remove the stem, wash, and finely chop the green chili.
In a wok/ skillet heat oil. When oil gets warm, add cumin seeds. When seeds stop crackling add asafoetida, chopped green chili, and chopped ginger. Fry for a few seconds.
Add moat bean sprouts. Add salt, and coriander powder. Mix well. Cover the lid and cook sprouts on medium low heat for a couple of minutes .
Add garam masala. Fry for a minute and turn off the heat.
Garnish with chopped coriander leaves .
Delicious and nutrious moat sprouts breakfast is ready to serve.
Method of Preparation for Kachumar Salad:
Peel, wash and cut cucumber into small pieces.
Wash and cut tomato and radish into small pieces.
In a bowl take all the chopped vegetables. Add salt, red chili powder, and lemon juice. Mix well. Kachumar Salad is ready.
Serving Suggestions:
In a serving bowl, take sprouts. Top them with kachumar salad.
You can also add some tamarind chutney, and mint chutney to add more flavor to your breakfast.
Serve mattha (butter milk) alongside to add more nutritions to your breakfast.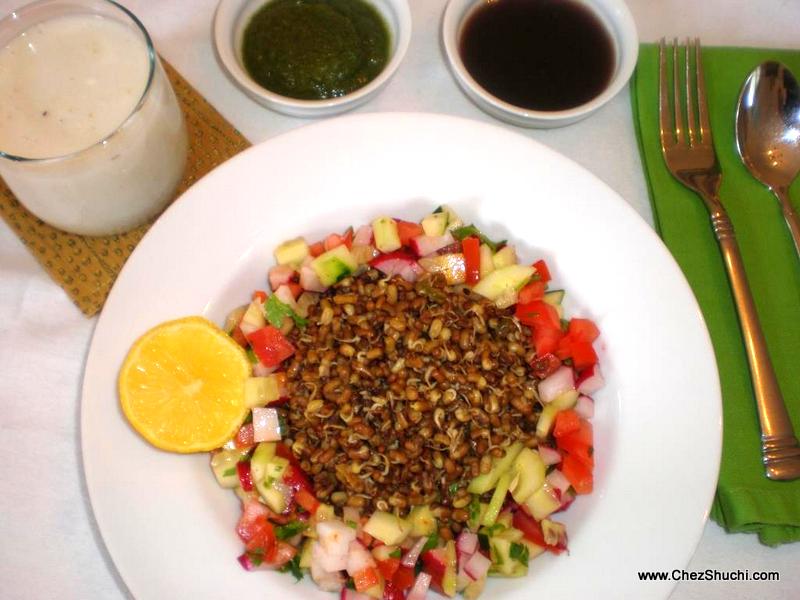 Some Tips/ Suggestions:
You can also use other beans to make sprouts and also to make a similar breakfast.
In winters, keep the soaked beans close to a heating duct or radiator to make sprouts.
---
Some Other Healthy and Light Indian Breakfasts
---