Mirchi Ka Salan
हिन्दी में पढ़ें
Salan is another word for curry or gravy. Mirchi ka salan is a very famous Hyderabadi dish. In this dish hot chilies are deep fried and cooked in a special curry made with peanuts, poppy seeds, white sesame seeds, and coconut, along with aromatic spices. Mirchi ka salan is usually served with Biryani. I used to follow Master Chef Sanjeev Kapoor's recipe for Salan, but was introduced to a different and delicious taste of Salan by one of our Hyderabadi friends. They had prepared the dish using recipe available on the site Zaiqa.net. I have modified the recipe to make it a little easier. I usually make salan when we have a gathering because it takes time to make this dish and kids don't like it . So cut the amount to half if it is too much for your family. In this festive season try out this exotic dish...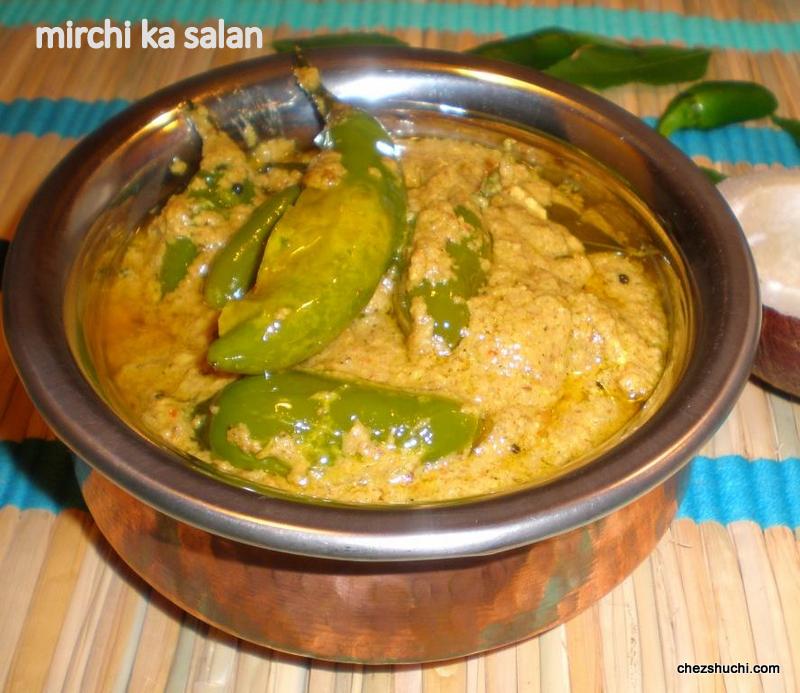 Ingredients (Serves 6-8)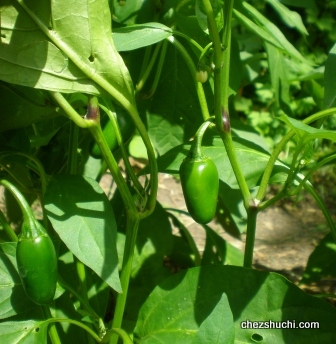 Home grown Serrano peppers
Big green chilies 250 gms
Onion 1 big
Ginger 1 inch piece
*Tamarind 25 gms
Turmeric powder ½ tsp
Salt1½  tsp
Mustard seeds ½ tsp
Fenugreek seeds ½ tsp
Curry leaves 10-12 big leaves
Oil about 1/3 cup (for deep frying)
For Dry spice mixture(Masala)
Raw peanuts (mungphali) ½ cup
Poppy seeds (postadana) 1½ tbsp
White sesame ½ cup
Coriander seeds 1 tbsp
Cumin seeds 1 tsp
Dry grated coconut ½ cup
*about 2 key lemon size balls tamarind or 4 tbsp tamarind pulp
Method of preparation
Peel off, wash, and cut onion roughly. Peel off wash and cut ginger. Size does not matter here because we will make a paste of onion and ginger.
Boil onions in hot water for two minutes.
Now make a fine paste of ginger and onion in the grinder. Keep aside.
Soak tamarind in 1/4 cup warm water for 10 minutes. Remove the seeds and the fibers of the tamarind. Keep the pulp aside.
Wash the chilies. Pat dry the chilies on the kitchen paper/ towel.
Cut a slit vertically in the middle of chili without cutting it into two parts. Do not remove the stem of the chilies. Remove the seeds and white rib from the chili. Repeat for all the chilies. Keep the chilies aside.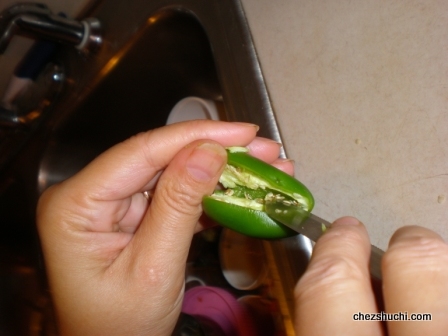 Heat a wok. Dry roast peanuts, white sesame, poppy seeds, coriander, cumin and grated coconut separately on medium heat until a nice aroma comes and the color gets changed. I dry roast everything separately because roasting peanuts takes about 3-4 minutes while roasting sesame seeds takes only a minute. Therefore if we roast everything together, the ingredients will not be roasted correctly.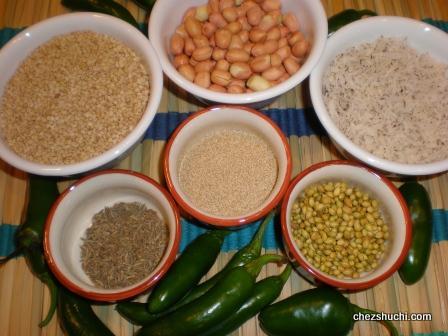 ingredients for the dry masala
Now let everything cool down and dry grind them together in a grinder.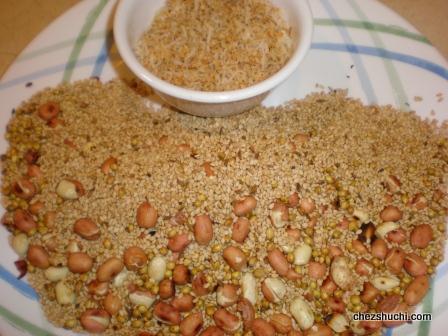 Dry roasted poppy seeds, sesame, peanuts....
Heat oil in a wok. Deep fry the slitted chilies in hot oil for a minute. Take the chilies out on kitchen towel. Be careful when you deep fry the chilies as they splutter in the oil.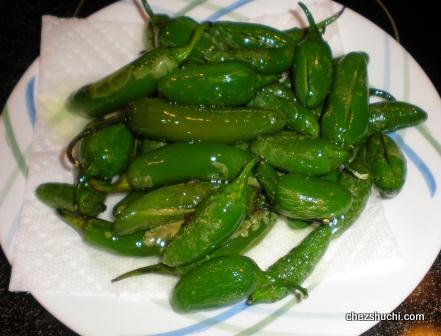 deep fried chilies
Now in the same wok with the remaining oil make seasoning (tadka/ baghar). Heat oil, add mustard seeds, and fenugreek seeds. When seeds stop spluttering and change the color add curry leaves. Fry for 20 seconds.
Now add onion paste and fry till it becomes golden brown. Add dry ground masala of peanuts etc and turmeric powder. Fry until the masala leaves the oil. (takes about 4-5 minutes)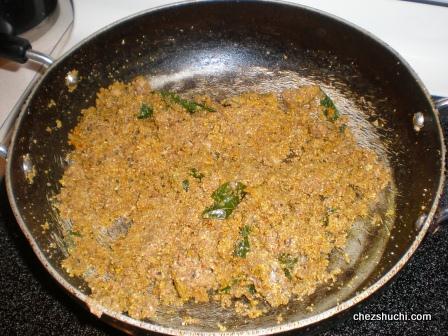 Now add about 2 and 1/2 cups of water and cook the salan/ curry for about 10 minutes.
Add tamarind paste and cook for a couple of minutes.
Now add salt and fried chilies. Mix well. Cover the lid, and cook for about 12-15 minutes on low flame. Do not forget to stir the salan/ curry every 2 minutes.
Check if the chilies are well cooked and oil is separated from the salan.
Delicious hot Mirchi ka salan is ready to serve. In Hyderabad, it is served with Biryani, but you can also serve it with plain rice or any other flavor of rice.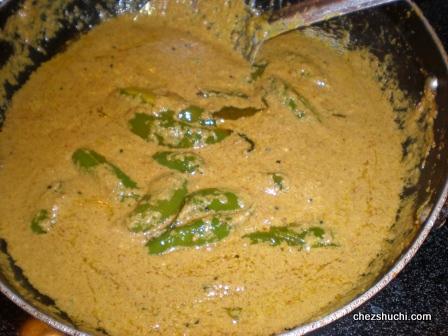 Some Tips/Siggestions-
Peanuts, poppy seeds, white sesame, and coconut, all these ingredients have their own oil. So cut the amount of oil in salan/ curry.
You can remove the skin of the peanuts after dry roasting.
I do not use garlic in my kitchen but garlic is usually used in Hyderabadi Cuisine.
For the deep frying of chilies, I avoid filling the wok with oil as repeated use of fried oil is unhealthy.
Some other South Indian Recipes
---