Veg Biryani
हिन्दी में पढ़ें
Biryani was originated in Persia and is traditionally made with the combination of meat and rice with the aroma of spices. This is a vegetarian version of Biryani made with veggies, rice, saffron and having the aroma of wholesome spices. This is a complete single dish that can be served with raita .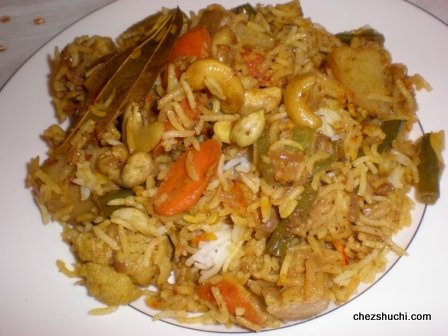 Ingredients

(serves 4)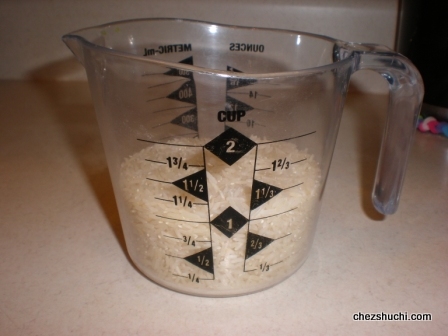 Ingredients for rice boiling
Ingredients for biryani
Saffron (Amazon link for Organic Saffron) ½ tsp
Milk ¼ cups
Onion 1 big
Tomato 1 medium
Ginger 1½ inch piece
Yogurt ¼ cups
Bay leaves 2
Green cardamoms 4
Cinnamon 1 small stick
Black cardamoms 2
Garam masala 1½ tsp
Turmeric powder ¼ tsp
Red chili powder ¼ tsp
Salt 1 tsp
Cashew nuts ¼ cups
Assorted veggies 2-3 cups
Ghee/Oil 2½-3 tbsp
Chopped coriander leaves 2 tbsp
Method of preparation
Clean, wash and soak the rice in the water for 20 minutes.
Now add a little salt, bay leaves, green cardamoms, black cardamoms, and cloves. Boil the rice until they are more than half done but not fully cooked. Take a little less water than that used for boiling regular rice.

Rice soaked in water Boiled rice
We need about 2-3 cups of assorted vegetables. I have taken potato, cauliflower, carrot, beans, bell pepper (capscium). Vegetables can be changed according to taste.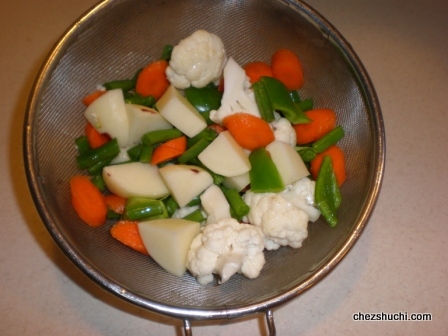 veggies for biryani
Warm up the milk and soak the saffron threads for about 15 minutes.
Peel off , wash and finely chop the onions . Peel off, wash, and grate the ginger ( use a fine grater). Or use ginger paste.
Wash and finely chop the tomatoes.
Heat oil in a wok. Add all the whole spices, fry the spices for about 10-15 seconds. Now add ginger paste/ grated ginger and fry for a few seconds.
Add chopped onions and fry till onions are golden brown. (takes about 6 minutes)
Whole spices frying onion frying
Now add finely chopped tomatoes, and spices. Fry till masala leaves the sides of the pan. (takes about 5 minutes)
Now add yogurt (dahi/curd) and fry again till masala leaves the sides of the pan. (takes 2 minutes)
Now time to add veggies. Mix well and fry for a minute. Cover the lid and let the vegetables cook till they get tender. It takes about 15-20 minutes to cook the vegetables in the masala.
Masala after adding yogurt(dahi) after adding the vegetables
When vegetables are done, add boiled rice and cashew nuts and mix them little bit, and very gently in the masala. Now pour in saffron milk evenly and cover the lid . Cook biryani on very low heat. I have put a flat griddle on the heat and then put the wok on top of the griddle , so it is actually getting very little heat; as shown in the following picture.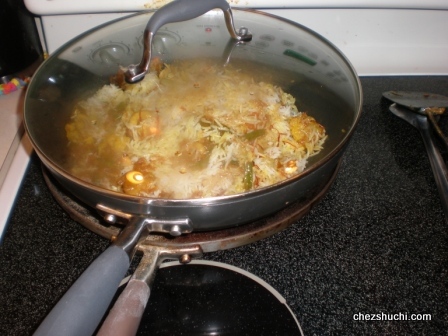 cook biryani on very low heat
It takes about 25-30 minutes to biryani to get ready. This method of slow cooking is similar to that used for the Avadhi 'Dum' dishes - the famed flavorful cooking of Lucknow.
Garnish the biryani with chopped coriander leaves.
Serve delicious vegetable biryani with the Raita of your taste.
Tips
Jack fruit would be ideal for veg biryani, if it is available in your part of world.
If you like spicy food add a green chili with ginger to make the paste.
If you eat garlic add in with ginger.
Usually rice takes double amount of water to get tender. But for this recipe we do not want completely tender rice so please cut the amount of water when you are boiling the rice.
---