Chocolate Cupcakes made in Microwave
हिन्दी में पढ़ें
Everyone loves Chocolate!! On readers special request, here we are with an easy to follow chocolate cupcake recipe. It just takes 5 minutes to cook these cupcakes as they are made in microwave.
Many of my readers have been asking about microwave recipes. In the past we have made oven cakes, cooker cake and now on readers request I made Microwave Cupcakes. Since I also bake cakes in a traditional oven, therefore I could easily compare the outcomes of the two recipes. The microwave cupcakes were as delicious as the regular oven ones. I do not have convection mode in my microwave, so I just used the regular one. I would like to advise you to read your microwave manual before you bake any cake to better understand the working of your microwave.
Try out this microwave chocolate cupcake's recipe and please do share your thoughts. Happy cooking, Shuchi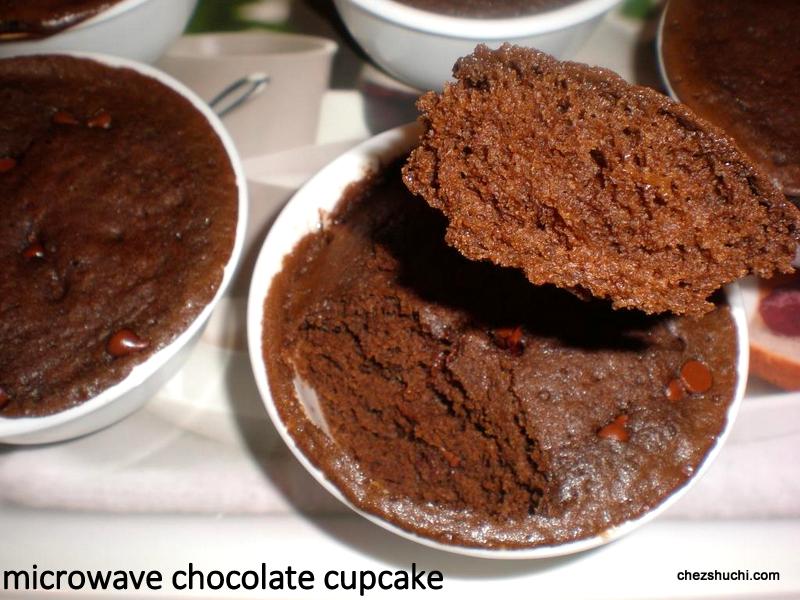 Preparation Time: 8 minutes
Baking time: 5 minutes
Approximately 200 calories in each cup cake
Ingredients (for 6 cup cakes )
Butter / Ghee/ vegetable oil 1/3 cup
Condensed milk ½ cup
Sugar 1 tbsp
All-purpose flour 1 cup
Unsweetened cocoa powder 3 tbsp
Baking powder 1 tsp
Baking soda ¼ tsp
Salt a pinch
Vanilla essence ½ tsp
Warm water 2-4 tbsp
Chocolate chips 2 tbsp (optional)
Method of preparation:
Grease microwave safe bowls/cups well with butter. Keep aside.
In a mixing bowl take butter and sugar. Mix by using hand blender till the mixture is light and fluffy. (You can also do this step by using a whisker in the traditional way).
Add condensed milk and blend again. Add vanilla essence and mix.
In a separate bowl take all purpose flour, cocoa powder, baking soda, baking powder, and salt. Sift all these ingredients well for a couple of times.
Now add flour mixture in the condensed milk and creamy butter mixture little by little. Blend the mixture for a minute. Add a little water if required to get a nice consistency.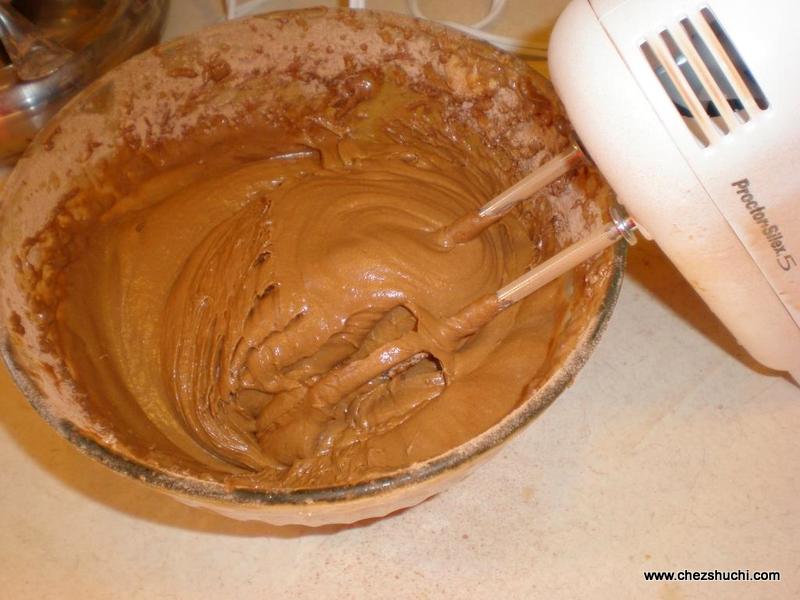 blending of flour, and cocoa power mixture by hand blender
Pour batter in the greased bowls. Fill the bowl to only one third so that there is enough space for rising of the cake.
Top with chocolate chips.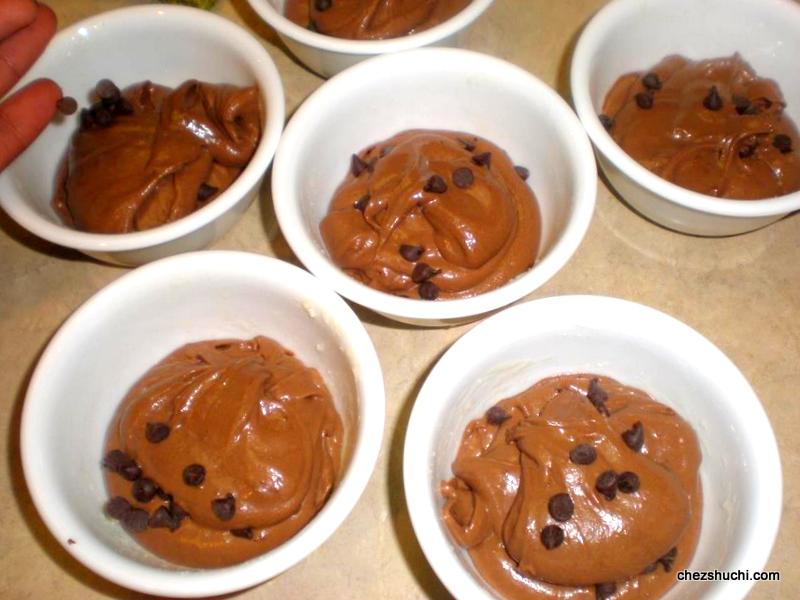 batter transfered ion the greased bowls
Put the bowls in the microwave and cook for 5 minutes.
To check if the cupcakes are ready: Insert a toothpick in the side of a cupcake, if it comes out clean, then it means that the cupcakes are ready. If the toothpick is not clean, we need to cook a little more. Cook for another minute.
Let the cupcakes cool down completely before serving.
You can store the leftover cupcakes in the refrigerator for a few days.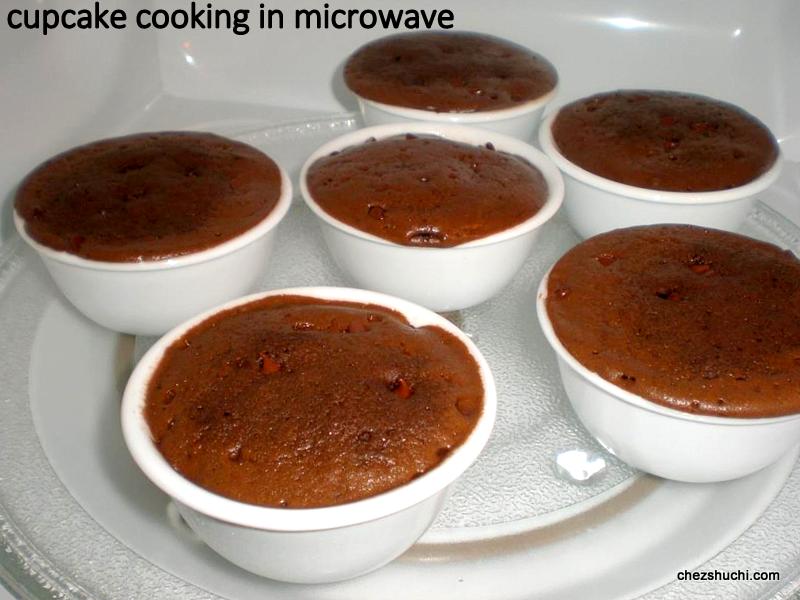 microwave chocolate cupcake
Delicious chocolate cupcakes are ready. Serve these delicious cupcakes with vanilla icecream. You can also top it with chocolate sauce and nuts of your taste. Make these delicious cupcakes with your kids anytime.
Some Tips/ Suggestions:
You can also add some chopped nuts in this preparation.
Make sure to beat the batter in one direction.
You can also bake these cupcakes in the oven at 350°F.
---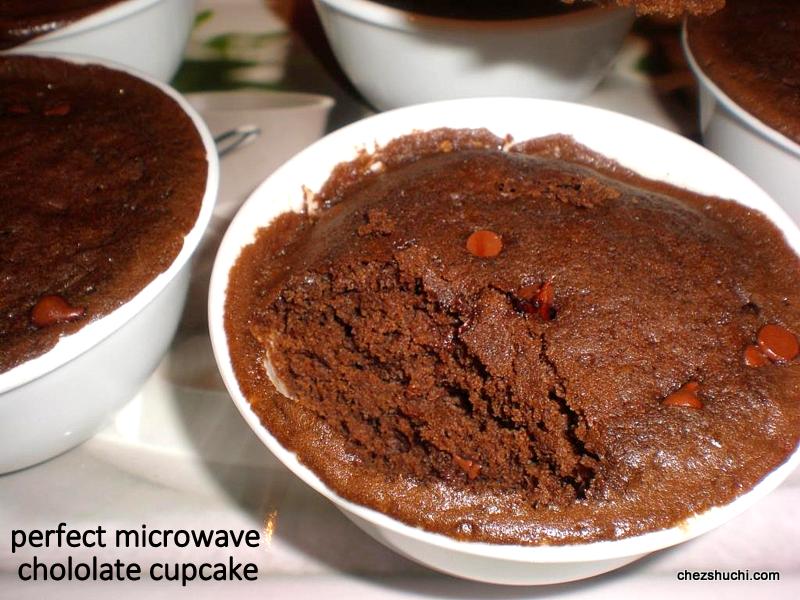 ---