हिन्दी में पढ़ें
Lemonade
Lemonade is more commonly known as Neebu Shikanji in India. This fresh and homemade lemonade drink is very refreshing. "Old is Gold" is a perfect expression for Neebu Shikanji or lemonade. This is a very famous summer drink in the Indian subcontinent. It is made with fresh lemon juice, and sugar syrup. This is one of the best coolants and it takes only a few minutes to make it….I have taken this idea of serving lemonade in lemons from a cookbook "bite by bite" written by Peter Callahan. Peter's serving suggestions and presentations are just amazing. Thanks a lot Peter for such wonderful and stylish ideas!!!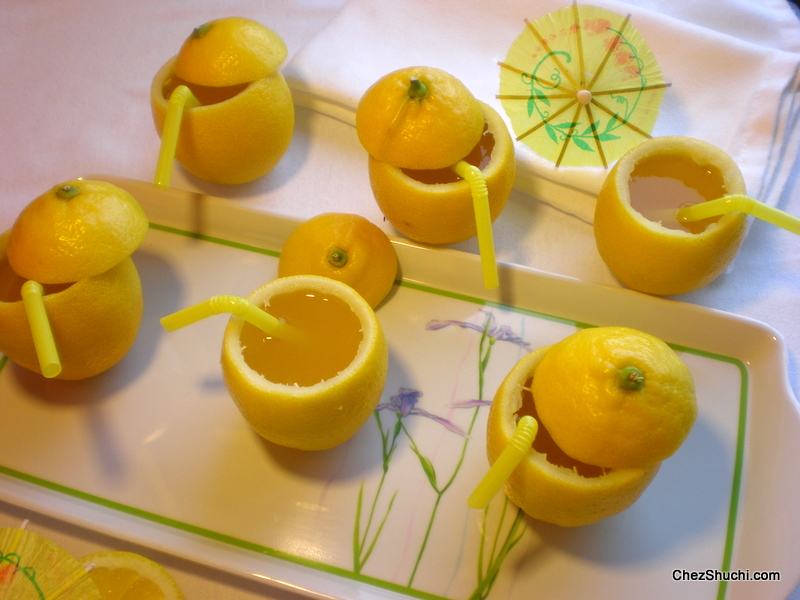 Ingredients
(Makes 4-6 servings)
Lemon juice ½ cup
Sugar 1 cup
Chilled water
Ice as per taste
Serving Material:
Lemon cups
Yellow straws
Paper umbrellas
Mint leaves etc
Method of preparation:
In a saucepan, take 1 cup sugar 1 cup water. Boil on medium heat until sugar is completely dissolved. Stir continuously. Turn off the heat and keep aside to cool the sugar syrup. This syrup is also called as "Simple Syrup".
In a jug/ pitcher take 4 cups of water, ½ cup lemon juice, and about 2 cup sugar syrup. Stir well. Taste and adjust the flavor as per need. If it is too sweet add a little more lemon juice.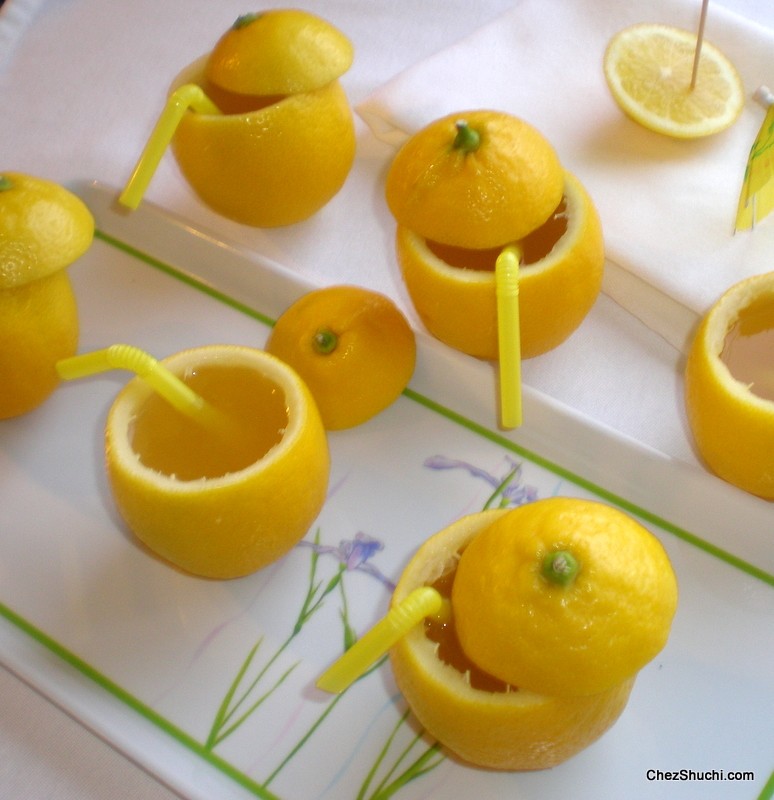 Serving Suggestions:
If you want to serve the lemonade in the lemons- take 6 big lemons. Cut about half an inch top slice of lemon. Keep aside. We will be using it as a cover. Use the lemon juice and discard the seeds and rind.
With the help of knife and spoon remove the seeds, rind and flesh of the lemon. Be careful not to cut the bottom.
When lemon is cleaned from inside, cut a very fine slice from the bottom so it stands straight.
Now fill the lemonade in the lemon cups, put a straw and slightly cover the top with the lid. Serve immediately.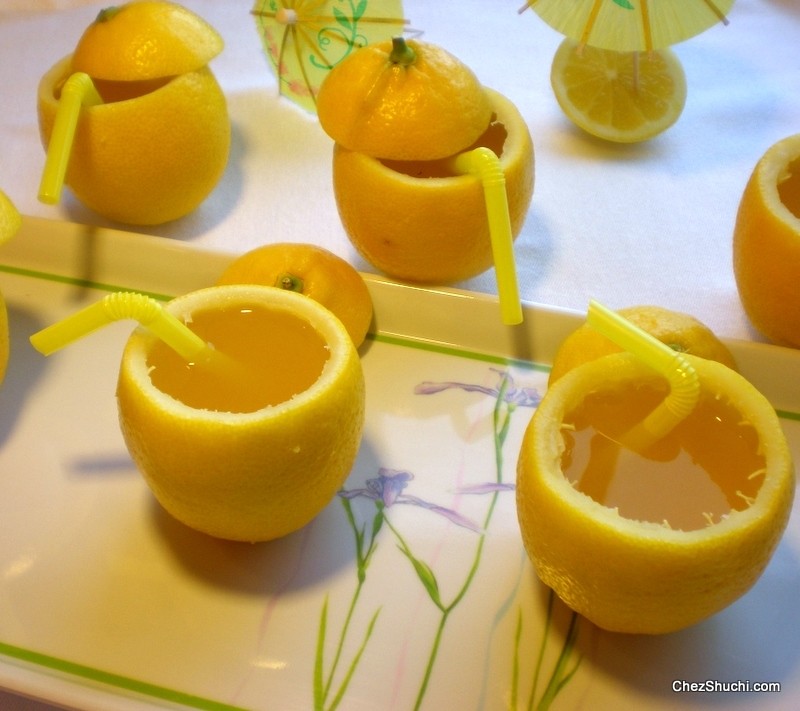 You can also serve lemonade in the regular glasses. Decorate with a lemon or lime slice..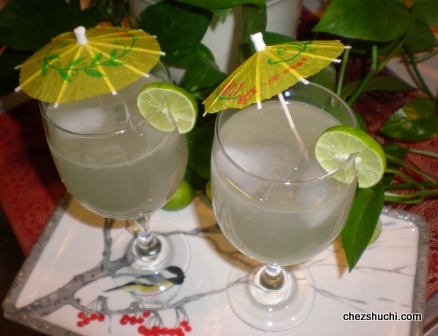 Some Tips/ Suggestions:
Sugar syrup can be made in advance and stored in the refrigerator.
You can also add a hint or black mountain / rock salt to the lemonade for a change.
You can also make lemon soda by adding the lemonade in sparkling soda.
---
---