Badam ka doodh | Almond Milk
हिन्दी में पढ़ें
Badam is a Hindi word for almonds. Badam milk/ badam ka doodh or Almond Milk is a traditional, and delicious drink, and can be served any time of the year. Almonds are rich in calcium and iron and with milk it makes a very healthy drink. Badam milk also has medicinal values and is considered as very good for health. You can grind almonds and store in fridge and add it in milk as needed.
While cold badam doodh is soothing in summers, hot badam milk taste so good in cold minters. Badam milk is a all time hit in parties. I have used 2% milk in this preparation but feel free to use full fat milk. Try this delicious and nutritious badam milk and please do share your comments. Happy cooking, Shuchi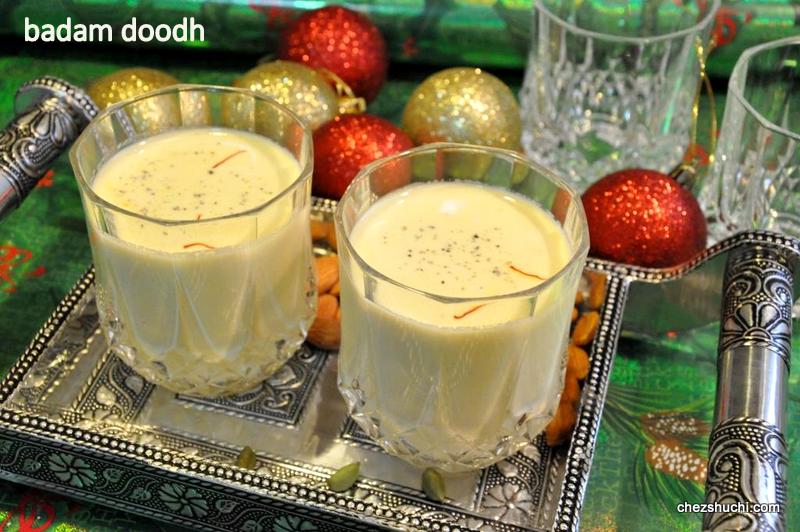 Preparation Time: 5 minutes
cooking time: 10 minutes
225 calories in each serving
Ingredients (serves 4)
Method of preparation
Soak the almonds in 1 cup warm water for about an hour. Peel off the outer skin of the Almonds.
Using a little milk make a fine paste of almonds in the grinder.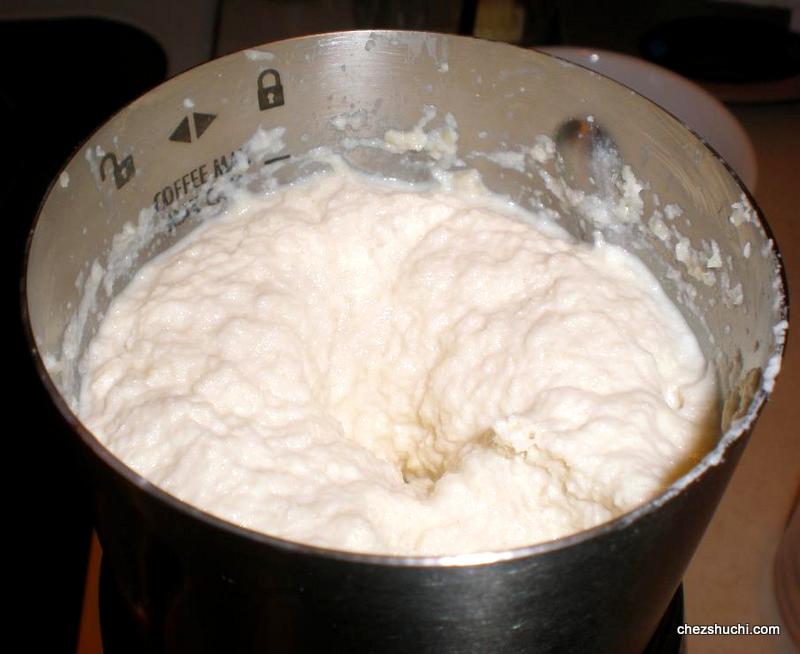 almond paste in the grinder
Soak saffron threads in one table spoon lukewarm milk. Keep aside.
Remove the skin of the green cardamoms and ground them in the mortar.
In a wok add milk and boil the milk on medium heat. After the first boil reduce the heat and add almonds paste. At this point stir continously.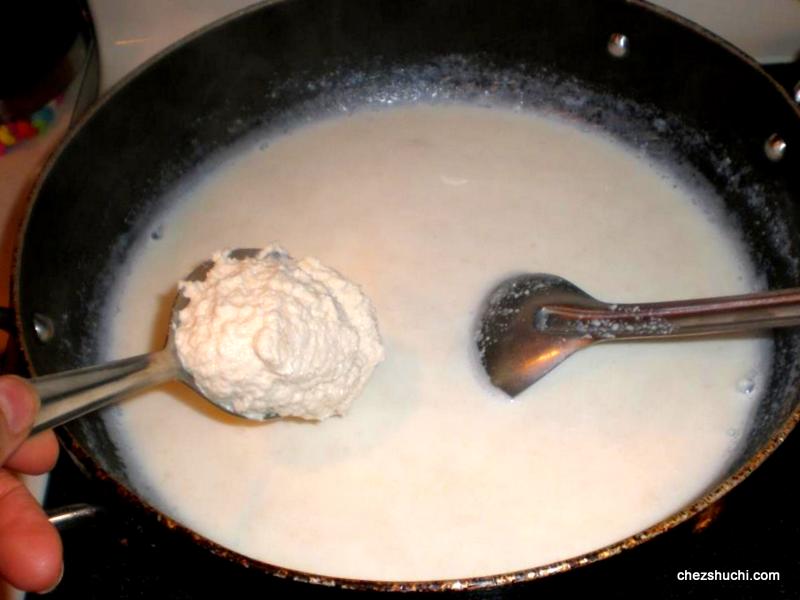 Adding of almond paste in the boiling milk
Boil the milk on medium heat for 5-6 minutes. Stir continuously so milk does not get stick to the bottom. .
Add sugar, mix well and boil for another minute and turn off the heat.
Now add grounded cardamoms and soaked saffron milk. Mix well.
Badam milk is ready. I like to serve hot milk in winters and cold badam milk in summer.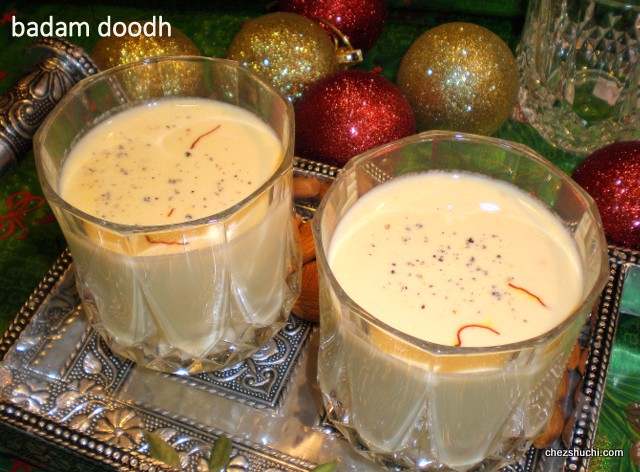 In summers add ice in badam milk and serve chilled milk in small cups for a summer outdoor party.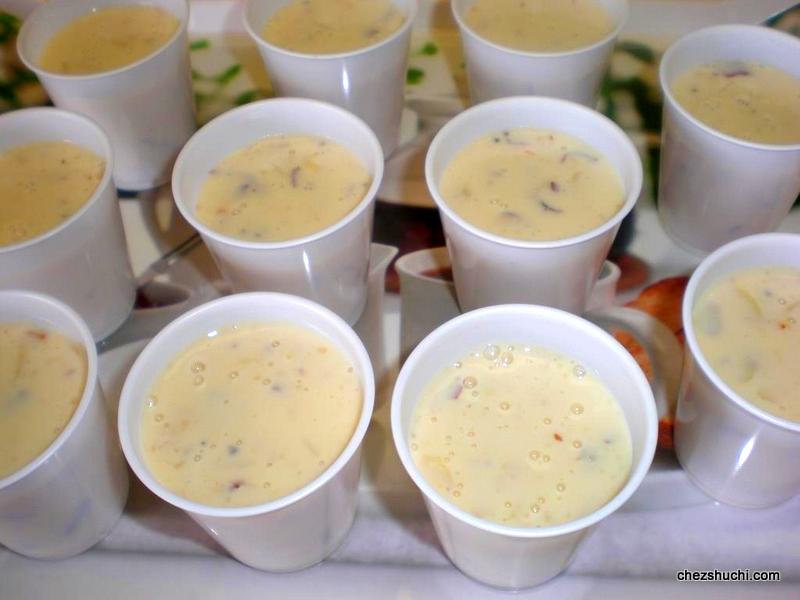 Cold Badam milk served in small cups for a party
I like to serve chilled Badam milk in summers and hot badam milk in winters.
either you are serving badam milk hot or cold sprinkle a pinch of ground cardamoms, and garnish the badam milk with a couple of threads of saffron before serving.
In Norther India hot badam doodh is very popular in winters. Following photo was taken in Lucknow city in India.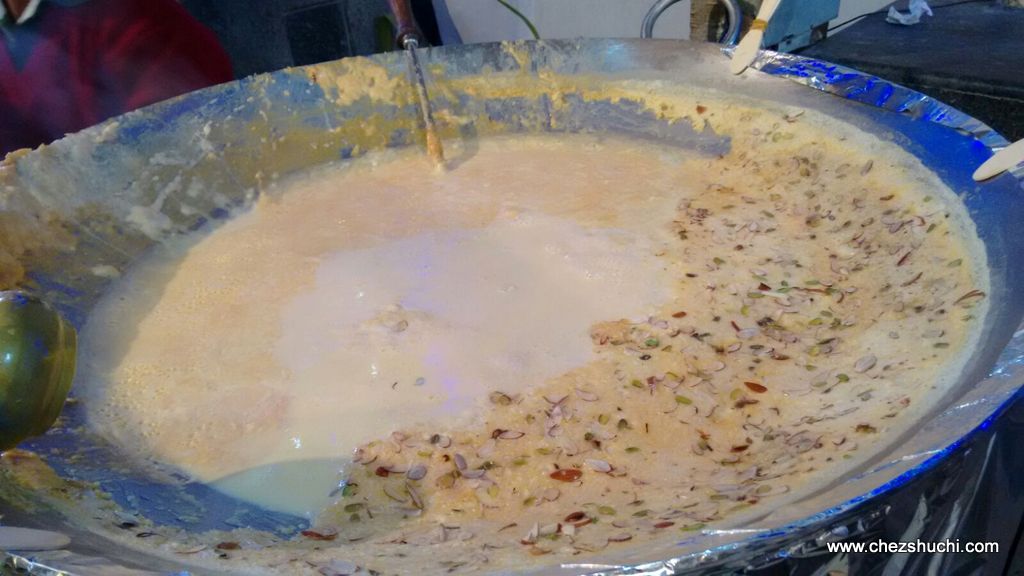 Almond milk is cooking in a big wok
---