Karela bhajji
हिन्दी में पढ़ें
In English karela is called as bitter gourd. Karela is one of the most bitter vegetables, yet it is very popular in India because of its medicinal values. Throughout India different delicacies are made out of this vegetable.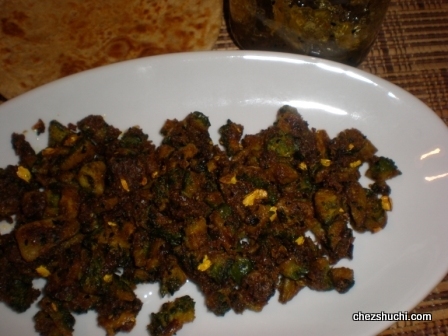 Ingredients

(serves 4)

Bitter gourd (Karela)     250 gms

Onion       1 mediun
Fenugreek powder ½ tsp
kalongi   ¼ tsp  

Salt 1 tsp  to taste or         
Coriander powder   2 tsp
Fennel powder         1½ tbsp

Turmeric powder ½ tsp
Red chili powder     ¼ tsp
Tamarind paste 1 tsp  

Jaggery 1"

Oil 2 tbsp
Method of preparation
Wash, remove the thick sides and cut the bitter gourd into small pieces.
Peel off, wash and finely chop the onion.

In a pan heat the oil and fry onion for 2 minutes, now add all the spices except tamarind paste and jagerry. Fry for a minute and add bitter gourd, mix well and cook till the bitter gourds are tender. (takes about 15 minutes)
Now add tamarind paste and jagerry and mix well the bhajji. Cook for another 2 minutes.

kerala bhajji is ready to serve

Serve with your choice of Indian bread.
Some Tips
Karela bhajji is a good option to carry with poori if you are traveling, as it can be kept out side the refrigerator for 5-6 days if weather is not very hot.

Some other dry vegetables recipe
Methi aloo Matar ki Ghugni kundaroo ki sabji
---
---