Gawar/ Cluster Beans
हिन्दी में पढ़ें
Guar/ Gawar or cluster beans are annual legumes. These beans are from the Fabaceae family like green/French beans, and peas. Gawar is rich in dietary fibers, vitamin A, C and K . It is also considered a medicinal plant. Gawar is mainly grown in India but it can easily be found in the Indian grocery stores in Western world. There are variety of dishes made with this variety of beans. Here I am presenting a very delicious and healthy dry veg preparation from North India.....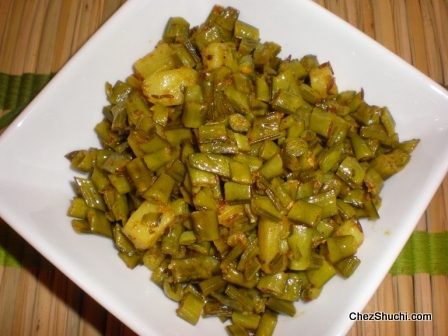 Ingredients

(serves 4)
Gawar/ cluster beans about 300 gms
Potato 1 small (optional)
Cumin seeds ½ tsp
Carom seeds (Ajwain) ½ tsp
Asafoetida 1 pinch
Turmeric powder ¼ tsp
Red chili powder ½ tsp
Coriander powder 1 tsp
Salt 1 tsp or to taste
Dry mango powder (Amchoor powder) ½ tsp
Oil 1½ tbsp
* Look for small and flat gawar as they taste better!
Method of preparation
Remove the pointed sides of the gawar and wash them thoroughly. Pat dry the gawar pods on the kitchen towel.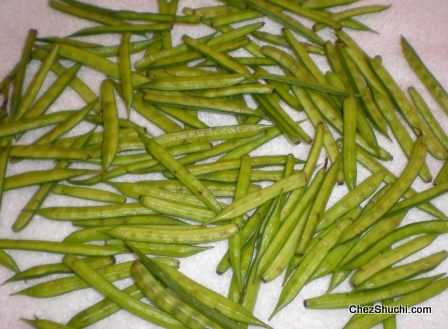 Now cut the gawar into small pieces.
If you are adding potatoes - peel off, wash and cut the poatoes into small pieces like gawar.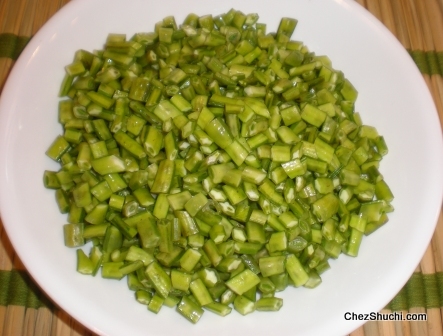 In a wok, heat oil on medium heat. Add cumin seeds, and carom seeds (ajwain) . When seeds change the color add asafoetida.
Now add turmeric powder and gawar and potatoes. Mix well and fry for one minute. Add salt, red chili powder, coriander powder mix well. Fry for a minute. Now cover the lid and cook the vegetables on low heat until gawar and potatoes are tender (Takes about 15 minutes).
Now add dry mango powder (amchoor powder). Fry the vegetables for couple of minute.
Delicious and nutritious gawar is ready to serve.
Serve with Roti or Plain Paratha and with raita of your taste
Some Tips/ Suggestions :
My mother always tears the pieces of Gawar by fingers instead of using knife. She says by doing that you see the inner threads and take them out easily so the vegetable tastes softer. I cut Gawar on chopping board as it is quicker.....So it is upto you, what you choose...
Gawar/ cluster beans have a very distict flavor and actually there is no need to add potato, still I do add a small potato to make the dish attractive to kids. Kids usually get tempted to potato and make less fuss about eating greens...
You can also add a hint of garam masala as per your taste.
Some other dry vegetables recipe
Methi aloo Matar ki Ghugni kundaroo ki sabji
---