Lazeez Moong Dal
हिन्दी में पढ़ें
Moong (or Mung) dal is a good source of protein. Lazeez (an Urdu word for delicious) moong dal is an easy to make dish. It can be served for the morning breakfast or as a chaat item for parties. This recipe comes to us from Kajal, who is a regular reader of ChezShuchi. Kajal shared the recipe with me and requested that I make this dish as per her suggestions and explain it step by step. So here we are.... Please try it out and do share your comments...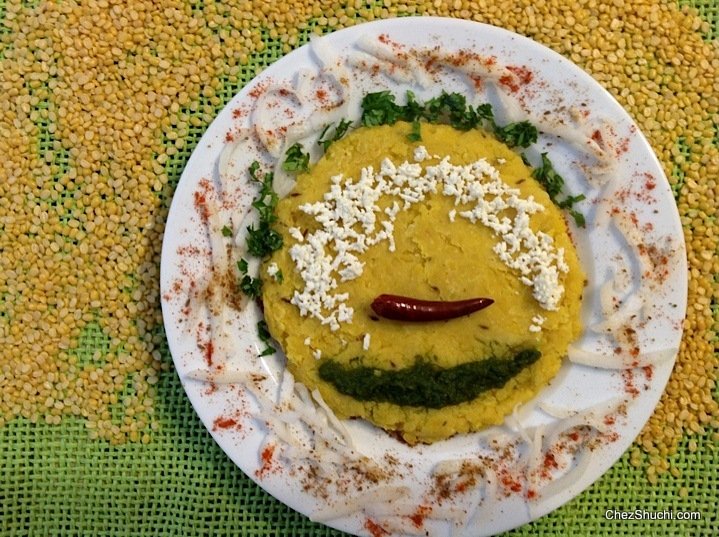 Ingredients

(serves 4)
1 Cup moong dal
2 ups water
2 Tsp Ghee  
1 Tsp cumin seeds
2 whole red chili
2-3 Pinches asafoetida
½ Tsp turmeric powder  
¼ Tsp red chili powder/ Black pepper
1 Tsp salt

To serve:
Method of preparation
Clean ,wash and soak the moong dal in 2 cups of water for about hallf an hour.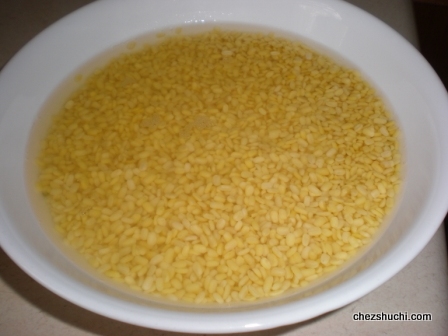 In the pressure cooker, heat ghee on medium heat. Add cumin seeds. When seeds stop crackling, add asafoetida, and whole red chilies. Fry for 10-15 seconds; then add turmeric, red chili powder, and soaked dal along with the water that the dal was soaked in. Mix well and add salt.
Take one whistle in pressure cooker. Turn off the heat.
When the pressure is removed, open the cooker. Mash the dal thoroughly.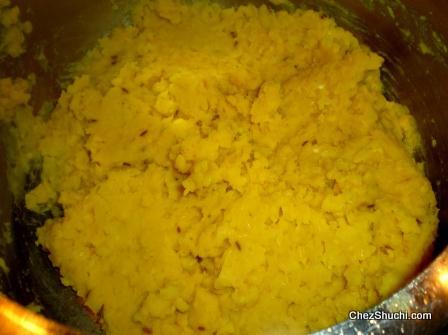 Set the lentils in 4 serving plates. Top with coriander chutney, grated paneer, and grated radish. Sprinkle a bit of roasted and ground cumin, and red chili powder. Garnish Lazeez Dal with chopped coriander leaves.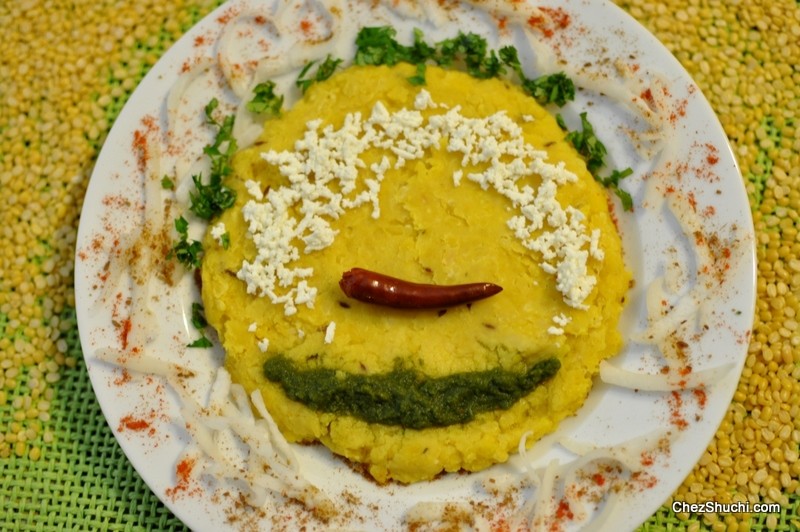 Some Suggestions/Tips
Top-up with your kids favorite chips - they will love it.
Some other snacks and starters
---